The origin of Ranger Cookies is unknown, but here's my theory. The recipe has been around since the 1930's which coincides with the beginning of the radio program, The Lone Ranger. The Lone Ranger was a "serial" and Rangers contain "cereal" so maybe someone named them Lone Ranger cookies because of the cereal and that got shortened to Rangers? Not sure, but they're one of my favorite cookies and not to be confused with Cowboy Cookies which do not contain cereal.
The last time I made Ranger Cookies, I used the old City School Ranger recipe. Looking back on my photo and old review, it seems I liked them quite a bit.
Today I made a half batch of King Arthur's Ranger Cookies, which were almost the same as City School's Rangers, but called for shortening in place of the butter. With all the different flavors in the cookies, I didn't miss the butter flavor and I loved the crispy texture. However, those City School Rangers were good too. Rangers are another cookie that merit some side by side taste tests.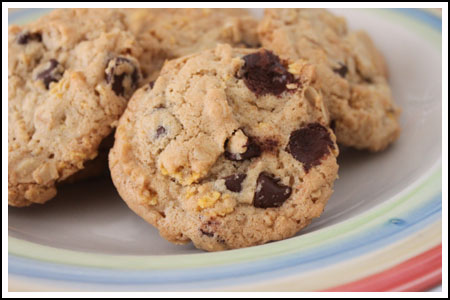 Ranger Cookies Made with Corn Chex
1/2 cup (3 1/8 ounces) vegetable shortening or (4 oz) butter
1/2 cup brown sugar, firmly packed, light or dark
1/2 cup granulated sugar
1/2 teaspoon vanilla
1/2 teaspoon salt
1 large egg
1 cup unbleached all purpose flour, spooned and leveled (KA uses 4.25 oz per cup)
1/4 teaspoon baking powder
1/2 teaspoon baking soda
1/2 cup (1 3/4 ounces) old-fashioned rolled oats
1/2 cup shredded sweetened coconut
1/2 cup (3 ounces) chocolate chips
1 1/2 cups (1 1/4 ounces) crispy rice cereal or Cornflakes or Chex, crushed after measuring
Beat together the shortening, sugars, vanilla and salt until fluffy; add the egg and beat until smooth.
In a separate mixing bowl, mix together the flour, baking powder and baking soda; add the flour mixture to the shortening mixture and beat until well blended. Stir in the oats, coconut, chips and cereal, mixing just until blended.
Drop the dough by rounded teaspoonfuls onto lightly greased or parchment-lined cookie sheets. Bake the cookies in a preheated 350°F oven for 10 to 12 minutes, or until they're golden brown.
Yield: 30 (2- to 2 1/2- inch) cookies.