Update: This is a jankety old Black Bottom Cupcakes post with some good info. Enjoy until I update again. I still go to the grocery store too much .
I went to the grocery store at least 3 times this weekend and on each trip, forgot to buy butter. Given the situation, this morning's treat had to be made with oil. Luckily, I had some cream cheese and was able to make one of the best cupcakes I know. These are called Black Bottom Cupcakes and they're like rich fudge cupcakes with chocolate chip cheesecake in the center.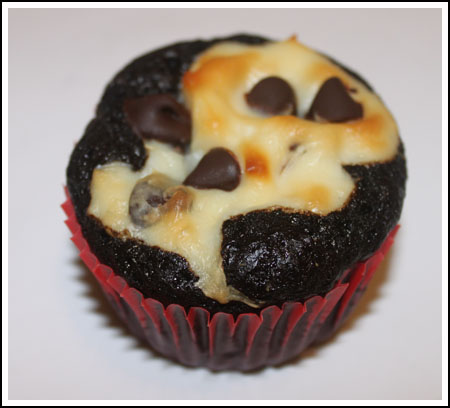 I had not made them in a while and this recipe (adapted from The Magnolia Bakery cookbook) was particularly good. It called for Dutch process cocoa, so I used Hershey's extra dark Dutch which worked perfectly. The cupcakes were dense, moist, and very chocolaty. The filling was good too. It had more cream cheese and less egg than some other recipes, so the cheesecake part of the cupcake was dense without being eggy.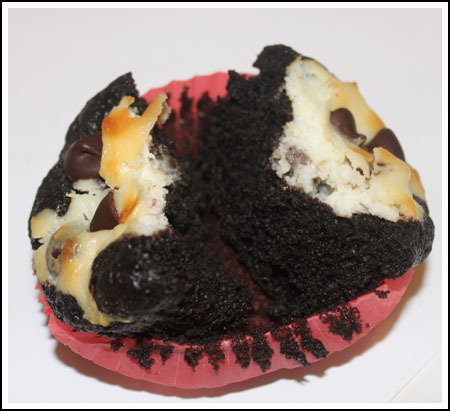 For kicks I tried dying some of the cream cheese mixture green for St. Patrick's Day. I mixed blue and yellow gel and got this not-so-pleasant hue (which was so awful I took down the photo), but I think if you used regular green food coloring and less of if, plus combined it with some St. Patrick's Day themed or green cupcake cups, you'd have a prettier and appropriately festive treat.
These were delicious, but I still need to try Nicole's Baking Bites Black Bottom Cupcake recipe. A while back she adapted one from Cook's Country that looks really good and has a whiter cheesecake filling. I keep saying I'll try that one, then end up making the oil based version. If it's good enough for Magnolia, it's good enough for me!
Magnolia Bakery Black Bottom Cupcakes
Filling:
12 oz cream cheese, not softened
½ cup granulated sugar
1 large egg, room temperature
⅓ cup semi-sweet chocolate chips
Cake:
1 ¾ cups all-purpose flour
¾ cup unsweetened Dutch process cocoa powder
1 teaspoon baking soda
¼ teaspoon salt
½ cup vegetable oil
1 cup granulated sugar
1 cup buttermilk
2 teaspoons vanilla extract
Preheat oven to 350 degrees F (175 degrees C). Line 18 muffin tins with paper cups. Note: These are for slightly large muffin cups. You may be able to get up to 24 cakes depending on the depth of your muffin cups or paper liners.
In a stand mixer, beat the cold cream cheese until fairly smooth. Add the sugar and beat until smooth. Add the egg and beat until incorporated. Stir in the chocolate chips and set aside.
Combine the flour, cocoa, baking soda and salt; mix well set aside.
In a mixing bowl, beat together the vegetable oil and sugar – I did this with a hand-held electric mixer, but a whisk would probably be fine. The mixture was kind of thick and grainy and didn't hold a lot of air.
Mix the buttermilk and vanilla together in a cup, then add the flour mixture and the buttermilk mixture to the oil mixture alternately, stirring rather than beating, until flour is incorporated.
Divide the chocolate batter evenly among the muffins tins and top with a dollop of the cream cheese mixture.
Bake in preheated oven on center for 28-30 minutes. Cool at room temperature for about half an hour and then chill until very cold.