I love making Black Bottom Cupcakes and have used the same recipe for years. It has its kinks, though. Two that come to mind are that often the middle sinks and sometimes the tops get too brown. Given that this is one of my favorite desserts, I did a little Black Bottom Cupcake taste test to compare my old recipe with one from Magnola Bakery and another from Cook's Country.
Magnolia Bakery Black Bottom Cupcake
First I tried the Magnolia Bakery Black Bottom Cupcake recipe and was very happy to find it was better than my old standby. The tops didn't get overly brown (though they weren't perfectly white) and they didn't sink much at all. Also, the flavor of the cake was outstanding. I was happy to have a new Black Bottom recipe, but still determined to try one more recipe -- a Cook's Country recipe from a few years back where they attempted to improve Black Bottoms.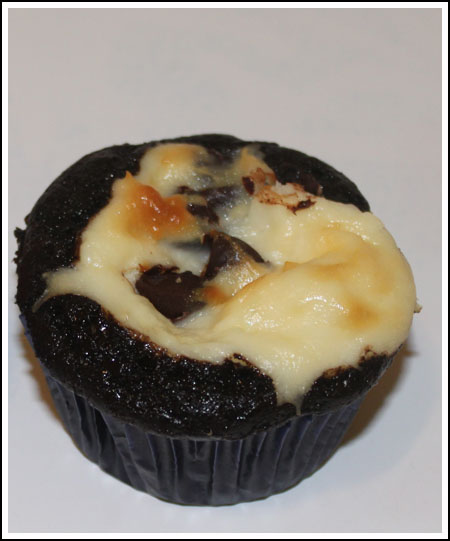 Cook's Country Version
Nicole at Baking Bites posted her slightly adapted version of the Cook's Country recipe, so I made it today and compared it with Magnolia's. The filling was great! It was snowy white and tangier than Magnolia's. Unfortunately, both times that I made the recipe the cake rose up and overtook the filling so that once baked, only a tiny bit peeked out. Furthermore, the tops sank. I thought maybe the size of the chips had something to do with it, but even with the mini chocolate chips the tops still sank.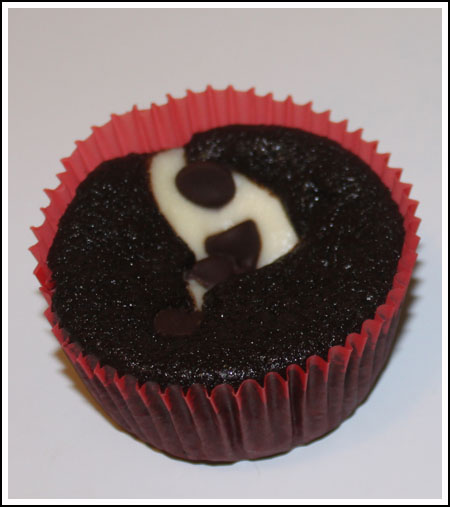 I liked the Cook's Country version quite a bit, but tasting the two side by side, my personal preference today was Magnolia's. Yes, the top browned a bit more and the cream cheese wasn't as tart as the Cook's Country version, but the Magnolia cake had what I thought was an all-around better flavor -- especially in the cake part.  The extra cocoa powder and the buttermilk really added a lot, even though I don't think Magnolia's was quite as moist as Cook's Country's.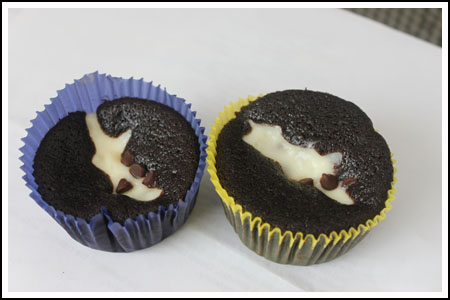 So the overall opinion is that both Magnolia's and Cook's Country's versions are better than my old version, but my preference of the two (at least today -- it could change tomorrow) was Magnolia's because it has more flavor and more cream cheese on top. I like the whiteness of the Cook's Country version, though.  The solution might be as simple as combining Magnolia's cake recipe with the Cooks Country cream cheese filling.
Even though it's tedious, I kind of enjoy making these handy dandy charts.  Here's one for Black Bottoms.  The first recipe (Old Standby) is the one I usually use.
Black Bottom Cupcake Recipe Chart
Old Standby
Magnolia Bakery
Cook's Country

Topping
8 oz cream cheese
⅓ cup sugar
1 egg
⅛ teaspoon salt
½ cup chocolate chips



Batter
1 ½ cups flour
¼ cup cocoa powder
1 teaspoon baking soda
½ teaspoon salt
1 cup sugar
⅓ cup oil
1 cup water
1 tablespoon vinegar
1 teaspoon vanilla
Topping
12 oz cream cheese
½ cup sugar
1 egg
⅛ teaspoon salt
⅓ cup chocolate chips



Batter
1 ¾ cups flour
¾ cup Dutch cocoa
1 tsp baking soda
¼ tsp salt
1 cup sugar
½ cup oil
1 cup buttermilk
2 teaspoons vanilla


Topping
16 oz cream cheese
½ cup sugar
2 egg whites
¼ tsp salt
⅓ cup chocolate chips
2 T. sour cream

Batter
1 ½ cups flour
½ cup Dutch cocoa
1 ¼ tsp baking soda
½ tsp salt
1 ¼ cups sugar
½ cup melted butter
1 ⅓ cups water
1 tsp vanilla
¾ cup sour cream