This Coconut Layer Cake is one of the first things I baked from The Complete Magnolia Bakery Cookbook: Recipes from the World-Famous Bakery and Allysa Torey's Home Kitchen
.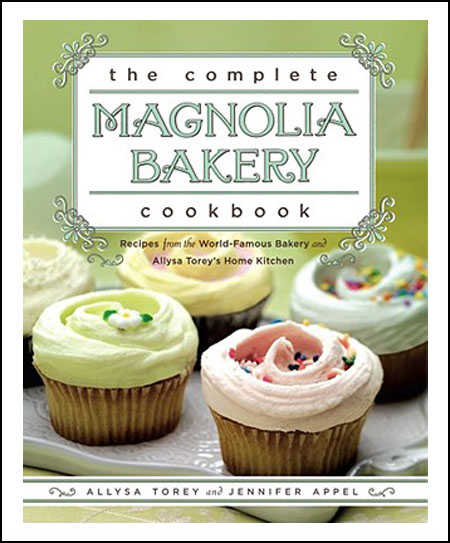 It is a book full of good recipes, so I had a hard time deciding what to make first.
Like a lot of cakes in the book, this one is made with two kinds of flour – self-rising and all purpose. I'm not exactly sure why the cookbook calls for a combination of all-purpose and self-rising, but I think self-rising flour is made with a softer wheat, so it might be their way of approximating the type of flour they use in their bakery.  I normally don't keep both types around, but I found some self-rising in the bottom of the deep freeze and was good to go.
Magnolia Coconut Layer Cake Recipe Review
The cake was very moist, tight crumbed and flavorful. The coconut filling was tasty, but not too rich. The frosting was an Italian meringue style frosting which is the kind that's made with whipped egg whites and a hot sugar syrup.  If you've never made it, it can be a little intimidating, but Magnolia cookbook's directions were so well-written that I had no problems and think I'd use their icing again on other things.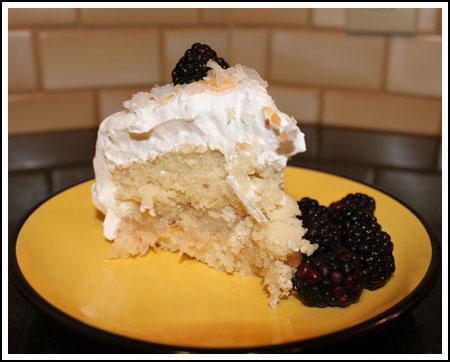 The complete coconut layer cake recipe is in the book and posted on a few other sites. My version is actually quite different because I halved the recipe and baked it in two 8 inch round pans. So this is a smaller size cake, but for a weeknight cake it is just right. I've typed up my adapted version. Halving the cake and filling worked perfectly.  As for the frosting, I made the full batch and had some left over.
Magnolia Bakery Coconut Layer Cake
Cake
½ cup (4 oz) unsalted butter, softened (114 grams)
1 cup sugar (200 grams)
2 large eggs, at room temperature
¾ cups self-rising flour (100 grams)
½ cup plus 2 tablespoons all-purpose flour (80 grams)
½ cup milk, room temperature (120 grams)
½ teaspoon vanilla extract
Filling
3 ounces milk (84 grams)
¼ cup granulated sugar (50 grams)
1 tablespoon all-purpose flour
½ of a 7 oz pkg sweetened shredded coconut , plus more for garnish
½ teaspoon vanilla extract
Frosting
3 egg whites
1 ½ teaspoons vanilla extract
½ cup cold water
1 ½ cups sugar (150 grams)
¼ plus ⅛ teaspoon cream of tartar
Directions
Preheat oven to 350°F (175°C). Grease 2 8-inch round cake pans and line with parchment. Grease again and dust with flour.
Beat the butter until creamy, then gradually add sugar and beat until fluffy. Add eggs one at a time, beating well after each addition.
Combine the flours and add in four parts, alternating with the milk and the vanilla, beating well after each addition. Divide the batter among the cake pans.
Bake for 25-30 minutes or until a cake tester inserted into center of cake comes out clean. Let cakes cool in pans for 10 minutes. Remove from pans and cool completely on wire rack.
Filling
In a medium-size saucepan (I used a heavy duty All-Clad pan), whisk the milk with the sugar and the flour until thoroughly combined. Turn heat to medium-high and cook and whisk constantly over medium-high heat (about 5 minutes) until thickened and bubbly. Remove from heat and add the coconut. Stir in the vanilla extract. Cover and cool to room temperature.
Spread filling between the two layers of cake. Prepare frosting.
Frosting
In a stand mixer bowl, combine the egg whites and the vanilla extract and set aside. In a medium-size saucepan over high heat, combine the water with the sugar and the cream of tartar. As mixture begins to bubble at edges, stir once to make sure the sugar is dissolved completely, then let come to a rolling boll (about 2 to 3 minutes) and remove immediately from heat.
In a medium-size bowl, on the medium-high speed of an electric mixer, beat the egg whites and the vanilla extract with the whisk attachment until foamy, about 1 minute.
Without turning off mixer, pour the sugar syrup into the beaten egg whites in a thin, steady stream. Continue beating constantly, on medium-high speed, for about 5 minutes or until stiff peaks form but frosting is still creamy. Frost top and sides of cake immediately. Generously sprinkle top with shredded coconut.