Red Velvet White Chip Cookies were basically an excuse to use up a bag of Hershey's Cream Cheese Flavored Chips. I spotted them at Wal*Mart a while back and had to give them a try. Props to Hershey's for making new flavors of baking chips, but on a scale of 1 to 10, these are a 5. Their flavor is more like butter extract than cream cheese. After trying them, I shoved them in the back of the pantry waiting for a day when I could use them for what they were most likely intended -- these cookies.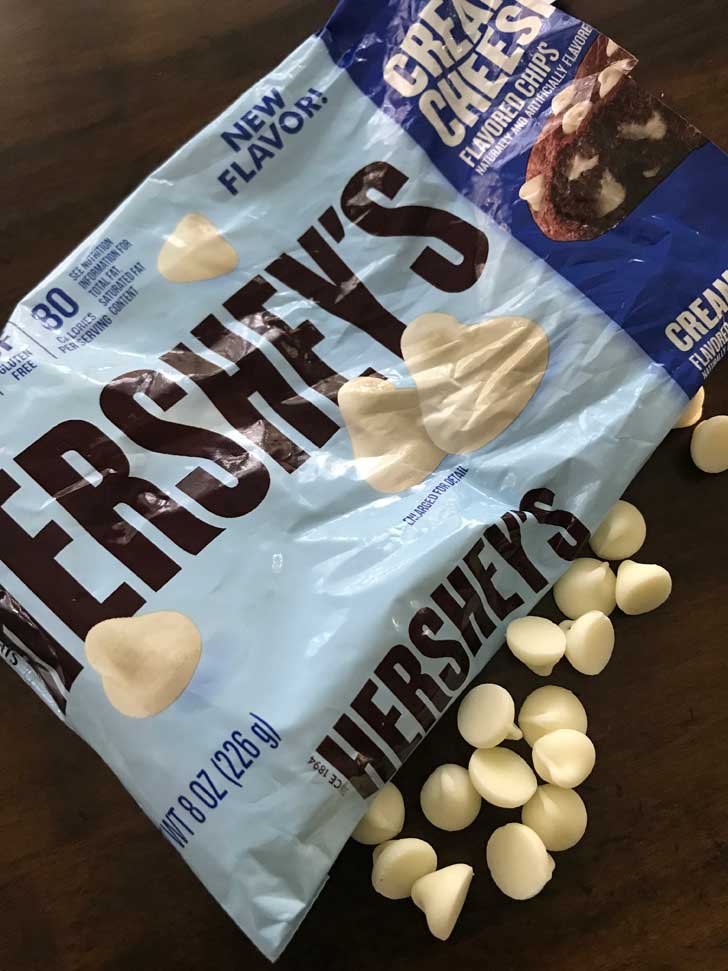 Cream Cheese Chips with Red Velvet Cookie Dough
So I finally made a batch of the red velvet flavored cookies. Wow! What a difference a pairing makes! The chips, combined with the red velvet cookie dough, make each cookie taste like a slice of red velvet cake circa 1980 from the H-E-B. Plus they bake up nice and thick and aren't overly sweet. That said, they're honestly not my favorite. But Todd likes them, and I think they'd make a nice addition to a cookie plate or as part of another gift for people who like red velvet.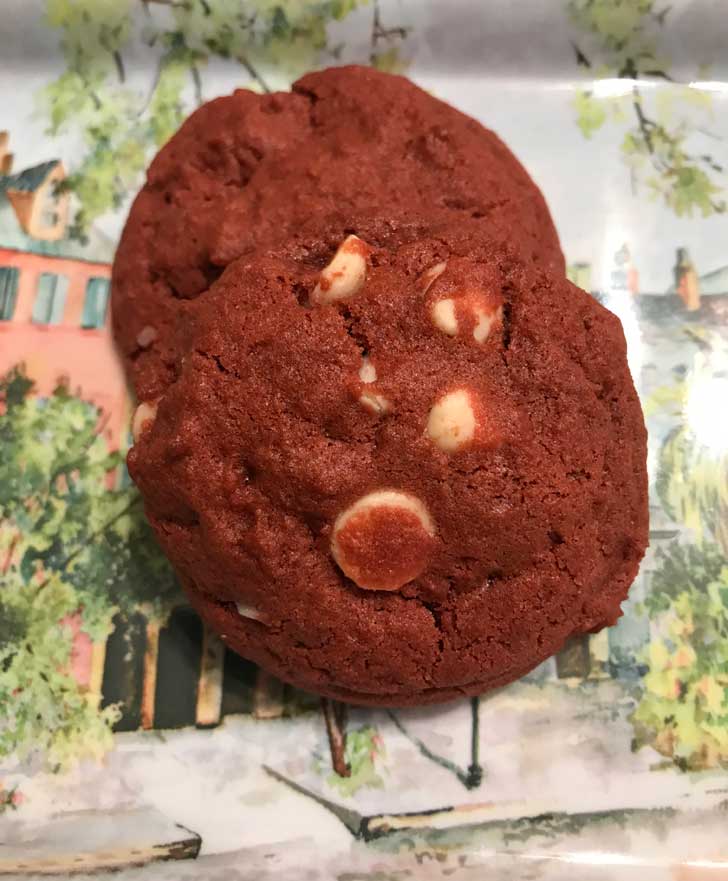 Cream Cheese Flavored Chips
As for the chips, I checked yesterday and Wal*Mart had them with the Easter baking goods. For a split second I considered buying more since they made the Red Velvet White Chip Cookies so "authentic" tasting. Thankfully, I did not. I'll hold out until they get the Nestle Disco Ball Morsels again. I've heard those are actually good.
After making with the cream cheese flavored chips, I did test a batch of cookies with regular Ghirardelli brand white chips. When made with white chips, the cookies are also very good.
Recipe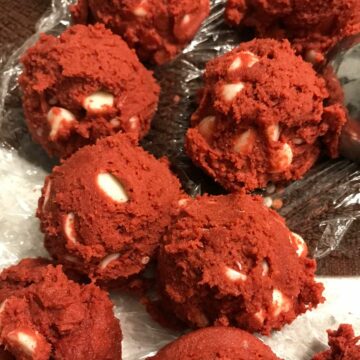 Red Velvet White Chip Cookies
Red velvet flavored cookies that bake up thick and are not too sweet. Be sure to use plenty of chips. I've tested these with cream cheese flavored chips and Ghirardelli brand white chips.
Ingredients 
1 ½

cups

all-purpose flour (measure with a light hand or weigh)

(190 grams)

2

tablespoons

unsweetened cocoa powder, natural

(10 grams)

1 ½

teaspoons

cornstarch

½

teaspoon

baking soda

⅜

teaspoon

salt

9

tablespoons

unsalted butter, softened

(125 grams)

½

cup

light brown sugar, packed

(100 grams)

¼

cup

granulated sugar

(50 grams)

1

large

egg

1

teaspoon

vanilla extract

2

teaspoons

red food coloring (may need less if using paste)

1 ⅔

cup

white chips or cream cheese flavored chips
Instructions 
Weigh the flour and mix it with the cocoa powder, cornstarch, baking soda and salt. Set aside.

In a mixing bowl, using an electric mixer, beat the softened butter and both sugars until light and creamy. Beat in the egg and the vanilla. Add red food coloring and beat until dark red.

Stir the flour mixture into the red mixture and mix on low or by hand until you have a horrible looking red dough.

Stir in the white chips (or cream cheese flavored chips).

Scoop the dough onto one or two dinner plates lined with plastic wrap, then cover scoops and chill overnight or until ready to bake. Or skip the chilling. These are fine baked immediately, but better textured and flavored with chilled dough.

Set the balls of dough a 2 ½ inches apart on parchment lined baking sheets. Bake for about 10 minutes (or until they appear set) at 350 degrees F.

Let cool on the baking sheet for about 5 minutes, then transfer to a wire rack to finish cooling.
Notes
I used 190 grams for flour for my 1 ½ cups.  If measuring by volume, be sure to really stir and aerate the flour, then spoon it into the cup.