This is an old Neapolitan Bundt Cake recipe calling for both strawberry and chocolate Nesquick powders. I believe this is an old Bake-Off recipe, but am still researching to find out whether that is true. It may have originated with Nestle since it uses two flavors of their instant drink mix.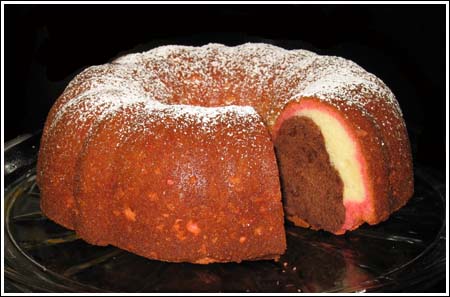 This is not a cake that I have tested multiple times, and since posting the size of cake mix has been reduced, therefore this recipe probably needs some adjustments. Or it might be fine as is. The recipe did not call for any oil, just a box of cake mix, cream cheese, eggs, milk and the two flavors of Nesquik. I'm not sure when I'll get around to testing it, as I am now old with a grown-up child and don't have many uses for chocolate and strawberry milk mix. Just kidding. I'll totally test it again! I remember it being good, but adding some oil to the batter probably wouldn't hurt.
Recipe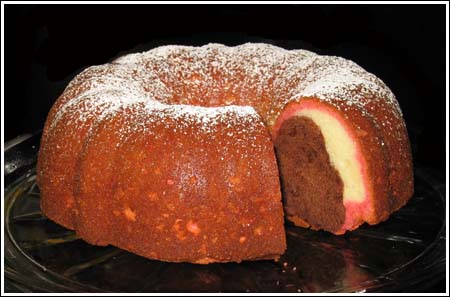 Neapolitan Bundt Cake
Neapolitan Bundt Cake is a fun Bundt, but now that cake mix sizes have been adjusted, the recipe might also need some adjusting. One thing that might work is buying two boxes of cake mix and weighing out just enough of the second box so that you have a total of 18.25 oz.
Ingredients 
8

oz

cream cheese, softened

4

large

eggs

room temp

1

box

white cake mix (see note)

¾

cup

milk

¾

cup

double chocolate-flavor Nestle Nesquik powder

¾

cup

strawberry-flavor Nestle Nesquik powder

Powdered sugar for dusting
Instructions 
Preheat oven to 350 degrees F and spray a 10 inch Bundt pan with flour-added cooking spray.

Beat cream cheese and eggs in large mixing bowl until smooth. On low speed or by hand, stir cake mix and milk into batter alternately. When mixed, beat on high speed for two minutes scraping sides of bowl.

Remove 2 cups batter and place in separate bowl; stir in chocolate Nesquik.

Remove 2 cups white cake batter and place in separate bowl; stir in strawberry Nesquik.

Spoon strawberry batter into prepared pan; tap pan on counter lightly. Spoon white batter over strawberry batter covering it completely, and then spoon chocolate batter over white batter.

Bake on center oven rack for 55 to 65 minutes or until wooden pick inserted into cake comes out clean. Cool in pan on wire rack for 45 minutes. Loosen edges with butter knife if needed; invert onto wire rack to cool completely. Sprinkle with powdered sugar.
Notes
This recipe was developed back when cake mix came in 18.25 oz boxes. These days the standard size is between 15 and 16.25 oz, therefore the ratios are off.