I'll take a good store bought ice cream sandwich any day. In fact, I like them so much I've made an entire ice cream cake with them. However, making homemade ice cream sandwiches is even more fun because you can experiment with different bases and ice creams. In this case, that ice cream was homemade chocolate mint.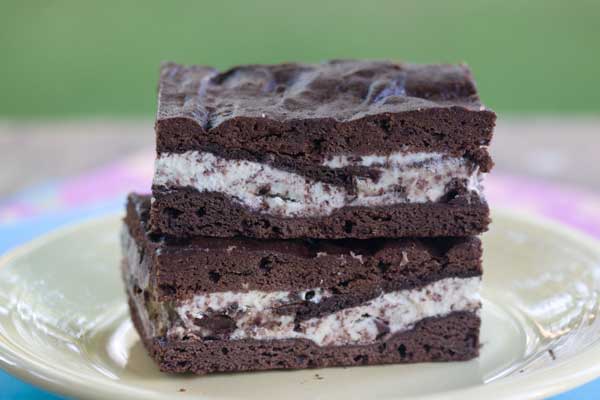 Ice Cream Sandwich Base Recipe
The base is a thin brownie that's neither too crunchy nor too firm when frozen. I found the original recipe in the 2002 July/August issue of Cook's Illustrated, but changed the technique somewhat. They made their sandwiches round. In addition to that, they also use a 17x11 inch jelly-roll pan to bake the cookie base. Since I couldn't find my 17x11 inch pan, I divided the brownie batter between two 9 inch square pans.  I also tried spreading in a 9x13 inch pan.   As expected, the 9x13 inch pan made too thick of a base, while dividing between the two 9 inch pans yielded a thinner crust that was easier to bite into. So if you don't have the 17x11 inch pan, go with the two 9 inch pans. And of course there's always the option of halving, in which case you'd want to use just one 9 inch square pan.
Neapolitan Homemade Ice Cream Sandwiches
Update:  I compared this recipe to the NYT recipe and still prefer this one because the brownies are a little less crumbly and greasy.  I also changed up the ice cream a bit and made Neapolitan sandwiches. I'm not sure why there's a picture of the ice cream and no picture of the sandwiches. Looks like it's time for another batch!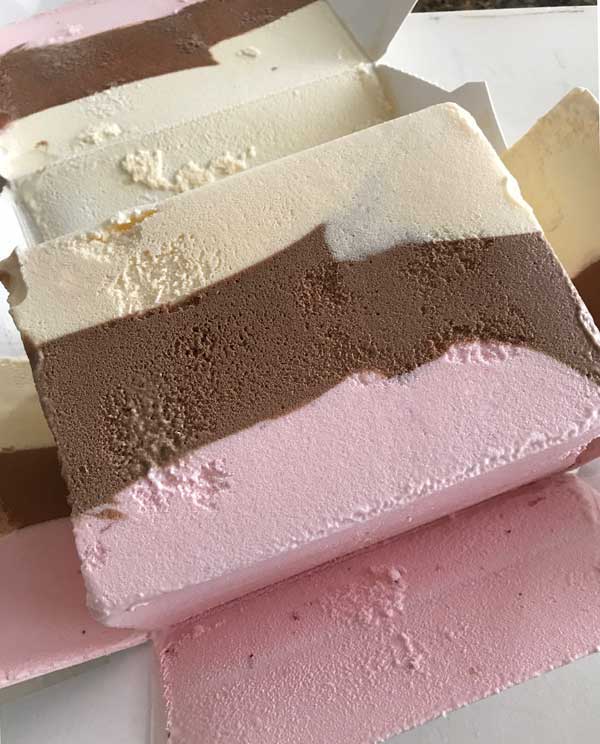 Recipe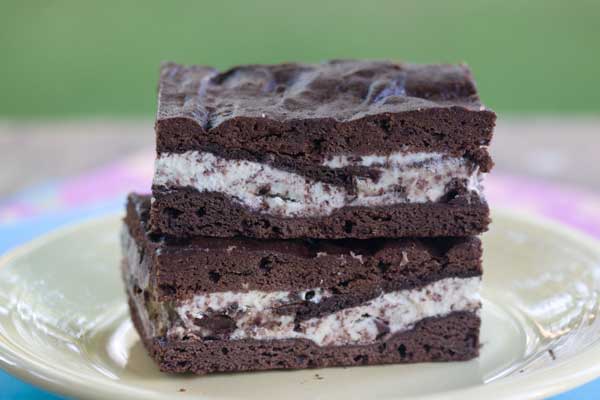 Homemade Ice Cream Sandwiches With Mint Ice Cream
Homemade ice cream sandwiches with mint ice cream in the middle.
Ingredients 
1

cup

unbleached all-purpose flour

or weigh out exactly 5 oz/140 grams**

½

cup

Dutch process or Hershey's Extra Dark cocoa powder

natural okay, too**

¼

teaspoon

salt

⅛

teaspoon

baking soda

2

large eggs

⅔

cup

granulated sugar

¼

cup

chocolate syrup

½

teaspoon

vanilla extract

8

tablespoons

unsalted butter

melted

2

pints

of your favorite ice cream.
Instructions 
Preheat oven to 350.

Line an 11x17 inch jelly-roll pan or two 9 inch square pans with nonstick foil.

In a medium size bowl, thoroughly mix together the flour, cocoa powder, salt and baking soda.

In a large mixing bowl using a handheld electric mixer, beat the eggs and sugar for about a minute. Beat in the chocolate syrup, vanilla extract and butter until mixture turns light brown. With a heavy rubber scraper or a spoon, stir in the flour mixture until incorporated.

Pour batter into lined pan and bake 10-12 minutes or until cakes seem firm and set. Remove from oven and let cool completely. Lift from pan and set cookie on a large cutting board.

Cut the cookie lengthwise to make two long rectangles, then cut cross-wise to make 4 rectangles (this makes them easier to work with). Place one of the rectangles on a big sheet of plastic wrap and spoon ice cream evenly over the top. Cover with second rectangle and press down slightly. Wrap tightly in plastic. Repeat with second set of rectangles. Set on a baking sheet and put in the freezer overnight or until very firm.

Using a large knife, trim the sides to give the sandwiches a clean edge. Cut each section into 4 rectangles.
Notes
Cook's Illustrated used a 5 oz/140 gram cup. I think a 4.5 oz/130 gram cup is better.
Natural cocoa powder like regular Hershey's or Ghirardelli will give you a slightly fluffier cake.