Update: This is one of my older recipes. Looking back at it, I think it's a lot of work for a loaf pan size recipe. If you go to the trouble of making the cookie dough layer and the brownie layer, you might want to make the 8 inch pan version. If so, just follow the recipe as usual, but use all of the chocolate chip cookie dough (instead of freezing half) and double the brownie layer.
Neapolitan Oreos
To make these brownies Neapolitan, I originally used Oreos with a pink filling and a flavor called Heads of Tails, which are Oreos with a regular creme filling sandwiched between a golden cookie and a chocolate cookie. Since posting, Oreo has introduced Neapolitan Oreos which makes things a lot easier! You can just stack Neapolitan Oreos in the center. The cross-section will be a little different, but still pretty.
Old Post
A few people have requested smaller batch, scaled down recipes, so with that in mind (and because I needed an excuse to try this), I made a loaf pan version of the Chocolate Chip Oreo Brownie Bars using two different flavors of Oreos -- the surprisingly tasty Berry Burst Ice Cream flavor and the chocolate & vanilla Heads or Tails Oreos.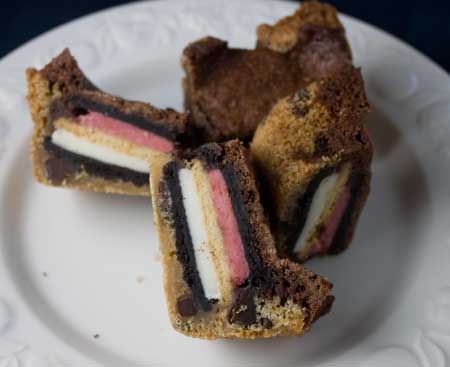 The idea was to stack them in the brownie and call them Neapolitan.
The loaf pan version worked very well. When cut, each piece had an edge. Also, the fudge brownie layer and the chocolate chip cookie dough baked a little more, which in this case was a good thing because the chocolate chip dough is buried under the brownie and needs all the heat it can get, while this particular fudge brownie recipe is just extremely fudgy.
Recipe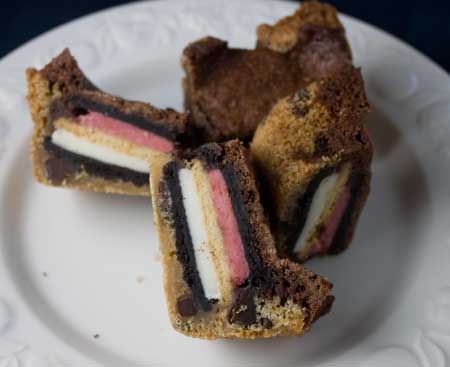 Neapolitan Chocolate Chip Oreo Brownie Bars
Chocolate Chip Oreo Cookie Bars using vanilla, chocolate and strawberry Oreos.
Ingredients 
Cookie Dough Layer
1

stick

unsalted butter, softened

(114 grams)

6

tablespoons

granulated sugar

(75 grams)

6

tablespoons

packed light brown sugar

(75 grams)

¾

teaspoon

vanilla extract

1

large

large egg

1

cup

plus 2 tablespoons all-purpose flour

(140 grams)

½

teaspoon

salt

½

teaspoon

baking soda

⅔

cup

chocolate chips

8

Heads or Tails or Double Stuff Oreos

8

Strawberry filled Oreos

or any other flavor
Brownie Layer
4

tablespoons

unsalted butter

(56 grams)

3

tablespoons

unsweetened natural or Dutch processed cocoa powder

½

cup

granulated sugar

½

teaspoon

vanilla extract

1

large egg

⅛

teaspoon

salt

⅛

teaspoon

baking powder

¼

cup

1.1 ounces all-purpose flour
Instructions 
Preheat oven to 350 degrees F. Line a 9x5 inch metal loaf pan with foil and spray the foil with cooking spray.

Cream the butter with the brown and granulated sugar. Beat in the vanilla and egg and beat just until the egg is mixed, then beat in the salt and baking soda. By hand, stir in the flour until it is incorporated. Stir in the chocolate chips. Press about HALF of the dough into the bottom of the pan as evenly as possible (freeze the rest). Press 8 whole Oreos directly into the dough, spacing evenly. Detach one side of each of 8 berry flavored (or other flavor) Oreos, and stick the Oreo "missing side down" on top of the other Oreos so that you have 8 little stacks.

Wash out the mixing bowl. Melt the butter in the mixing bowl (if using a microwave-safe bowl) or just melt the butter and add it to the bowl. Stir in the cocoa powder until smooth. Stir in the sugar and vanilla. Add the egg and whisk lightly (do not beat) just to blend, then whisk in the salt, and baking powder. Add the flour and stir until it is incorporated. Pour over the Oreos and spread batter to cover them. Bake on the center rack at 350 for 30 minutes or until brownies appear set and edges are puffed up. Cool on a wire rack. When cool, chill the brownies for about 2 or 3 hours. Lift from pan and cut into 16 squares.