Chocolate Chunk Oatmeal Toasted Coconut Cookies (sorry for the long name) are from another lost and found cookie recipe. Years ago this was my favorite oatmeal cookie recipe and quite popular with friends and family. People requested the cookies often, but after a while I got tired of making them and moved on. Yesterday, still in an oatmeal cookie mood and wanting to use up some coconut, I made a batch of the toasted coconut cookies and remembered why I liked them so much.
Toasted Coconut Cookies -- Oats
These cookies are thick, dense, and sturdy enough to hold big chunks of good quality chocolate. For this batch I used Lindt because their "Intense Chocolate" was on my mind. As for the oats, "old fashioned" or "rolled" work best. I made these with the "quick" (not instant) type and while the cookies were good, the texture was sort of mealy.
Toasting the coconut adds some extra flavor, but if you skip that step the cookies will still be great. In fact, the original recipe from Gourmet used plain coconut and roasted almonds.
Recipe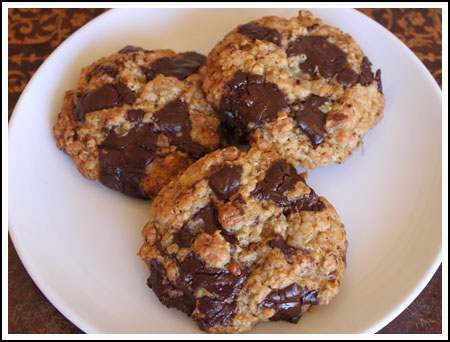 Chocolate Chunk Oatmeal Toasted Coconut Cookies
Chocolate Chunk Oatmeal Toasted Coconut Cookies
Ingredients 
1 ⅓

cups

packed angel flake sweetened shredded coconut

5 ½ oz OR unsweetened coconut

4

oz

pecans

toasted and chopped (or almonds)

8

oz

unsalted butter, cool room temperature

1

cup

firmly packed brown sugar

6

tablespoons

granulated sugar

1 ½

teaspoons

vanilla

½

teaspoons

baking soda

½

teaspoon

salt

omit if using salted butter

2

large eggs

1

cup

all-purpose unbleached flour

spoon and sweet or fluff, scoop and level

2 ¼

cups

old-fashioned oats

2

cups

dark or bittersweet chocolate chips or 12 oz coarsely chopped dark chocolate
Instructions 
Preheat oven to 350 degrees F.

Toast the pecans and coconut. For the coconut, spread it on a rimmed cookie sheet or in a large baking pan and set it on lower rack of oven. Arrange the pecans on a second sheet and place on middle rack. Bake both pans together for 8-10 minute, checking and stirring the coconut every 3 minutes or so. The pecans should be ready in 8 minutes and the coconut will be ready when it starts to turn golden around the edges.

If baking cookies right away, raise heat to 375 degrees F.

Beat the butter with an electric mixer until creamy. Add both sugars and beat for 2-3 minutes, scraping sides of bowl. Beat in vanilla, baking soda, and salt. Reduce speed of mixer, add eggs and beat until just until they are blended in. Scrape bowl again and add flour. Mix at low speed (or by hand) until blended. Stir in oats, toasted coconut, chocolate, and nuts

Using about a ¼ cup measure, scoop up dough to form mounds. Chill the shaped balls/mounds until ready to bake. When ready to bake, arrange mounds 3 inches apart on parchment lined sheet, press down to about ½ inch and bake at 375 for 12-15 minutes, turning once. These cookies go from pale to overcooked fairly quickly, so remove from oven when edges are browned and centers are still slightly pale. Mine are usually done in 14 minutes.

Makes about 24 large cookies
Notes
Variation: Use unsweetened coconut in place of the flaked coconut and almonds in place of pecans.