Toasted Pecan Caramel Chips Oatmeal Cookies are made with one of my new favorite baking ingredients, see salt and caramel flavored chips.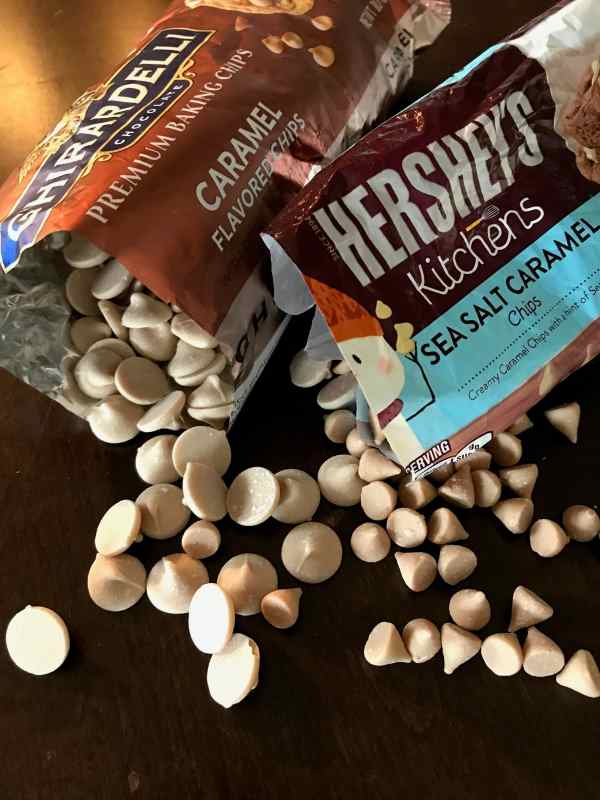 Caramel Chips Brands
There are two different brand that I know of. Hershey's has sea salt flavored and Ghirardelli has caramel flavored chips. The Hershey's version (which I bought at Mariano's/Kroger) are the same size as their semisweet, while Ghirardelli's (found at Target) are slightly larger. The Hershey's have a salty flavor, but Ghirardelli's taste more like burnt milk and remind me of a Mexican candy called leche quemada. There are tons of ways to use the chips, but so far I've only used them in regular chocolate chip cookies and these oatmeal cookies.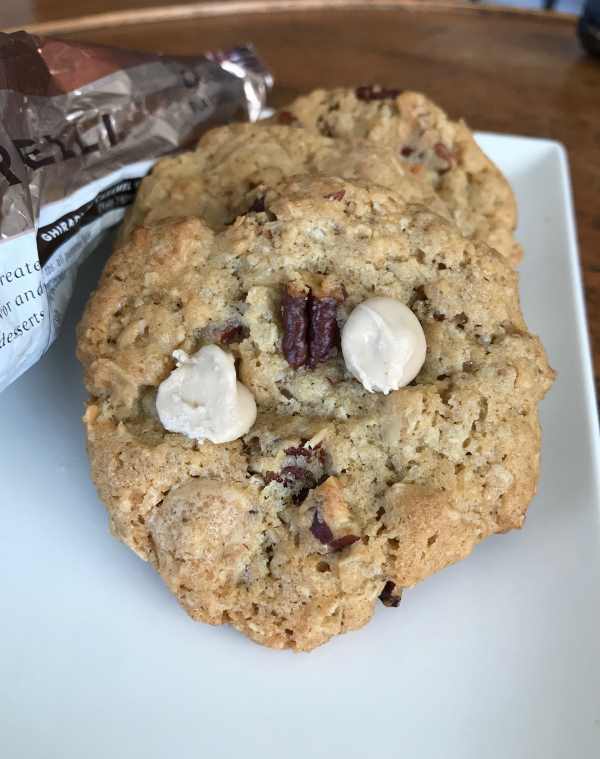 I actually tested a few different oatmeal cookies and decided to go with this one because it's fairly straightforward and uses butter, which is a flavor that goes well with the caramel.  The cookies are chewy and about medium thickness.  Make sure to measure you flour with a light hand or weigh it for best results.
Trader Joe's Brand
Update! Trader Joe's is now selling their own brand of caramel flavored baking bits. I'm on the fence about them, to be honest. They taste kind of like maple chips to me.
Related Recipes
Recipe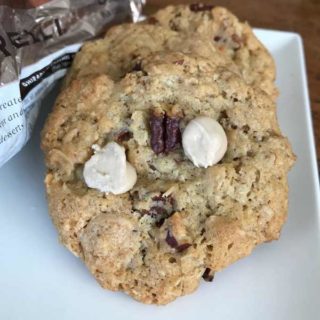 Toasted Pecan Caramel Chips Oatmeal Cookies
Salted Caramel Chip Oatmeal Cookies
Ingredients 
⅓

cup

pecans plus about ½ teaspoon of butter

4

ounces

unsalted butter, cut into chunks and softened

(114 grams)

½

cup

granulated sugar

(100 grams)

½

cup

dark or light brown sugar - firmly packed

(100 grams)

1

large

egg

(50 grams)

1

teaspoon

vanilla

½

teaspoon

baking soda

½

teaspoon

baking powder

½

teaspoon

salt

1

cup

unbleached all-purpose flour

(126 grams)

¾ -1

cup

caramel flavored baking chips

1 ½

cups

oats

quick cooking or old fashioned (110 grams)
Instructions 
Preheat oven to 350 degrees F. Have ready 2 ungreased or parchment lined cookie sheets.

Lay the pecans on a baking sheet and toast for about 7 minutes. Remove from the oven and toss with ½ teaspoon of butter. Set the pecans aside to cool.

With low speed of an electric mixer or with a heavy duty scraper, beat the softened butter and both sugars until creamy, then add egg and vanilla and beat just until egg is mixed in.

Add the baking soda, baking powder and salt and stir until evenly blended, then add the flour and stir until blended. Stir in oats, and caramel chips, then chop up the cooled pecans and add them to the dough.

Using a medium size cookie scoop, scoop up dough and shape into 18 balls; Arrange about 2 ½ inches apart on baking sheets and flatten slightly. Alternatively, chill the balls until you are ready to bake the cookies.

Bake 12-14 minutes, one sheet at a time, on center rack. Remove from oven; let cookies sit on baking sheet for 2-4 minutes. Carefully transfer to a rack to cool.
Notes
For best results, weigh the flour or spoon it into a cup rather than scoop it.