Years ago, a friend in Virginia sent me a cake from a bakery called Rowena's. It was a somewhat plain looking heart shaped mini chocolate pound cake, but it came with a sauce to dress it up. The sauce was a nice touch, but I found I liked the cake better plain. In fact, I loved it and decided it was the best chocolate pound cake ever. Over the next few years I hoped that every time I made a chocolate pound cake I'd get a texture similar to Rowena's. It never happened, then along came this cake.
Chocolate Butter Cake From Alisa Huntsman
My friend Katy, who says everyone should have wardrobe of chocolate cake recipes, says this is her current favorite. It's adapted from Sky High: Irresistible Triple-Layer Cakes
by Alisa Huntsman, a CIA grad and pastry chef in Nashville.
The original version of this cake is sky high. It's about 1.3 x this recipe and can be baked in 2 9-inch pans or 3 9 inch pans. For a truly towering cake, you can bake it in 3 8-inch pans. I'm not very good at cutting towering cakes so I reduced the volume and made 2 8-inch layers.
Cake Texture
I'm having a hard time describing this cake. I want to say "almost scone-like" but that makes it sound dry and it's not. So let's see. "If a chocolate scone wished upon a star to be turned into a soft chocolate cake, it would be this cake." ??? There must be a German word to express that thought, right? No? The texture of this cake is tight crumbed and dense, but soft and not heavy at all. Instead of being moist in an almost wet sort of way, this cake is moist and velvety. At first I thought it might just be a high proportion of butter, but there's also a high proportion of sugar and liquid, so I can't just say "it's the butter". And the mixing technique for this cake is different. You put the dry ingredients in a bowl and add the others later. Also, you add the eggs in a way that doesn't allow them to hold much air.
Halving
Okay, enough about the texture. Give it a try! The proportions of this cake are perfect for scaling so you could very easily cut the recipe below in half and serve it as a one-layer 8-inch cake or slice the layer in half and fill it.
One more quick note. If you look at the picture you can see how the cake looks dense and moist near the edges right under the frosting. It looks almost as if the frosting has sunk into the cake, but the cake was completely cool when frosted. The moisture from the frosting might have played a role in the inner-edge density, but I vaguely remember Rowena's cake having that same characteristic -- and it wasn't frosted.
Recipe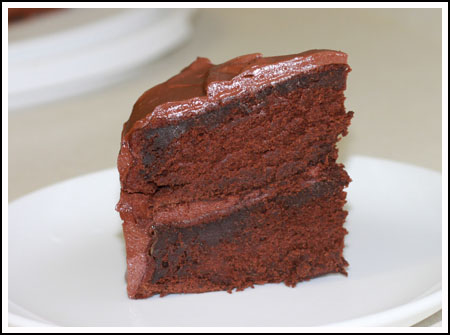 Chocolate Butter Cake
Chocolate Butter Cake
Ingredients 
2

cups

cake flour

(230 grams)

2

cups

granulated sugar

(385 grams)

1

cup

unsweetened natural cocoa powder

(80 grams)

2

teaspoons

baking soda

½

teaspoon

salt

2

sticks

unsalted butter, softened

(230 grams)

1

cup

buttermilk

2

large

eggs

1

teaspoon

of vanilla

1

cup

freshly brewed coffee

cooled to room temperature
Chocolate Buttermilk Frosting
1 ½

oz

unsweetened chocolate

1 ½

oz

semi-sweet chocolate

1 ½

sticks

6 oz unsalted or salted butter, room temperature (important)

3

T.

unsweetened cocoa powder

3

cups

sifted powdered sugar

3 ½ cups unsifted

3-4

T.buttermilk

or regular milk plus more if needed -- room temperature NOT cold

1 ½

teaspoons

vanilla

Pinch

or two of salt -- if using salted butter

omit
Instructions 
Preheat the oven to 350F. Spray 2 8-inch round cake pans with flour-added cooking spray. Line bottoms with rounds of parchment paper.

Combine the flour, sugar, cocoa, baking soda and salt in mixing bowl and stir very well to combine. Add the soft butter and buttermilk and blend on low (I used a stand mixer with a paddle) until smooth.

Whisk the eggs, vanilla and cooled coffee together in another bowl and add to the batter in 3 additions, scraping down the sides of the bowl and mixing until blended. Try not to beat a lot of air into the egg mixture as you add it – just stir well. Scrape bottom of bowl and make sure to mix in all batter.

Divide the batter among the pans and bake on center rack for 35 to 40 minutes or until a wooden toothpick inserted in the center comes out clean. Let cool in pans for about 5 minutes, then turn invert onto wire racks to cool completely. Remove parchment when cool.

Chocolate Frosting: Melt both chocolates in microwave, double boiler or bowl set over barely simmering water; set aside to cool.

Beat the butter until creamy. Make sure it's not too cold or it might cause the chocolate to re-solidify. Stir in the cocoa power, about a cup of the powdered sugar, and the cooled melted chocolate. Scrape sides of bowl and beat well; add remaining powdered sugar, then add room temperature milk, vanilla and salt, beating and scraping until you get the consistency you like.