This sour cream enhanced chocolate quick bread was inspired by a little sandwich store near my house that always has about half a dozen quick breads on display. Some of the loaves have flat tops and others are nicely rounded. They always look so perfect, and when I see them I get the urge to go home and bake something in a loaf pan.  This chocolate bread, which has a nice shape to it, was the latest treat.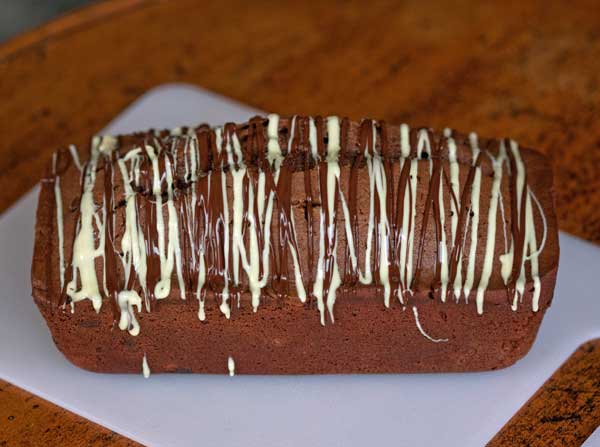 I found the original recipe while perusing the Martha White collection. They make theirs in a 9x5 inch loaf pan and use double the amount of ingredients.  They call it a pound cake, but it seems lighter than pound cake. Also, it's a little less sweet, so I'm going to call it a quick bread.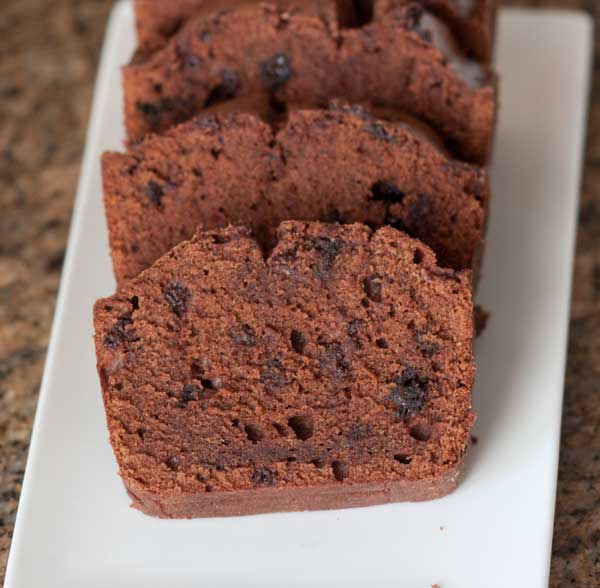 Chocolate Quick Bread Texture
The recipe calls for a mixture of melted unsweetened chocolate and sour cream which gives it a velvety texture. I've made it with Baker's brand unsweetened chocolate, Ghirardelli 100% and plan on making it again with Lindt 90% just for kicks to see if the brand of unsweetened chocolate changes the texture.  So far, all versions have been good. In addition to the melted unsweetened chocolate, it has chopped chocolate or mini chocolate chips for extra moisture and flavor.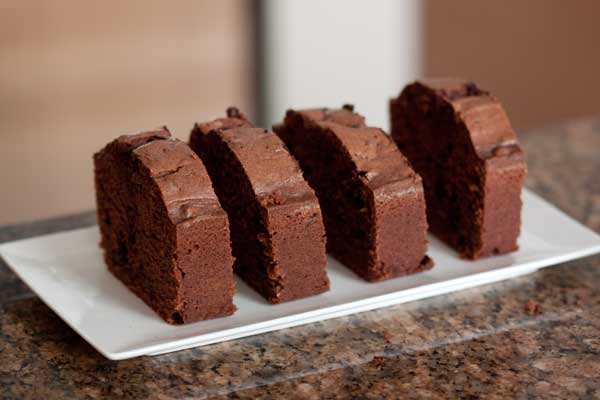 The recipe is a blank slate and open to so many variations, but the flavor and texture is so balanced that I don't want to mess with it too much.  Then again, some well-drained cherries surely couldn't hurt.
Recipe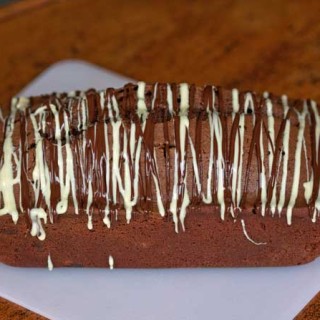 Sour Cream Chocolate Quick Bread
This chocolate quick bread is enhanced with sour cream for a velvety soft texture. I put "no substitutes" next to "unsweetened chocolate because I think that is important to the overall composition, but it's a free country ;). If you do have to substitute, using 2 tablespoons of oil and 6 tablespoons of unsweetened cocoa powder might work. Still, this is really good with unsweetened chocolate.
Ingredients 
2

ounces

unsweetened chocolate

chopped, no substitutes (56 grams)

4

tablespoons

butter

softened (56 grams)

¾

cup

granulated sugar

(150 grams)

2

large eggs

room temperature

1

teaspoon

of vanilla extract

¾

cup

all-purpose flour

(100 grams)

⅛

teaspoon

baking soda

Salt – ⅜ if using unsalted butter

⅛ if using salted

½

cup

sour cream, room temperature

(114 grams)

½

cup

bittersweet chocolate chips

Optional: Extra semisweet chocolate for melting and drizzling over the top
Instructions 
Preheat the oven to 325 degrees F. Grease and flour an 8x4 inch (1 pound) loaf pan.

Put the chocolate in a small microwave-safe bowl and microwave at 50% power, stirring every 30 seconds, until melted and smooth. Set aside to cool slightly.

In a mixing bowl, beat the butter and sugar until creamy. Add the eggs one at a time, beating for at least 30 seconds after each egg and scraping the bowl often. Mixture should become slightly fluffy. Beat in the vanilla extract.

Mix together the flour, baking soda and salt, then add the flour mixture and the sour cream alternately, stirring until sour cream is fully blended. Stir in the cooled melted chocolate. Stir in the chocolate chips.

Bake the cake on the center rack at 325 degrees for about an hour or until a meat thermometer inserted registers between 205 and 210.

Allow the cake to cool for about 30 minutes in the pan, then remove it and cool completely. At this point you can serve it, or wrap it up in plastic and shove it in the freezer. Before serving, you can drizzle it with melted chocolate. I haven't tried it with a glaze.
Notes
For the flour I've used both White Lily and regular bleached Gold Medal which are both lower in protein than my usual unbleached King Arthur. I think the acidity in the bleached flour also affects the overall texture, and in this case in a positive way. I'll have to test this with unbleached to be sure. I also want to try making it with cake flour.