The recipe for Caramel Brownies is my oldest and most-used. It's originally from Rebecca Rather, but I've played with it over the years mainly by halving it and experimenting with different kinds of caramel and caramel bits. This version is for an 8 inch square pan. You can find the 9x13 inch version here. These days I mostly stick with the smaller pan.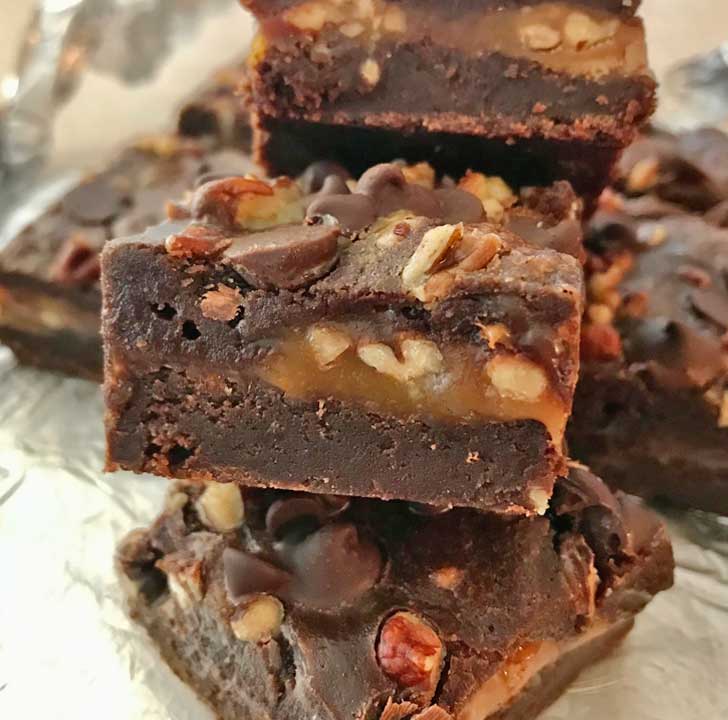 Here's what the caramel brownies look like after being cooled and chilled. They do not look like this right out of the oven. They bake up very gooey-looking, but once cooled and chilled they are soft and fudgy with plenty of caramel. So don't forget to make these a few hours or even a day before you plan on serving them.
More Tips for Making Caramel Brownies
One of the best things about making these brownies is that you get to trim the edges. Here's what I mean. I'm a little selfish when it comes to the edges and save them all for myself. They are the chewiest! Which brings me to the first tip.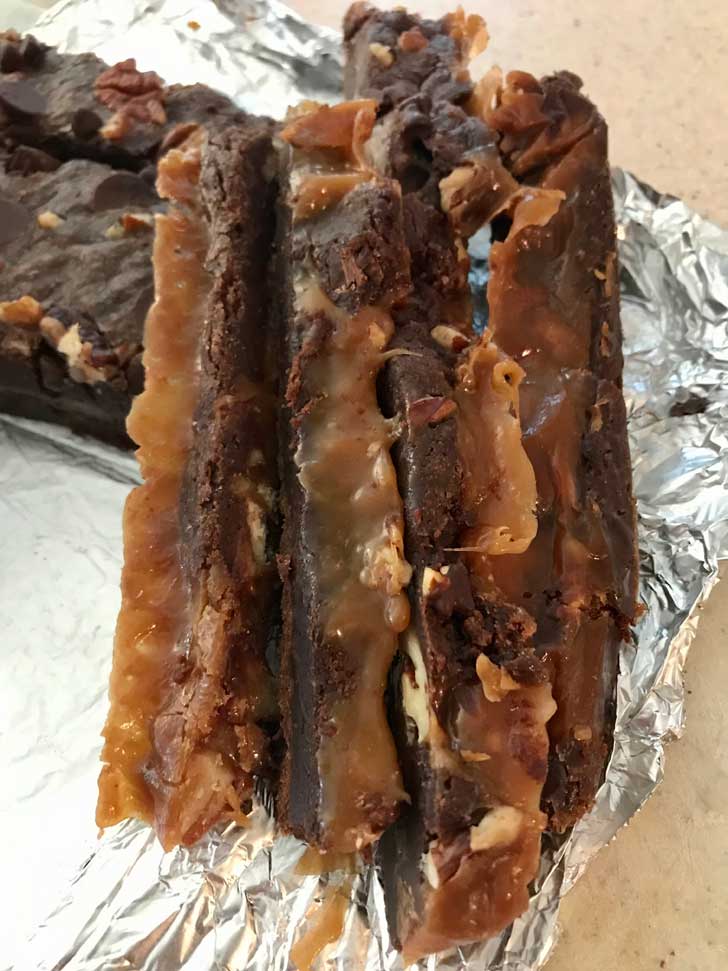 When spreading the top layer over the bottom, start in the middle and leave the caramel around the edges exposed. Since this part gets trimmed anyway, this gives you more batter to cover the top.
Cover any gaps with chocolate chips and extra pecans.
For the chocolate, use bittersweet. You can also use a combination of about 5 ½ oz dark mixed with ½ oz unsweetened. I've done this a time or two.
You can use unwrapped Kraft caramels or Caramel Bits. To use the bits, just weigh out 196 grams or measure a heaping cup.
When you are putting the first layer of batter in the pan you can eyeball it or weigh out about 11 oz or 12 oz. If you put more on the bottom, you'll have less for the top, but you can always cover the exposed parts with more chips and nuts.
Be sure to let the bottom layer cool before adding the layer of caramel. If the bottom layer is still too hot during the second round of baking, it may overcook slightly. Then again, these are so fudgy that's probably won't be an issue.
Recipe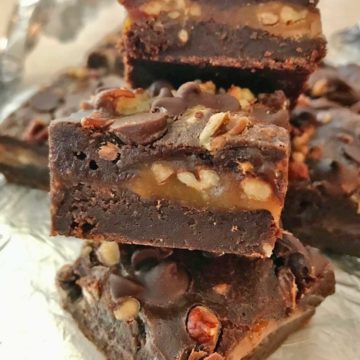 Caramel Brownies
Brownies with a layer of melted caramel in the center.
Ingredients 
6

ounces

semisweet chocolate, chopped

(170 grams)

½

cup

butter (unsalted)

(114 grams)

¾

cup

sugar

(150 grams)

2

large

eggs

½

tablespoon

vanilla

½

cup

plus 2 tablespoons flour

(78 grams)

⅛

teaspoon

salt
Caramel Filling:
½

bag

unwrapped Kraft caramels or a heaping cup of Kraft Caramel Bits

(196 grams)

2 ½

tablespoons

heavy cream

½

cup

chopped

toasted pecans
Instructions 
Preheat oven to 350 degrees F. Line an 8 inch square pan with nonstick foil.

Place chocolate and butter in a microwave-safe mixing bowl and microwave on high for 30 seconds. Stir and repeat until melted and smooth.

Using a wooden spoon, beat in sugar. Beat in eggs, one at a time followed by vanilla. Beat thoroughly with spoon for about a minute. Stir in flour and salt.

Pour half of batter in lined pan and bake for 18 minutes. Let cool for at least 15 minutes. While cooling, prepare filling.

Place caramels and cream in a saucepan. Heat over medium, stirring constantly, or until caramels are melted and smooth. Stir in pecans. Pour over partially cooled brownie layer. Spread remaining brownie batter over caramel. Cook for another 18 minutes.

Let cool completely then chill Use parchment to lift brownies from pan.

Cut into squares.
Notes
Chill before slicing for a cleaner, neater, cut.
For the chocolate, I find that a dark chocolate or semisweet or one that's around 60% works better than 70 or 85% chocolate.