Alabama Cookies were inspired by a reader who sent me the recipe a few weeks ago. I happened to be on vacation and couldn't run to the kitchen to bake them, but on paper the recipe reminded me of 50 Good Cookies which also calls for oats, cereal and coconut (and is a favorite!).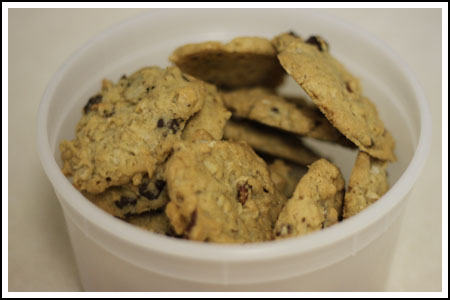 But Alabama Cookies are different, as I found out today. Alabama cookies call for less flour, more egg and a lot more oats. The resulting texture is crispy-edged and chewy with a lot of little air pockets. They also have a deep rich flavor from the toasted nuts and coconut (which I toasted as well).
Here's the recipe as I made it. I used half shortening and half butter, which worked well. Also, the original recipe makes a bunch so I halved it and got 3 dozen, which was enough for me and the construction guys. Now that there's an island in my new kitchen, I'm dropping cookies on it and leaving.
Oh, and how do you like this cookie tub? I bought a package of tortilla soup at Costco. They package it in bags then put each bag in a re-sealable tub. The soup doesn't touch the tub since it's in its own bag, so if you buy the Costco soup for $10, you get two free cookie tubs.
Alabama Cookies
1/2 cup shortening (98 grams)
1 stick (4 oz) unsalted butter (114 grams)
1 cup granulated sugar (190 grams)
1 cup brown sugar firmly packed(200 grams)
1 teaspoon vanilla
2 large eggs
1-1/2 cups unbleached all purpose flour (200 grams)
1 teaspoon salt
1 teaspoon baking soda
2 cups regular oats
2 cups chopped pecans, toast before chopping
1 cup Rice Krispies
1 cup flaked coconut
1 cup dark chocolate chips
Preheat oven to 325 degree F.
Beat the shortening and butter together until creamy. Add both sugars and vanilla continue beating until light and fluffy. Add eggs and beat just until blended.
Combine flour, salt, and baking soda. By hand or using lowest speed of mixer, add to the butter mixture. Stir in the oats, nuts, Rice Krispies, toasted coconut and dark chocolate chips.
Drop dough by heaping teaspoons onto greased cookie sheets. Bake at 325 degrees for about 12-14 minutes or until edges are brown and cookies appear set. Let cool slightly on cookie sheets, remove to wire rack to cool completely.
Makes about 3 dozen cookies.