The first time I tried making chocolate chip cookies with self-rising flour, they looked like this -- cakey, brown edges, very dense.
At it Again -- Updated Version
But they were tasty! We liked them, but I never went back to the recipe because there were so many other good chocolate chip cookie recipes to try. A while later (okay, years later) I started experimenting with self-rising flour chocolate chip cookies again and found a version I liked. It is completely the opposite of the cookies pictured above. The cookies are very flat, very chewy, and have a strong brown sugar flavor because they are made with 100% brown sugar. They're also super easy.
Flat and Chewy Self-Rising Flour Chocolate Chip
Here's the new recipe if you want to try it. These self-rising flour chocolate chip cookies use half the butter as the traditional recipe. I usually use unsalted butter and add a little salt. If you use salted butter, just leave it out. Also, if your self-rising flour is callled "self-raising" and doesn't contain salt, you'll want to add about ⅜ teaspoon of a very scant ½ teaspoon to the recipe.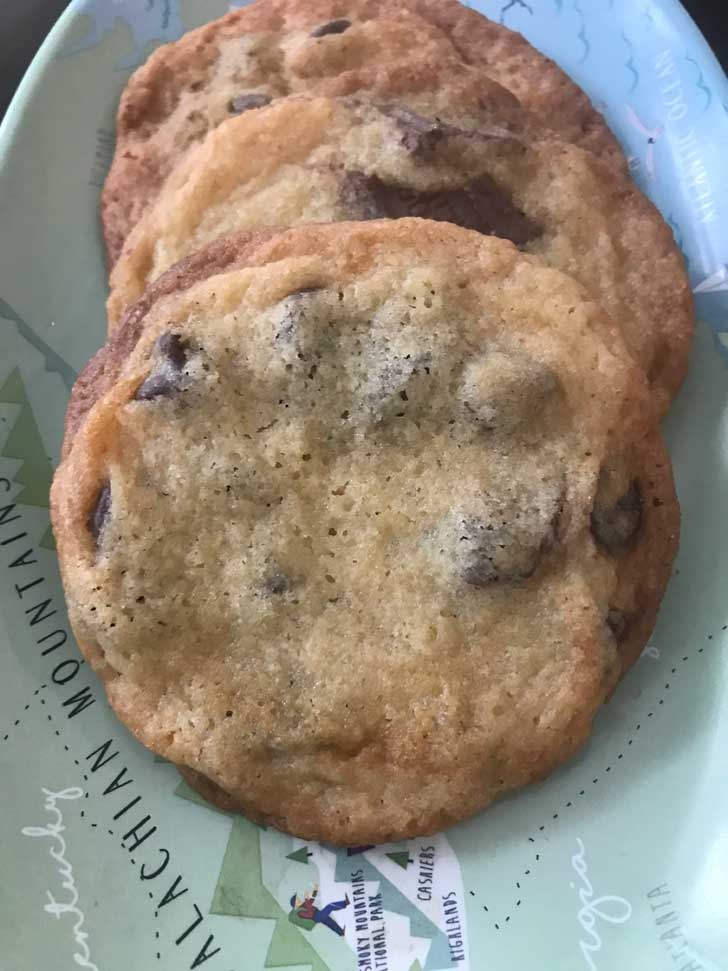 No Need to Refrigerate Dough
Interestingly, I have not found refrigerating the dough to be beneficial to these particular self-rising flour cookies. If anything, they come out flatter. It might have something to do with the acidicness of the flour and all the brown sugar, but for whatever reason they don't get any thicker with refrigeration. That said, I tend to refrigerate the dough balls anyway and just make really thin, chewy cookies.
Self-Rising Flour Chocolate Chip Cookies
4 tablespoons unsalted butter, cool room temperature (56 grams)
⅛ scant teaspoon salt (omit if using salted butter)
¾ cup plus 1 tablespoon packed light brown sugar (165 grams)
1 large egg
½ teaspoon vanilla extract
1 cup self-rising flour (135 grams) -- (I use White Lily)
Around 1 cup chocolate chips (or use chocolate chunks)
Preheat oven to 350 degrees F.
In a mixing bowl, beat butter, salt and sugar until blended, scraping sides of bowl. Beat in egg and vanilla. Stir in flour until incorporated, then add chocolate chips.
Using a rounded tablespoon measure (or a medium size cookie scoop), scoop up dough to make balls a little over an inch in diameter. Place a few inches apart on an ungreased cookie sheet and bake for 12-14 minutes or until they appear done. That is, they'll be very brown. Let cool directly on the baking sheet for about 10 minutes, then transfer to a wire rack. These are also great frozen.
Makes about 20 cookies
Variations
I love adding a tiny bit (about a teaspoon or 7 grams) of blackstrap molasses to the dough. It causes the cookies to spread to the point where they are almost brown and paper thin. They're not pretty, but they taste so good! A little Maldon sea salt on top is also a nice addition.