I've developed a new appreciation for self-rising flour. It makes biscuits and muffins a little softer, and skipping the step of adding baking powder and salt to the flour is a plus. I don't plan on using it in everything, but I like finding new recipes that benefit from self-rising flour and I think this is one of them.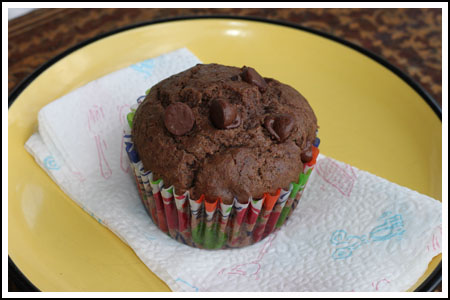 These were quick to prepare, had just the right amount of chocolate, domed nicely, and were dense and heavy enough so as not to be confused with chocolate cupcakes. With just 1/4 cup of sugar they weren't very sweet, but the added 1/2 cup chocolate chips balanced things out. Still, I recommend using a "generous" ¼ cup of sugar, unless you are really keen on not-too-sweet muffins, in which case you should stick with the ¼ cup.
The evaporated milk was another interesting ingredient and one I'd never used in muffins. I think it might have contributed to the muffin's texture by adding extra dairy and less moisture. Either way, I'd use it again.   This recipe is going to be a mainstay, but I plan on increasing the sugar just a tad.
An easy chocolate muffin recipe made with self-rising (self-raising) flour
Ingredients
3/4 cup plus 2 tablespoons (110 grams) self rising flour
3 tablespoons (14 grams) unsweetened natural cocoa powder
1/4 cup (60 grams) granulated sugar
5 tablespoons (71 grams) salted butter, melted and cooled
1 large egg
3 oz (84 grams) evaporated milk (1/4 cup plus 2 tablespoons)
1/2 teaspoon vanilla extract
1/2 cup semi-sweet chocolate chips**
Instructions
Preheat oven to 400 degrees F. Line 6 muffin cups with large paper liners
Mix flour, cocoa and sugar in a mixing bowl.
Whisk butter, egg, evaporated milk and vanilla in a separate bowl.
Add milk mixture to flour mixture and stir until just combined. Fold in chocolate chips. Spoon the mixture evenly into prepared muffin cups. Put muffins in the oven on center rack.
Reduce heat to 350 F.
Bake for 17-20 minutes or until a toothpick inserted comes out with most crumbs. Cool on a wire rack
Notes
**These muffins aren't extremely sweet, so they really do need the chocolate chips UPDATE: I tested these again and added 2 tablespoons of brown sugar. With the extra 2 tablespoons, the muffins were sweet -- not overly so, but more dessert-like. If you know you like sweet muffins, you may want to add the extra brown sugar. I wouldn't add over 2 T.