When I saw this recipe in Mark Bittman's NYT column, I knew I'd have to try it immediately. Not only is the cake made in the food processor, which in past experience has yielded a dense, tender, moist and tight crumbed cake, but it uses almond paste.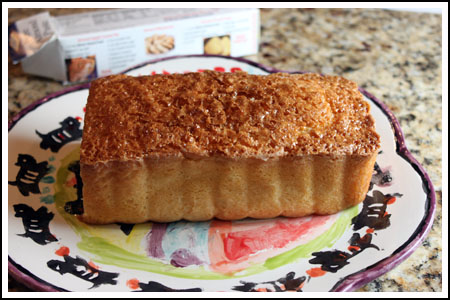 Looking at the recipe and reading reviews, I was concerned that my food processor might not have the capacity to accommodate the batter and it also crossed my mind that if the whole cake didn't get eaten I would have wasted money on almond paste. The solution, since we are a small family of 3, was to make half the cake.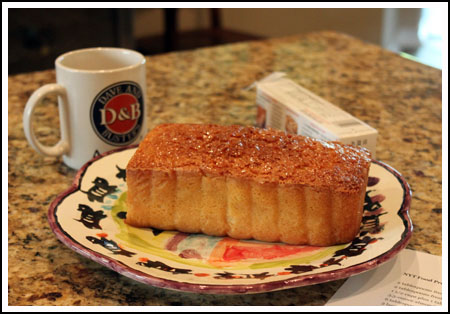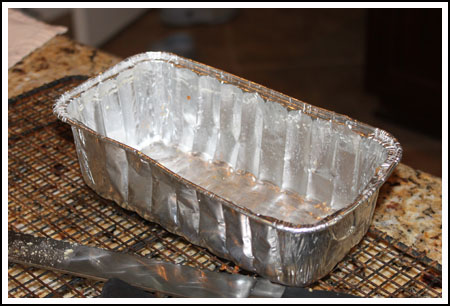 This version of the recipe is made in an 8×4 inch loaf pan. Up until this weekend, I didn't own a pan that size and technically I still don't. What I ended up buying was a 3-pack of foil 8×4 inch loaf pans which I'll probably use over and over until they turn white or until I remember to order a metal one on-line. At any rate, that pan size worked perfectly and I kind of liked the option of not having to turn it out of the pan (even though I did) or being able to put a lid on it and give it away (the foil pans are lidded).
As for the cake, my first thought upon taking a bite was "tastes like mail-order". The texture, flavor, sticky topping and to some extent, the little foil loaf pan reminded me of the type of cake I might pay $20 for to have delivered. It was that good – quite citrus-y, but that's why it's in the title.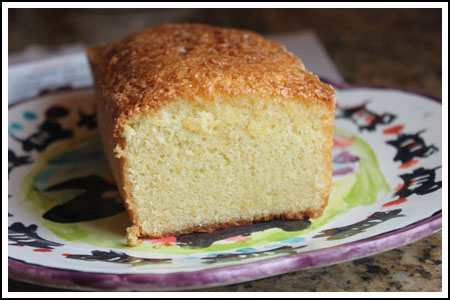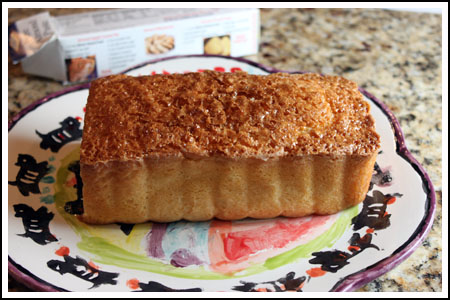 Citrus Almond Pound Cake
Citrus almond pound cake made in a food processor.
Ingredients 
2

tablespoons

fresh lemon juice

2

tablespoons

fresh orange juice

1 1/2

cups

plus 1 tablespoon granulated sugar

3.5-

ounce

almond paste

half a tube

6

tablespoons

cold unsalted butter

cubed,

3

large eggs plus 2 tablespoons of lightly beaten egg

1

teaspoon

lemon zest

1

teaspoons

orange zest

1

teaspoons

vanilla extract

3/4

cups

cake flour

3 oz

3/8

teaspoon

baking powder

1/8

teaspoon

salt.
Instructions 
Preheat oven to 350 degrees. Grease and flour small loaf pan (mine was about 8 inches, but a slightly larger one would be okay).

Put lemon juice, orange juice and 1/2 cup plus 1 tablespoon sugar in a small saucepan over low heat; cook until the sugar dissolves and remove from heat.

Put almond paste and remaining 1 cup sugar in food processor and process until well combined; add butter and continue processing until light. With the machine running, add eggs one at a time along with zest and vanilla, and continue to process until smooth.

Mix the cake flour, baking powder and salt together in a bowl, then add the flour, baking powder and salt to the food processor and pulse a few times — just until the dry ingredients are integrated (be careful not to over process, or the cake will become tough). Pour the batter into the prepared pan and bake about 47 minutes. WRemove the cake from the oven and let cool slightly.

Pour the citrus soak (mine cooled into kind of a syrup) over the cake and let it sit for about 30 minutes, or until all the liquid is absorbed and the cake releases from the pan easily. Cut into slices.
If you're a pound cake fan and like the flavor of almond paste and citrus, you have to try this one.