If you like the idea of a creamy mint pie but would rather eat a cupake, here's a compromise. These chocolate ganache filled Grasshopper Pie Cupcakes are topped with an easy mint flavored mousse you can make in minutes with melted marshmallows.

I made this recipe twice yesterday in half batches of 6, so if you don't need 12 just cut the cupcake ingredients in half. The first batch was good, but I thought the topping was a little too stiff. For the second batch, I cut the marshmallows back by a few and was happy. Because the gelatin in the marshmallows is what makes the mousse stiff, you do have to be careful how many you use.
Also, for this recipe I wanted a mint mousse, plain ganache, and lightly minted cake. Instead of using peppermint extract in the cake, I used melted Trader Joe's Mint UFOs. If you're not lucky enough to have UFOs or some other mint flavored chocolate in the house (I think mint chocolate chips might work) then use 3 oz 70% chocolate and supplement with a little peppermint extract.
One final note, the cupcake part of the recipe is adapted from CI. I am in love with this recipe at the moment, but if you have a cupcake recipe you like better you can use that.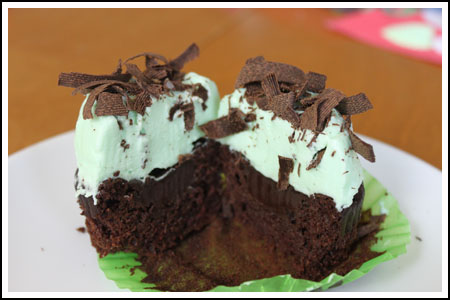 Grasshopper Pie Cupcakes

Mint Mousse:
14 large marshmallows
¼ cup whole milk
2 tablespoons Crème de Menthe
1 cup heavy whipping cream

Chocolate Ganache:
2 oz. good quality 70% chocolate – Lindt works great, cheaper brands sink
4 tablespoons heavy cream
1 tbsp powdered sugar

Chocolate Cupcakes:
3 oz 70% chocolate, chopped or 3 oz high quality mint flavored chocolate
5 tablespoons (30 grams) cocoa (natural or Dutch)
¾ cup hot coffee
¾ cup (118 grams) bread flour
¾ cup (144 grams) granulated sugar
½ tsp salt
½ tsp baking soda
6 tablespoons vegetable oil
2 large eggs, room temperature
2 tsp vinegar
¾ tsp vanilla extract plus ½ teaspoon peppermint (omit if using mint chocolate)

Preheat oven to 350 degrees F. Have ready two muffin pans with 12 compartments each. Line with paper liners so that you have 12 for the mousse and 12 for the cupcakes.

Crème de Menthe Mousse
Combine marshmallows and milk in a large microwave-safe mixing bowl and microwave on high for 30 seconds. Stir well. Repeat if necessary, stirring every 10 seconds until the marshmallows are melted and smooth. Let cool. Stir in the Crème de Menthe. Whip the cream and fold all of the whipped cream into the cooled marshmallow mixture. Divide mixture evenly among 12 paper lined cupcake tins and put the pan in the refrigerator while you proceed with the recipe. Mousse needs about 2 hours to thicken.

Ganache Filling:
Place chocolate, cream, and confectioners' sugar in small microwave-safe bowl. Heat on high power for 10 to 20 seconds and stir. Repeat, being careful not to over-heat the chocolate. Stir or whisk until smooth; transfer to refrigerator for 15-20 minutes or until slightly thickened.

Cupcakes:
Place chocolate and cocoa in a mixing bowl and pour the very hot coffee over. Whisk until smooth then cool in refrigerator for about 15 minutes.

In another bowl, mix the flour, sugar, salt and baking soda together, set aside.

Whisk oil, eggs, vinegar, vanilla and peppermint extract into the cooled chocolate mixture until smooth, then stir in the flour mixture. Divide batter between 12 baking cups and place 1 rounded spoon of ganache on top of each cupcake. Bake 17-19 minutes, until cupcakes are set and just firm to the touch. Let cool completely.

When ready to serve, remove mint mousse cups from refrigerator. Carefully remove wrapper from one mousse cup and invert on top of a chocolate cupcake. Using a warm butter knife (I run the knife under a little hot water), gently smooth the sides of the mousse to work out any cupcake liner ridges.

Repeat with all mousse cupcakes and cupcakes. To serve, top with shaved chocolate or chocolate syrup.

Note: If you want taller mousse tops, make only 8 mousse cups, top 8 cupcakes, and use the remaining 4 for something else.

Makes 12