This is not a sponsored review, but rather my excuse to buy a bag of Splenda Magic Bake and try it out in a batch of Chocolate Zucchini Muffins. While I usually use sugar in these muffins, I was curious to see how a zero calorie sweetener would work. No doubt the name "Magic Baker" added to the allure. Here's a picture of the bag.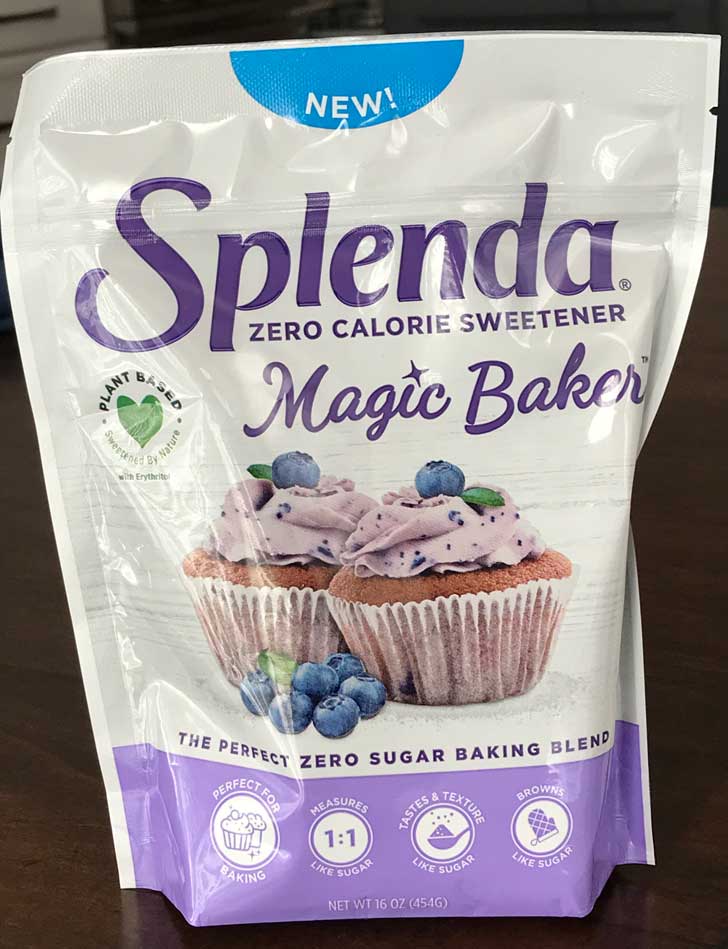 Splenda That's Not Sucralose
One thing to note is that while it's a Splenda product. the Magic Baker does not contain sucralose. Magic Baker is a mixture of erythritol, allulose and stevia. In the past I've mixed those three sweeteners to help diminish the cool mouth affect of Keto sweeteners, so it was nice to have all three sweeteners together in one blend. And I do think there was less of a cool mouth affect here.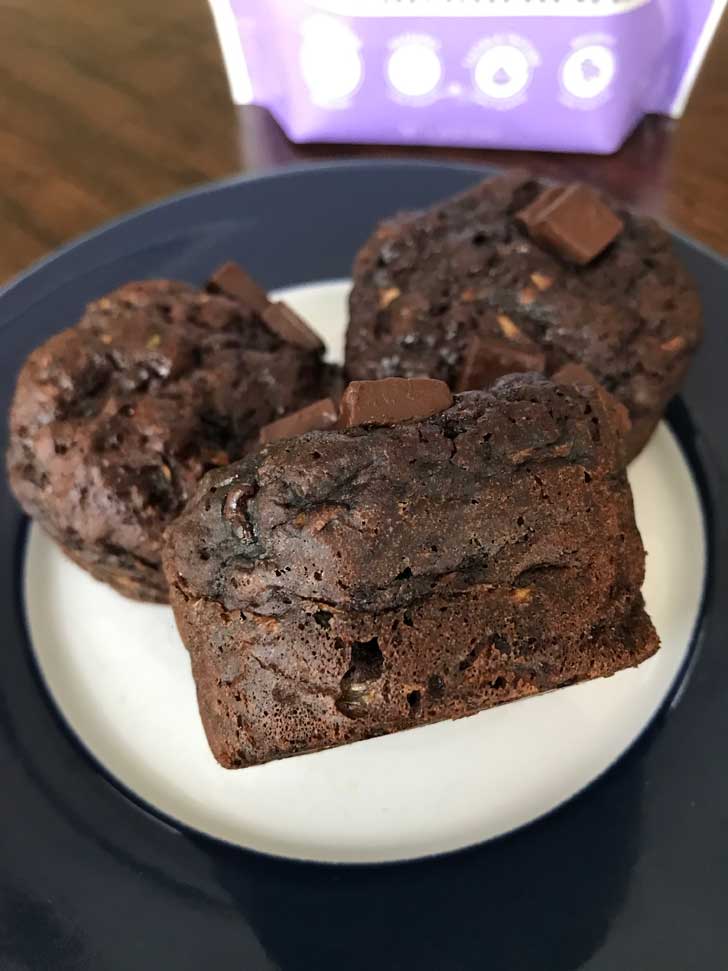 Zucchini Chocolate Muffins Review
Overall these were very good! They are full of chocolate, extremely moist and chocolaty. As for the flavor, I could definitely tell they were sweetened with something other than sugar, but not right away. The strange mouth feel with the erythritol, allulose, stevia blend kind of sneaks up on you. It also left me feeling thirsty, which is a weird reaction I always get with allulose and why I don't use it often. But the muffins were good and much lower in calories.
Speaking of which, if you are counting calories, please use your own calorie estimator for accuracy. I put the ingredients for this recipe in the My Fitness Pal calculator and the muffins came up just under 180 calories each. Each weighs about 2 ½ oz. Most of the calories come from the chocolate chips, so if you use less of those it will lower the count.
Regular Sugar Version
You can also make these with regular sugar. Swap out the Magic Baker for the same amount of sugar. If you don't have molasses, you can omit it and just use half granulated and half brown sugar.
Recipe
Splenda Magic Baker Chocolate Zucchini Muffins
Lower in calories and fat than usual thanks to the Magic Bake and applesauce.
Ingredients 
Around ¼

pound or a little more

zucchini (enough to make ¾ cup grated)

½

cup

all-purpose flour or the equivalent gluten-free blend

(70 grams)

¼

cup

Dutch-process cocoa powder

(24 grams)

½

teaspoon

baking powder

¼

teaspoon

baking soda

⅛

teaspoon

salt

⅛

teaspoon

cinnamon (can use a little more if you like)

1

large

egg

½

cup

Splenda Magic Baker

(100 grams)

1

teaspoon

molasses

(6 grams) give or take a few grams

½

teaspoon

vanilla

2

tablespoons

vegetable oil (coconut oil would probably work too)

2

tablespoons

applesauce, drain on a paper towel then measure

⅓

cup

chocolate chunks or chopped dark chocolate, Lily's or another brand

(114 grams)
Instructions 
Preheat the oven to 400°F. Have ready a 6 hole silicone muffin pan or line 6 holes of a regular pan with paper liners.

Grate the zucchini and measure out ¾ cup. Spread on a stack of paper towels, fold towels over and press down to drain. If you want smaller bits of zucchini, you can chop it up a little more after grating.

Mix together the flour, cocoa powder, baking powder, baking soda salt and cinnamon. Set aside.

In a mixing bowl, whisk together egg, sweetener, molasses, vanilla, oil and applesauce.

Add the flour mixture to the egg mixture and stir until blended. Stir in the drained zucchini and the chocolate chips .

Bake the muffins for about 20 minutes, or until they appear set. Let cool in the muffin pan for about 15 minutes.
If you'd rather make a more traditional Chocolate Zucchini Muffin recipe with regular sugar, here's the one I used prior to this one. You can make these with whole wheat pastry flour or use the equivalent of a gluten-free blend or all-purpose flour. Just make sure to go by weight.
Chocolate Zucchini Muffins With Regular Sugar
1 ¾ cup whole wheat pastry flour or use equivalent gluten-free blend (210 grams)
⅓ cup unsweetened natural cocoa powder (28 grams)
¼ teaspoon salt
1 teaspoon baking soda
½ teaspoon baking powder
½ cup granulated sugar
¼ cup vegetable oil
2 tablespoons mild molasses
¼ cup applesauce
Large egg (one)
1 cup plain or vanilla non-fat Greek yogurt
1 ½ teaspoons vanilla extract
2 ounces chocolate chips (about ⅓ cup)
1 cup grated zucchini (about 3.5 oz), peel before grating
Preheat oven to 400 degrees F. Line a 12 cup muffin tin with paper liners. Combine flour, cocoa, salt, baking soda, baking powder and sugar in a large mixing bowl. Stir, oil, molasses applesauce, egg, yogurt and vanilla together in a medium size bowl. Add yogurt mixture to flour mixture, stirring only until blended. Fold in chocolate chips and zucchini. Spoon batter into lined muffin tins dividing evenly among the 12.
Put in oven and reduce heat to 375 degrees F. Bake for 20 minutes or until muffins test done. Makes 12