The Chocolate Zucchini Muffins are just another great way to use Greek yogurt. They are lower in fat than most and have a some fiber from whole wheat flour, applesauce and zucchini. To keep the muffins moist, the recipe calls for a little molasses, but honey or maple syrup would probably work just as well. I do like the flavor boost of the molasses, though.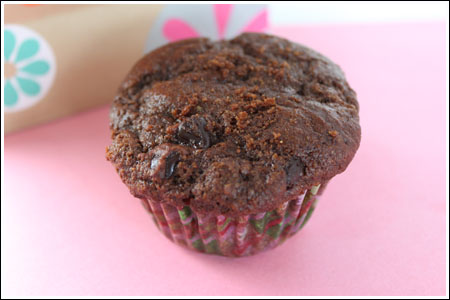 Chocolate Zucchini Muffins
1 3/4 cup whole wheat pastry flour (7.5 oz)
1/3 cup unsweetened natural cocoa powder (1 oz)
1/4 teaspoon salt
1 teaspoon baking soda
1 teaspoon baking powder
1/2 cup granulated sugar
1/4 cup vegetable oil
2 tablespoons mild molasses
1/4 cup applesauce
1 large egg
1 cup plain or vanilla non-fat Greek yogurt (I used Voskos)
1 1/2 teaspoons vanilla extract
1/3 cup chocolate chips
1 cup grated zucchini (about 3.5 oz), peel before grating
Preheat oven to 400 degrees F. Line a 12 cup muffin tin with paper liners. Combine flour, cocoa, salt, baking soda, baking powder and sugar in a large mixing bowl. Stir, oil, molasses applesauce, egg, yogurt and vanilla together in a medium size bowl. Add yogurt mixture to flour mixture, stirring only until blended. Fold in chocolate chips and zucchini. Spoon batter into lined muffin tins dividing evenly among the 12.
Put in oven and reduce heat to 375 degrees F. Bake for 20 minutes or until muffins test done. Makes 12