A few weeks ago I discovered a cookbook author named Mary Ann Esposito. With 7 cookbooks, 20 years of writing about Italy and 14 seasons hosting a TV show called Ciao Italia, you'd think I would have heard of her, but her books are new to me and I am now happily looking forward to collecting them all. To start, I bought Ciao Italia in Tuscany: Traditional Recipes from One of Italy's Most Famous Regions
.
Ciao Italia in Tuscany is an excellent cookbook and perfect for people who've never been to Tuscany or are dying to go back. While we only spent a day traveling through various towns and vineyards, Mary Ann spends several days going to restaurants, farms and wineries and cooking with her hosts. The focus of each Tuscan kitchen adventure is "cucina povera" or simple, seasonal dishes popular in the area. But what's really great about the book is how Mary Ann manages to streamline things, explain directions and ingredients so that a typical American cook can whip up any of these dinners on a weeknight. In other words, if you like Giada de Laurentis but haven't heard of Mary Ann Esposito, I guarantee you will LOVE this book. Now as for the recipes, the book includes many you might be familiar with such as chicken under bricks, potatoes with olive oil and rosemary, Tuscan beef stew, various breads and pizzas, and pesto, but there are also lots of less familiar pasta dishes and some specialty dishes that aren't so well known here. I think this might be classified as one of them, and since it falls in the dessert category I decided to make it for Cookie Madness.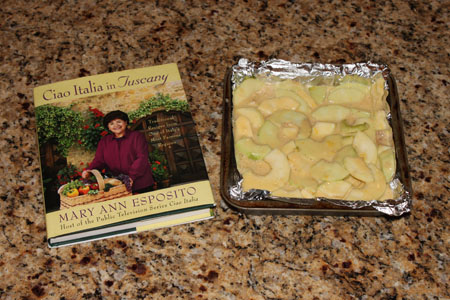 Torta di Mele is interesting because it's a cake, but it's also similar to an apple pie. You get the texture of apples suspended in a smooth, tangy, cake. The appearance is somewhat similar to that of a bread pudding, but the texture is firmer and not really at all like bread. I wish I could explain it better, but I'm a little sleepy as I type this and wanted to get the recipe up so you could make it asap. Or save it for a cool Autumn day when you have nothing around the house but apples and a few kitchen staples.
Mary Ann's recipe is based on one from a famous Tuscan chef.  I changed it a little bit by using less vanilla (she uses a full tablespoon) and adding a bit of cinnamon.  I also skipped brushing the top with jelly, but added a dollop of whipped cream instead!  I think I'll take that over jelly, anyway.
Torta di Mele
4 large eggs, room temperature
1/2 cup sugar
1 teaspoon vanilla
¼ cup sour cream
1 tablespoons grated lemon zest
¾ cup unbleached flour
¾ teaspoon baking powder
1/8 teaspoon salt
½ teaspoon cinnamon (optional)
4 large apples (I used Delicious and Granny Smith)
2 tablespoons warm apple jelly or jam (optional)
Preheat the oven to 350 degrees F. Line an 8 inch square metal pan with foil and butter and flour the foil or spray it with baking spray.
Beat the eggs and sugar with an electric mixer until light and fluffy. Beat in the vanilla and sour cream. Stir in the lemon zest.
Sift the flour, baking powder, salt and cinnamon together into another bowl or onto a piece of foil. Stir the flour mixture into the egg mixture. Stir the sliced apples in last.
Pour the mixture into the pan and bake for 35-40 minutes. Remove from oven. If using jelly, brush it over top. Let the cake cool to warm (I let it cool to room temperature) and remove the cake from the pan by lifting the foil. Peel away the foil and transfer to a nice plate. To serve, cut cake in squares. I served it room temperature, but it would be great warm or possibly slightly chilled.