When I was a child, King Ranch Chicken was a popular dish in our neighborhood. My mom didn't know how to make it, but one of the neighbors gave me the recipe and I prepared it for my family. That dish made with canned mushroom soup, cream of chicken soup Ro-Tel tomatoes, chicken and cheese made me a superstar for just one short evening. Shortly thereafter, we acquired a "cooking with soup" cookbook which I kept for many years and still like to look through.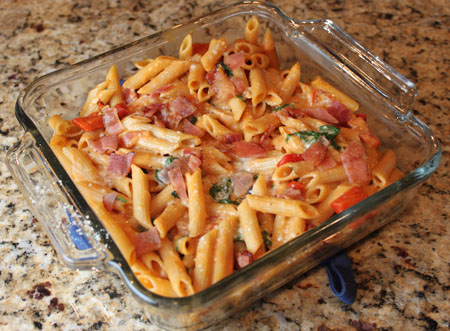 The key phrase is "look through". I haven't actually made a lot of canned soup recipes since childhood, but I still have a fascination with them and enjoyed perusing the finalists in a contest sponsored by Pacific Foods where store-bought boxed soup is a key ingredient. I wasn't really planning on trying any of the finalist dishes, but Lori from Recipegirl's Baked Penne with Spinach, Roasted Peppers and Bacon sounded like something the family would enjoy; And they did. Todd said it tasted "bacony" and Fuzz, who seemed kind of hesitant at first and took a long time eating her broccoli before daring to try the pasta, went back for more.
The full batch makes a 13x9 inch pan, but I halved it and used an 8 inch square. We still had leftovers.
Also, I substituted fresh baby spinach for the frozen spinach. I used about 1 ½ cups (which would be 3 cups if you make the full batch), steamed it and pressed it dry. In the end you get very little spinach – just enough to add color. The pasta was great and I'm looking forward to trying more of the finalist soup recipes. I'm not sure any of the contestants really need culinary boot camp, though! Good luck to Lori at Recipegirl.
Baked Penne with Spinach, Roasted Peppers and Bacon