This recipe for Orange Cranberry Swirl Muffins is a great way to use leftover cranberry sauce. I should know. I always have tons left after every Thanksgiving meal, and it's not because I make bad cranberry sauce. For some reason people just aren't into it. So I started looking for ways to use the inevitable leftover cranberry sauce, and that's how these muffins came about.
Orange Cranberry Swirl Muffins
The point here is to use up cranberry sauce, but you can also just make these as regular orange muffins. They are large and fluffy. Since I like muffins with big rims, I pile the muffin batter into the cups and get about 6 muffins. If you want smaller, shorter muffins, fill just to the top and you should get 9.
Other Leftover Cranberry and Sauce Ideas
Orange Cranberry Swirl Muffins are just one idea for using leftover cranberry sauce. Another really good dessert using sauce is the Cranberry Chocolate Fudge Cake. The recipe calls for canned cranberry sauce, but you can substitute leftover homemade cranberry sauce. The Cranberry Nut Bars and the Sliced Cranberry Cookies with Pecans call for leftover fresh cranberries rather than sauce.
Recipe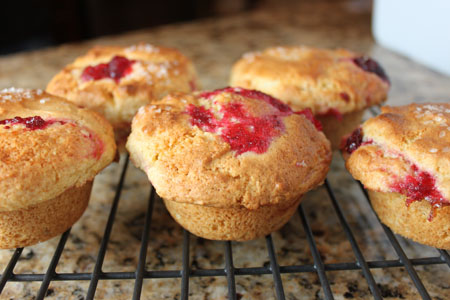 Orange Cranberry Swirl Muffins
Muffins made with leftover cranberry sauce
Ingredients 
1 1/2

cups

flour

6.8 oz

1/4

teaspoon

baking soda

1 1/2

teaspoons

baking powder

1/4

teaspoon

salt

1/2

scant cup granulated sugar

1 1/2

teaspoons

orange zest

loosely packed

5

tablespoons

unsalted butter

softened

1

large egg

room temperature

1/4

teaspoon

vanilla extract

1/3

cup

orange juice

1/4

cup

sour cream

room temperature

1/2

cup

or so — doesn't have to be precise leftover cranberry sauce
Instructions 
Preheat oven to 375 degrees F. Spray 6 (or 9) muffin cups with flour-added cooking spray.

Mix together flour, baking powder, baking soda and salt; Set aside. In a large or medium size mixing bowl, mix the sugar and orange zest together with your fingers or a spoon until the sugar turns orange. Add the softened butter and beat with a hand held mixer until mixed, then add egg and vanilla and beat until fluffy.

With a mixing spoon or a heavy duty scraper (I do all my mixing with a spatula scraper), stir in half of the flour mixture. Stir until almost blended then stir in the orange juice and remaining flour mixture. Stir until flour is mixed in then mix in the sour cream, being careful not to overbeat the muffin batter.

Spoon just enough muffin batter into each cup to cover the bottom (about 2 tablespoons – slightly less if you're making 9). Spoon a rounded teaspoon of cranberry sauce over muffin batter. Add a second layer of muffin batter and a second layer of cranberry sauce. Top muffins with a final layer of batter – it will be stiff and come up over the top of the muffin pan. Drizzle a little cranberry sauce over top, but try to keep it from getting on the pan where it will stick. Bake at 375 for 22 minutes-24 minutes. Let cool in pan for about 5 minutes, then carefully remove from pan.