Vegan Gingerbread Biscotti Has Invaded My Cookie Jar!
It took a year for me to do it, but I finally tried the fourth gingerbread biscotti recipe on my short-list.  It's the recipe from Vegan Cookies Invade Your Cookie Jar: 100 Dairy-Free Recipes for Everyone's Favorite Treats
and it was recommended by Jen B. who wrote a comment saying this:
" I don't post comments often but when I do feel compelled it's for good reason- the BEST gingerbread biscotti recipe in existence is from the Vegan Cookies Invade Your Cookie Jar book. They are spicy like gingerbread and you can control the hardness of the cookie based on the fat you use (I simply reduce the oil when I want tooth-chipping hardness) and the baking time/temperature. But as a foundational recipe they are fantastic unmodified- firm but not rock hard, with chunks of crystallized ginger and the best flavor ever that seems to work amazingly well in biscotti. Check it out.
The biscotti lived up to Jen's review. It's crispy, perfect for dunking, and very flavorful even without the candied ginger, which I would have like to have added but didn't. For this batch, I just used pecans and cranberries.
For those of you who want to make the full-vegan, candied ginger version, the actual recipe is on-line at Suite 101.
Vegan Gingerbread Biscotti
1 ¾ cups all-purpose flour (7.8 oz/220 grams)
1 ½ teaspoons baking powder
2 teaspoons ground ginger
1 ½ teaspoons ground cinnamon
¼ to ½ teaspoon ground nutmeg
½ teaspoon salt
½ cup vegetable oil
¼ cup mild molasses
⅔ cup sugar
2 tablespoons ground flax seeds
2 tablespoons milk or a non-dairy milk like soy milk or almond milk
1 teaspoon pure vanilla extract
½ cup pecans, chopped and ½ cup dried cranberries or 4 oz candied ginger
Preheat oven to 350ºF. Line a baking sheet with parchment paper.
Mix the flour, baking powder, ground ginger, cinnamon, nutmeg and salt together in a bowl and set aside.
Whisk oil, molasses, sugar, ground flax seeds, milk, and vanilla together in a mixing bowl.
Stir the flour mixture into the liquid mixture and form a smooth dough.  Gently knead in the pecans and cranberries (or ginger, if using).
On a parchment lined baking sheet, form a log about 11 inches long by 4 inches wide.   Flatten the end sides of the log and bake for 28 to 30 minutes or until puffed and golden. It will spread a little, and some cracking is okay. Allow log to cool for about 45 minutes.
Preheat the oven to 325ºF. Very carefully, slide the log off the baking sheet and onto a cutting board. With a chef's knife, cut log into ½-inch-thick slices, using one quick and firm motion, pressing down into the log. Very gently move slices to the baking sheet, standing them of their bottom edge if possible. Rebake the slices for 22 to 24 minutes. The slices should appear dry and slightly toasted, but do not allow them to get too browned. Allow the biscotti to cool 10 minutes on the baking sheet, then carefully move them to the wire racks to complete cooling (warm biscotti may be fragile). Store in a loosely covered container. Makes about 2 dozen.
More Gingerbread Biscotti Recipes
Here's a re-cap of the other 3 biscotti recipes I tried last year.  One was very basic, the other had add-ins but no fat, and the third was a butter-based gingerbread biscotti.
The basic,  no-nut, no-fruit version was a gingerbread biscotti from allrecipes. It was very good and kind of "middle of the road".   It wasn't very hard, but rather crisp and tight crumbed -- almost like eating a very thick, ginger flavored melba toast.  It stayed fresh for a few weeks.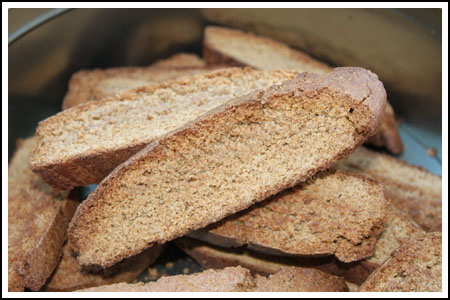 The Gingerbread Biscotti from Fine Cooking Magazine was crunchy, packed with robust holiday flavors and stayed fresh for at least 3 weeks. I loved it.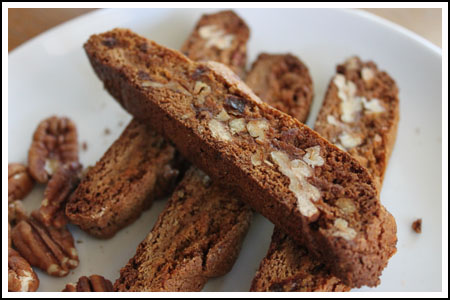 Susan at Cookie Scoop has a good recipe too. Hers calls for butter, which adds a nice flavor and makes the cookies easier to eat without dunking. The butter version may not stay fresh quite as long as the oil or fat free versions.