This week I was honored to attend the I Can't Believe it's Not Butter Holiday Bake-Off  in the Unilever Test Kitchens. I want to tell you all about it, but first, congratulations to Shari, whose name was drawn as the winner of the giveaway from a few days ago. Shari won a prize package tailored to match my entry into the contest– the profiteroles that lost to a cupcake.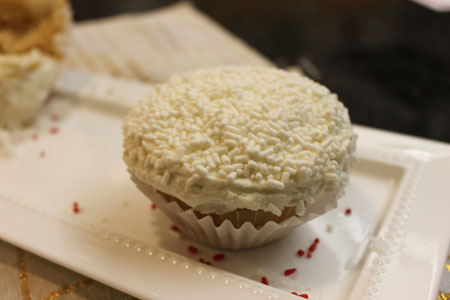 Oh, but what a beautiful cupcake it was with its snowball white topping of what we jokingly referred to as I Can't Believe it's Not Buttercream. I'm not sure that will be the official name, but it made us laugh and we were happy for Sara at Average Betty who won a new stand mixer.
But it wasn't just about competition.  We made  friends, discovered new recipes, and benefitted from the wisdom of Normajean, Unilever's Test Kitchen director who told us about her job, cited some research showing how fewer people were baking from scratch these days (that part was kind of sad), shared some tips, and prepared a decadent chocolate cookie recipe which I'm going to post after I touch on the contest itself.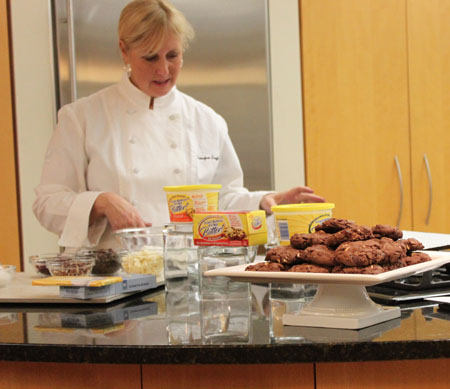 It was exhilerating cooking alongside a group of passionate amateur bakers and just what I needed this month to get motivated for the holidays.  Still, there was an element of suspense due to the fact we were all going to be judged and only one person would win. As I walked around the test kitchen waiting for my profiterole shells to bake, I scoped out the competition and made mental notes of  things I wanted to go home and make.
Tiffany's glazed cranberry muffins had big crowns, a coat of shiny glaze and were absolutely gorgeous. I found out later that they tasted as good as they looked.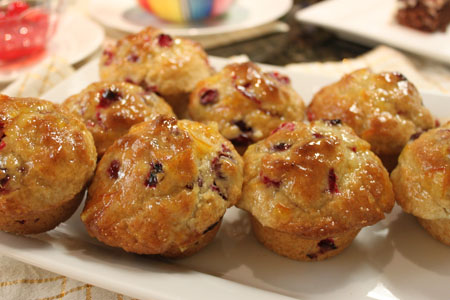 Liz, who was at the station next to me, made incredible smelling Mock Twix Bars. I've made Mock Twix Bars before, but never thought to make them with anything but real butter. In this case, that little punch of buttery flavoring in the I Can't Believe it's Not Butter ramped up the overall taste.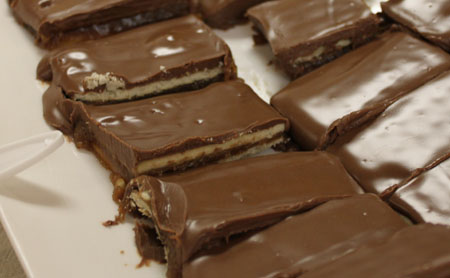 Barbara's Snickerdoodle Snack Cake was too cute, and like Tiffany's muffins it tasted as good as it looked. The cinnamon chips are key. Our grocery store sells them all year round, but some stores just sell them near the holidays.  And of course you can always order them off Amazon or from King Arthur.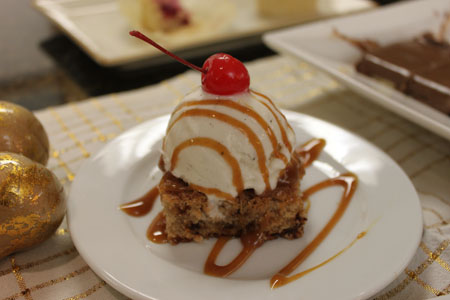 Jen made cranberry filled cupcakes with an elegant swirl of icing. What you can't see in the picture is that they are also filled with a perfectly balanced cranberry fruit filling.
Amanda made mint chocolate brownies, which I plan on making due to popular demand. Hers had a green filling, but we both thought it might be fun to make them with a pink filling.  This brownie was one of the few left after judging, but at least I got a picture!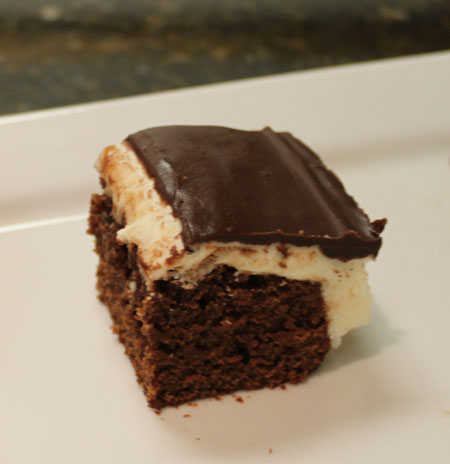 Alison from Ingredients Inc. made one of my favorites, pecan bars. Again, a bar I never thought would work with anything but real butter, yet was quite tasty with the spread.  I didn't get a picture of the pecan bars, so I'm using one taken by Alison.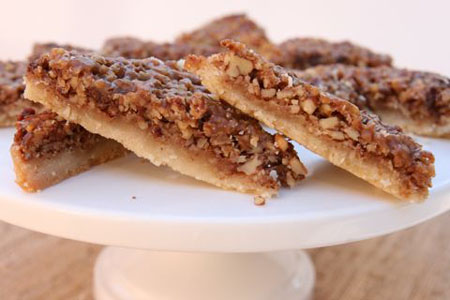 And Aly from Aly-tude, the only one of us who was not a baking/cooking blogger, did a great job with her single gal entertaining dish, a chocolate fondue.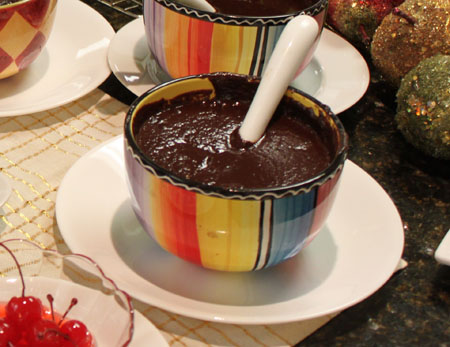 So the cupcake won and we left the kitchen (which employees said was the heart of the company, just like the kitchen is the heart of the home) feeling good and motivated to try new things. Whether you use butter or want to try cutting the saturated fat by using I Can't Believe it's Not Butter sticks or spread, I encourage you to try a couple of the recipes above. They're all good.
Also, thanks to Unilever for paying for the trip.  It's not every day one gets invited to a test kitchen, so I was honored to attend and appreciate being included.
Related posts: