Our neighbors are fostering a litter of chocolate lab mix puppies. They'll keep the puppies for two weeks then turn them back over to the animal shelter where the pups will eventually be adopted. Until recently, I didn't know people could foster puppy litters from Town Lake, but I love the idea and had so much fun hanging out in the yard yesterday watching kids from the cul-de-sac play with the pups. It put me in such a good mood I decided to whip up my own chocolate treat from the Hershey's website.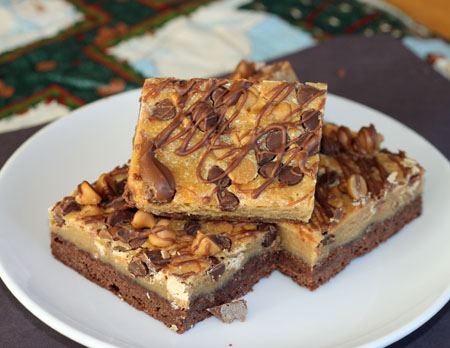 A Fairly Simple Recipe
These are called Milk Chocolate Peanut Butter Chip Bars and the recipe is very simple. You bake a thin layer of brownie, pour on a mixture of condensed milk and peanut butter (the condensed milk flavor is not strong), top it with milk chocolate and peanut butter chips, bake, cool, then drizzle on more of the melted chips. The recipe is very streamlined and I was able to throw these together while running in and out of the house keeping tabs on Fuzz and the puppies.  She fell in love with the runt, Rufus.
Here's my rendition of the recipe with a few notes. 
Milk Chocolate Peanut Butter Chip Bars
6 tablespoons butter (I used unsalted, but salted would be fine)
1-¼ cups sugar
2 teaspoons vanilla extract, divided
3 eggs, divided
1 cup plus 2 tablespoons all-purpose flour
⅓ cup Hershey's unsweetened cocoa powder
½ teaspoon baking powder
½ teaspoon salt
1 can (14 oz.) sweetened condensed milk (not evaporated milk)
½ cup creamy peanut butter
1 cup milk chocolate chips, divided
1 cup peanut butter chips, divided
¾ teaspoon shortening
Heat oven to 350°F. Line a 13x9 inch metal pan with foil and spray the foil with cooking spray.
Melt the butter in a large microwave-safe bowl. Stir in the sugar and 1 teaspoon vanilla. Add 2 eggs; stir until blended. Stir together flour, cocoa, baking powder and salt. Add to egg mixture, stirring until blended. Spread in prepared pan. Bake 20 minutes.
Meanwhile, stir together sweetened condensed milk, peanut butter, remaining egg and remaining 1 teaspoon vanilla extract. Pour evenly over hot brownie. Set aside 1 tablespoon (I set aside a little over 1 tablespoon each) milk chocolate chips and peanut butter chips; sprinkle remaining chips over peanut butter mixture. Return to oven; continue baking 20 to 25 minutes or until peanut butter layer is set and edges begin to brown. Cool completely in pan on wire rack.
Stir together remaining milk chocolate chips, remaining peanut butter chips and shortening in small microwave-safe bowl. Microwave at MEDIUM (50%) 30 seconds; Note: If you have a powerful microwave, use a lower setting (I use 20% power) stir. If necessary, microwavean additional 15 seconds at a time, stirring after each heating, until chips are melted and mixture is smooth when stirred. Drizzle over top of bars. When drizzle is firm, cut into bars. (I chill the bars, lift them from the pan, set on a cutting board and score with a chef's knife.
Store loosely covered at room temperature. 24 to 36 bars.