Today's cupcake was mainly an excuse to make some frosting. I was flipping through one of my new cake books, A World of Cakes, and saw a peanut frosting that sounded too good to skip. It had more butter than usual, less peanut butter, and a dash of honey. Having made my share of heavy, overly sweet, peanut butter frostings, this one seemed different.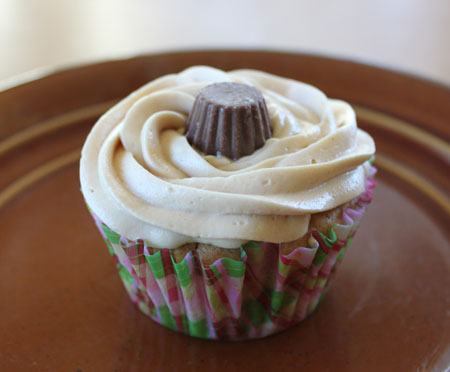 For the cake base, I used an old peanut butter cake recipe from Good Housekeeping which I adapted to cupcakes. They were tasty, but they're definitely the dense and moist variety rather than the lightly and airy domed top kind.
As for the frosting, I loved it. The texture was very light and reminiscent of a true buttercream minus the egg yolks and extra work. The peanut flavor is very light, though. So if you want more peanut butter flavor just taste test near the end and mix in a few more tablespoons.
Peanut Butter Cupcakes with Peanut Frosting
1 cup all-purpose flour (fluff, scoop and sweep) – 4.5 oz
1 teaspoon baking powder
⅛ teaspoon salt (omit if using salted butter)
4 tablespoons unsalted butter, softened
6 tablespoons peanut butter, creamy
¼ cup packed light brown sugar
½ cup granulated sugar
1 large egg, room temperature
1 teaspoon of vanilla
3 oz (½ cup minus 2 T.) of milk
Peanut Frosting aka Peanut Butter Frosting
10 tablespoons softened unsalted butter
3 generous tablespoons of peanut butter
¼ teaspoon salt
½ tablespoon honey
2 ¼ cups sifted powdered sugar (I sifted before measuring)
2 tablespoons milk
Garnish: Miniature Peanut Butter Cups (I used some of the new Reese's minis which may or may not have hit the shelves near you)
Preheat oven to 350 degrees F. Line 12 muffin cups with paper liners.
Mix together flour, baking powder and salt (If using).
In bowl of a stand mixer or in a mixing bowl, beat the butter, peanut butter and both sugars until creamy. Add egg and beat until fluffy, then beat in vanilla. By hand or using lowest speed of mixer, add the flour mixture and milk alternately, beginning and ending with flour. The batter is pretty thick.
Divide batter evenly among 12 cupcake cups and bake for 20 minutes. At 20-22 minutes – be careful not to overbake. At 20 minutes mine looked slightly underdone in the middle but at 22 minutes they were quite brown. They should appear moist in the center and will set more as they cool. Tops will be flat. Cool completely.
Prepare icing. In bowl of stand mixer, combine butter, peanut butter, salt and honey. Add some of the sugar and begin beating until mixed. Continue adding powdered sugar, beating and scraping sides of bowl. Beat in the milk. Taste. If you want more peanut butter, go ahead and add 3 more tablespoons Icing should be very light like a buttercream.