I don't have much to say about this lemon cream filled cake other than we're still eating it and I already want to make it again!  The most interesting part is the lemon cream filling which I put between layers of plain white boxed cake mix cake.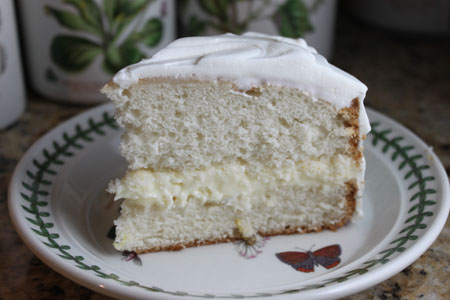 Next time I'll make the cake base from scratch, but as it happened I had a box of white cake mix in the pantry and felt like putting it to good use. Before I set out baking this cake, I had a vision of what I wanted — a light cake, split and filled with a layer of lemon cream and some sort of frosting all over.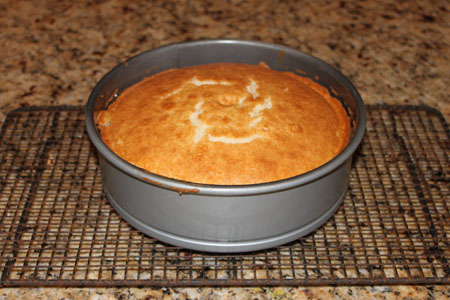 First, I baked a cake in a 9 inch round, 3 inch high springform pan.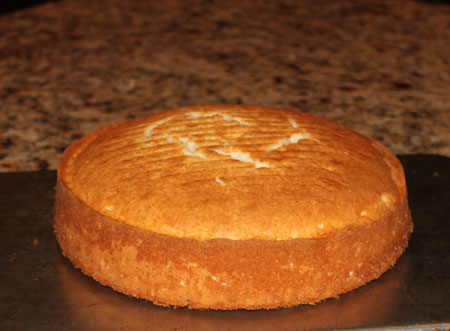 Next, I split the cake using a serrated knife and one of my favorite kitchen gadgets, the cake lifter. I've mentioned before what a handy tool this is, and even if you only bake cakes occasionally, a cake lifter is worth buying. You can use it to lift split halves, but you can also use it to transfer whole cakes from place to place (which is why it's called a cake lifter).  While the cake was baking and cooling, I made the lemon cream filling. I split the cake, put the bottom back into the pan, then added the filling.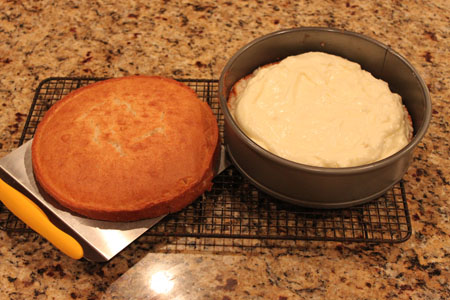 After filling the cake, I put the top half of the cake on top of the filling, arranged some plastic wrap over the top, then chilled it overnight. Four hours would probably be long enough to set the filling, but in this case I needed some time to think about what I wanted to use for frosting.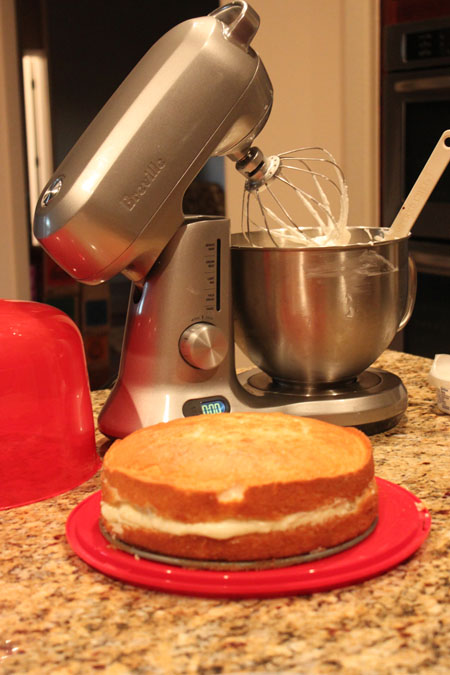 In the end I went with the whipped cream/sour cream frosting from Woman's Day — the one I'd used on their chocolate cake. And then we had cake!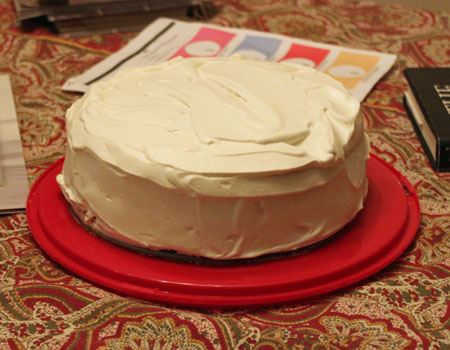 I thought about calling it "Lemon Boston Cream Pie" but it's not really that so I'm sticking with "Lemon Cream Filled Cake". It's very good, but next time I'm going to make it with a scratch sponge cake. The white cake mix worked perfectly well, though. Plus, it calls for egg whites which is handy since the filling uses yolks.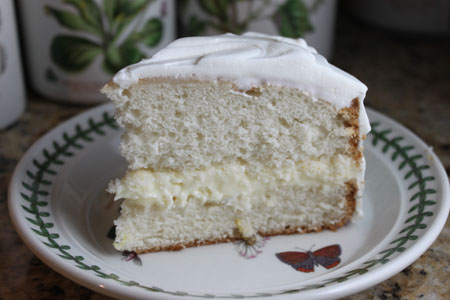 Lemon Cream Filled Cake
Lemon Cream Cake inspired by the one served at Olive Garden.
Ingredients 
1

box white cake mix plus ingredients needed to make it

3 egg whites, water, oil
Filling:
1

cup

granulated sugar

3

tablespoons

cornstarch

1

cup

water

1/3

cup

lemon juice

2

egg yolks

4

ounces

cream cheese

softened

1

tablespoon

lemon zest

1/2

cup

heavy cream
Frosting:
1

cup

heavy cream

1

⁄3 cup reduced-fat sour cream

3

tablespoons

confectioners' sugar
Instructions 
Preheat oven to 350 degrees F. Grease and flour a 9 inch round springform pan.

Make cake mix as directed on package using ingredients called for on package. Pour into pan and bake for 43-45 minutes or until a toothpick inserted in cake comes out clean. Let the cake cool in pan for 20 minutes, then carefully invert from pan and invert again onto a rack. Let cake cool completely.

While cake bakes and cools, prepare filling. In medium saucepan, mix together the sugar, cornstarch and water. Whisk in the lemon juice and egg yolks.

Set the pan over medium heat and cook, whisking constantly, until mixture boils and thickens. Cook over a steady heat, whisking constantly, for an extra minute after mixture has begun to boil. Remove from heat and stir in lemon zest and cream cheese. Stir until cheese melts. Set aside to cool.

When lemon mixture is cool, whip the cream in a mixing bowl and fold in cooled lemon mixture.

Split cake horizontally. Place bottom half of cake cut side up in pan. Spread lemon mixture over cut cake, then top with second half of cake. Cover with plastic wrap and chill for 4 hours or until almost ready to serve.

Make Frosting. Beat the heavy cream, sour cream and confectioners' sugar in a large bowl until stiff peaks form. Remove side of springform pan from cake. You can keep the cake on it's base. Spread whipped cream frosting all over the cake.