Yotam Ottolenghi's lemon cake, aka Blueberry, Almond and Lemon Cake, is adapted from Ottolenghi Simple.  It's a fantastic cookbook with recipes that are relatively simple once you acquire Ottlenghi's favorite ingredients. If you buy the book, be prepared to discover some new ones. But in the meantime, you should try Ottolenghi's Lemon, Almond and Blueberry Cake, which calls for ingredients you may already have. I was so excited about this cake that I made it this morning.
Jump to Recipe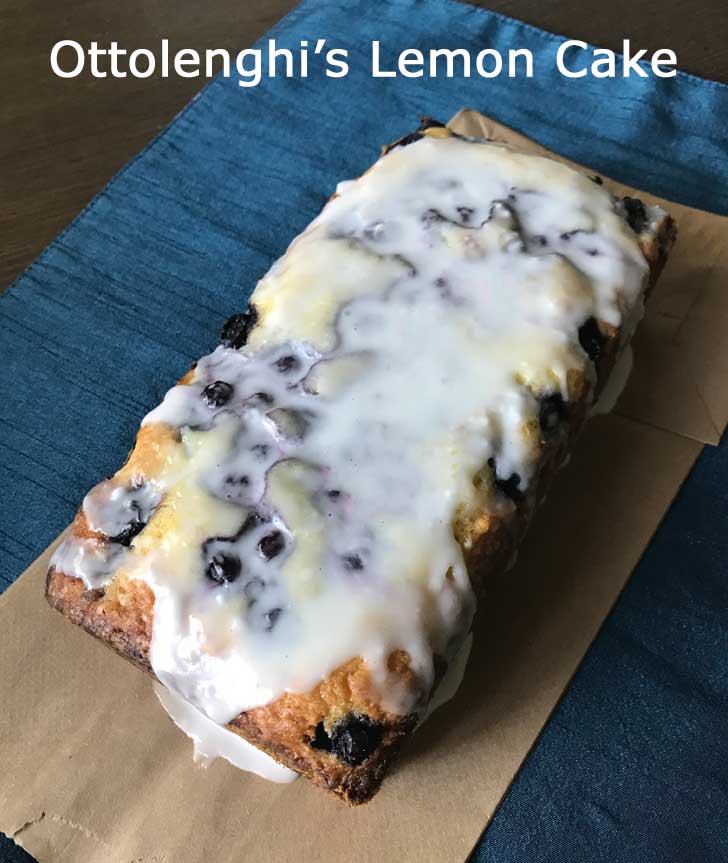 So How Did it Taste?
Well, of course it was good! After all, the recipe (or a similar one) is in The New York Times. What I really love about Yotam Ottolenghi's lemon cake is how the almond flour gives it kind of a chewy crust. It may have helped that I greased the pan generously with butter and coated with some extra almond flour. Not sure. Whatever the case, the crust was excellent. I'm repeating what I said the other day about the Neiman Marcus Bars, but I loved the edges.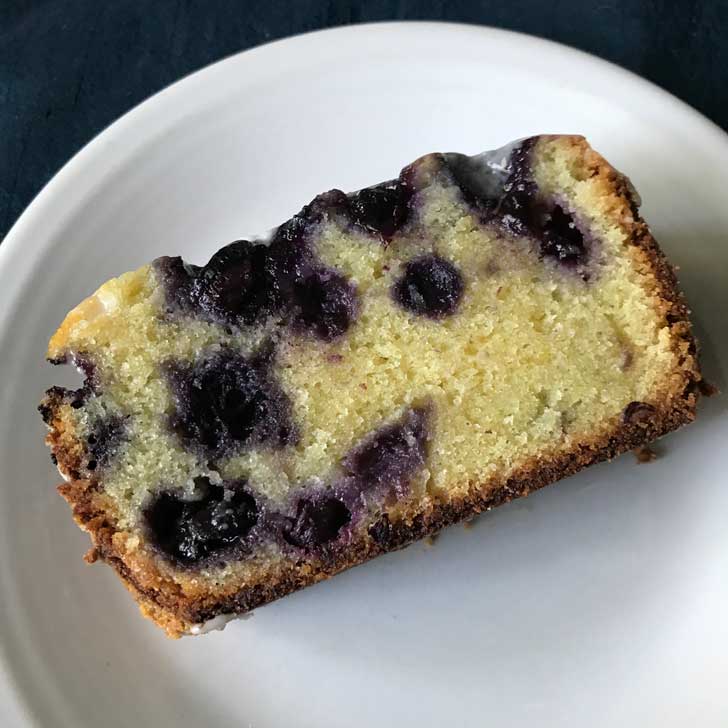 So that's my opinion on this cake. Todd loved it as well. We're even planning our day around an ingredient hunt so we can make more recipes from Simple. For now, here's a rundown on the lemon cake ingredients plus minor changes.
Ottolenghi's Lemon Cake Ingredients
All Purpose and Almond Flour -- The recipe calls for a mix of flours which gives the cake an interesting texture and flavor. I used Gold Medal AP and Wegman's brand fine almond meal.
Baking Powder -- The version in Simple doesn't call for any baking powder, while the New York Times version calls for 1 ¼ teaspoon. I met in the middle and used ½ teaspoon which worked out perfectly. I believe this cake can also be made with self-rising flour.
Salt -- I used a tad more -- ¼ teaspoon rather than ⅛.
Eggs -- Yotam Ottolenghi's lemon cake is made with 3 eggs which he beats separately and adds in increments. Adding eggs gradually helps the cake rise slowly and evenly, as the eggs create a balloon-like sheath which expands slowly with heat. It may also be why Ottolenghi gets away without the baking powder. But as mentioned, I added some anyway.
Butter -- Recipe calls for 150 grams unsalted which is about 10 ½ tablespoons. I've seen some versions calling for 10 T and others calling for 11. Weigh out 150 grams and you'll be fine.
Sugar -- Castor sugar or extra fine is preferred, but any granulated sugar should be fine so long as you cream it well with the butter.
Fresh vs. Frozen Blueberries -- I had to use frozen. If you use frozen, you may want to layer small amounts of batter in the pan and manually place the frozen berries over the batter. Also, if you use frozen berries the bake time will most likely be longer, as the cold berries will make the batter much colder.
Lemon Juice -- A tablespoon goes in the cake and at least a tablespoon goes in the icing. I needed quite a bit more than 1 tablespoon for the icing, probably because I was lazy and didn't sift my confectioners' sugar.
Recipe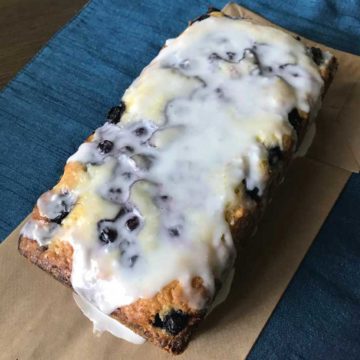 Blueberry, Almond and Lemon Cake
Yotam Ottolenghi's famous lemon cake from Ottolenghi Simple.
Ingredients 
Butter for greasing loaf pan

⅔

cup

all-purpose flour

(90 grams)

½

teaspoon

baking powder

⅛ to ¼

teaspoon

salt (I used ¼ )

1

cup

almond flour

(110 grams)

3

large

eggs

10 ½

tablespoons

unsalted butter

softened (150 grams)

1

scant cup

superfine granulated sugar

(190 grams)

2

teaspoons

lemon zest

plus 2 tablespoons lemon juice

2-4

tablespoons

fresh lemon juice

1

teaspoon

vanilla extract

1 ½

cups

fresh blueberries

frozen work in a pinch

⅔

cup

confectioners' sugar ( I used more like 90 grams)

70 grams
Instructions 
Preheat oven to 375 degrees. Grease an 8 ½ by 4 ½ inch loaf pan with butter and line with a strip of parchment paper. Grease parchment. If you want to, you can dust with a little almond flour.

In a bowl, whisk together the flour, baking powder, salt and almond flour. Make sure to whisk thoroughly to get out any lumps. Set aside.

In the bowl of a stand mixer, beat the eggs for about 1 minute. Transfer to a glass measuring cup or another bowl.

In the same bowl that you used to beat the eggs (no need to clean it), combine the butter, sugar, lemon zest , only 1 tablespoon of the juice and the vanilla extract. Using the paddle attachment beat until light and fluffy – about 4 minutes. Start at medium and progress to high, stopping occasionally to scrape side of the bowl.

Scrape the sides of the bowl and beat for another minute, then reduce mixer speed to medium. With mixture going, add beaten egg about 2 tablespoons at a time (small increments). Alternatively, pour it in gradually just letting it stream down the side of the bowl.

On low speed and still with the paddle attachment, stir in the dry mixture in three additions, until fully blended and no flour streaks remain. Remove bowl from stand and fold in ¾ cup of the berries. If using frozen berries, don't fold them in yet.

Tranfer the batter to the loaf pan. If using frozen berries, scrape some batter into the pan, then manually place berries over the batter. Add another layer of batter and berries. This is to prevent excess seeping of juice.

Put the pan in the oven and bake for 15 minutes. Remove pan, then sprinkle the remaining blueberries over the top of the cake. Return to the oven for another 15 to 20 minutes, until cake is golden brown. Cover loosely with foil and continue to bake for another 25 to 30 minutes, or until risen and cooked. Remove from oven and set aside in its pan to cool for 10 minutes before removing cake from pan and placing on a wire rack to cool completely. Note: Don't be tempted to take the cake out too early. If you used frozen berries you may need another 10 minutes. It's probably better overbake this than to underbake.

Prepare the icing. Put the confectioners' sugar in a bowl or better yet, a 2 cup glass measure. Add one tablespoon of lemon juice and mix well. Continue adding lemon juice and stirring until the icing is smooth and pourable. Whisk together lemon juice and confectioners' sugar until smooth. Pour over the cake and gently spread out. The blueberries on the top of the cake may bleed into the icing (They sure will!) a little, but this will add to the look. Let icing set, then slice and serve.
Notes
This cake is so good.  Next time I might try it with lime juice and a little cardamom.