Lemon Supreme Loaf Cake is a slightly enhanced loaf pan version of Duncan Hines Lemon Pound Cake. It's a cake mix recipe with few more ingredients to make the texture a little more like scratch. Whether it's more convenient is subjective. Personally, I do find it more convenient because I always have the extra ingredients on hand. And since there's no creaming of the butter and sugar, the recipe flies together.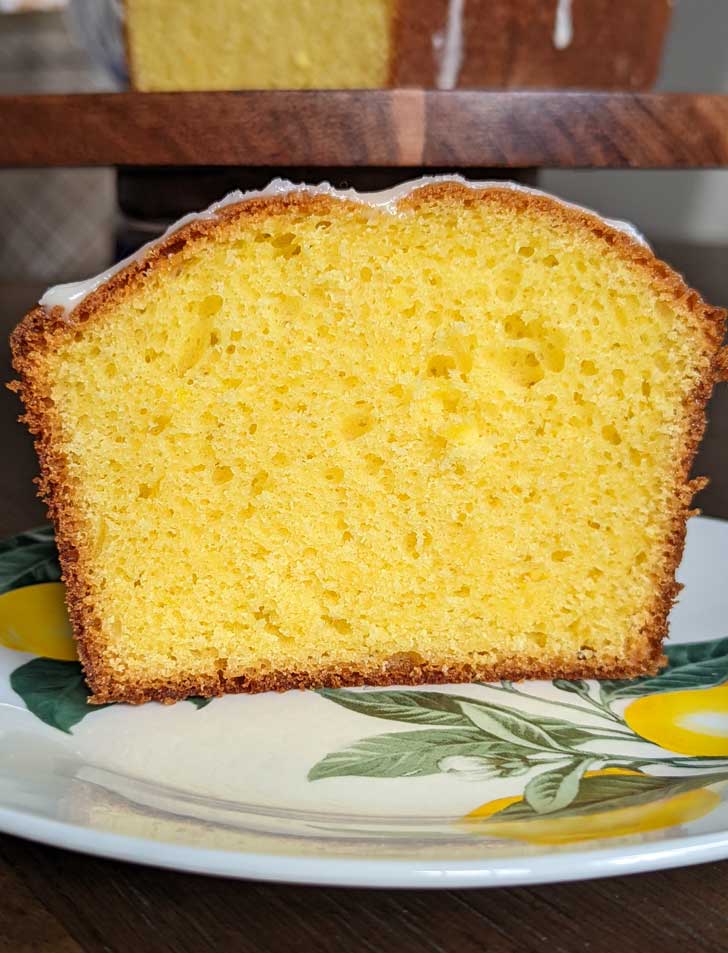 Lemon Supreme Loaf Pan Cake Changes
I've made this cake at least 4 or 5 times now, and it's always good. The cake in the first photo is the prettiest, and I think it's because I paid close attention to the mixing, using the two-stage method. The other times I just chucked everything into the bowl and mixed. The lazily mixed cakes were still good, but didn't rise as high and have such a rounded top. Substituting ingredients (such as sour cream for the yogurt and AP for cake flour) also changes the shape, so I recommend using the ingredients listed.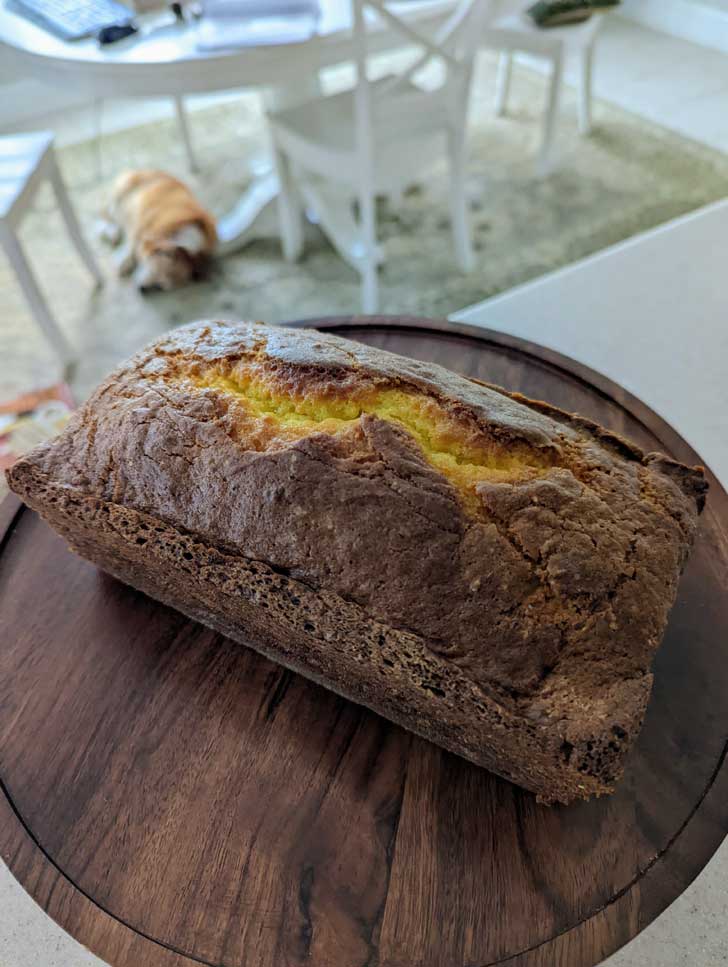 Pineapple Supreme Variation
This recipe also works well with Duncan Hines Pineapple cake mix and vanilla flavored instant pudding. With the pineapple cake mix, it bakes up with a slightly more open crumb, but it still very tasty and goes well with this pineapple glaze. I still prefer the lemon version over the pineapple, but the pineapple was good too.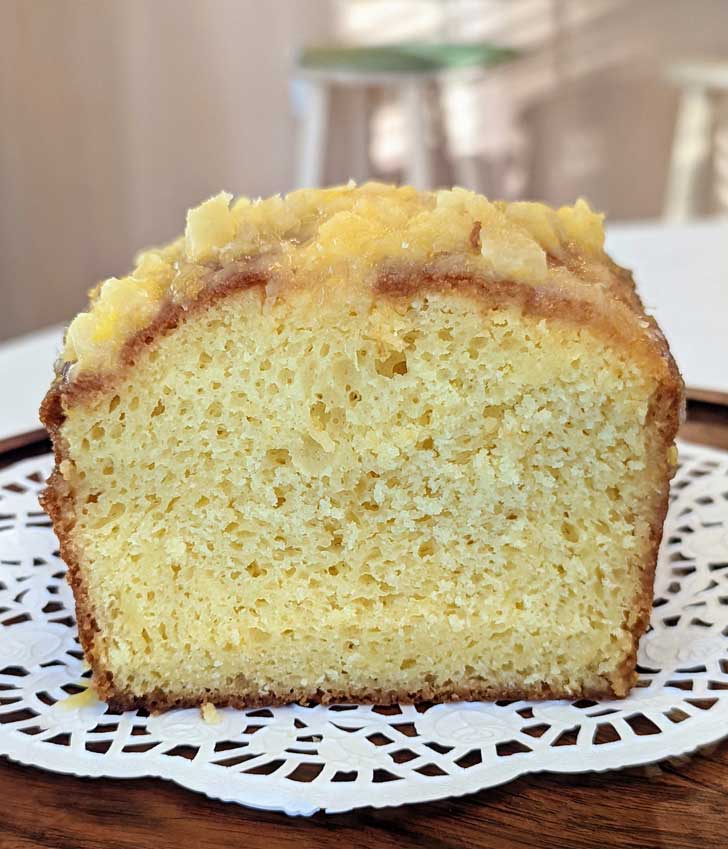 Enhanced Cake Mix Variations
There are all kinds of variations you could do with this enhanced cake mix recipe. Since I love the flavor of lemon cake mix I mainly use it for lemon, but I'll update when I try it with vanilla or chocolate. There are so many ways you could change this up by changing cake mix flavors, pudding and maybe even the flavor of the yogurt.
Lemon Supreme Loaf Cake Ingredient Rundown
Duncan Hines Lemon Supreme Cake Mix -- I haven't tested with other brands. You'll use half a box. It's important to weigh the cake mix, but if you need to measure by volume a half box of cake mix is about 1 ⅔ cup.
Jell-O brand instant pudding, lemon flavor -- half a box. You can use the other half of the box for another cake or make a half batch of White Chunk Lemon Pudding Cookies.
Cake Flour -- I've tested with cake flour and all-purpose. Because cake flour has less protein, you can beat it a little more without strengthening the gluten. In my experience, the cake rose higher when I used cake flour and beat the batter on medium speed for 1 minute. When I used all-purpose flour, I beat only by hand and the cake didn't rise quite as much.
Sugar -- Regular granulated
Baking Powder
Salt
Olive Oil -- Canola is fine too.
Butter -- Softened to the point it is almost melted.
Lemon Zest -- About a tablespoon, but you can use more or less
Eggs -- Room temperature. I usually just submerge them in warm water to bring to room temperature quickly.
Whole Milk Greek Yogurt -- Tested with sour cream and the cake didn't rise as high, so I recommend sticking with whole milk Greek yogurt. Also bring to room temperature.
Vanilla
Water -- I accidentally left it out once and the cake didn't rise as high, so make sure to add the water.
Similar Recipes
Recipe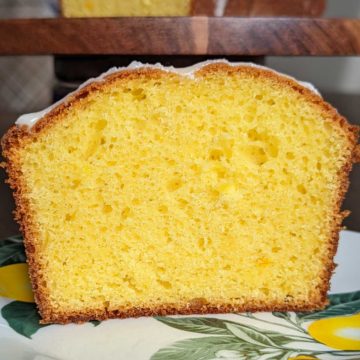 Enhanced Cake Mix Lemon Pound Cake
My grandmother's recipe for pound cake, but with more ingredients!
Ingredients 
½

package

Duncan Hines Signature Lemon Supreme Cake Mix

(216 grams) that's half a 432 gram box.

½

package

lemon flavored instant pudding mix

(48 grams) from a 96 grams box

½

cup

cake flour

(60 grams)

⅓

cup

sugar

(65 grams)

¾

teaspoon

baking powder

¼

teaspoon

salt

3

tablespoons

vegetable oil (olive oil)

(40 grams)

3

tablespoons

butter, softened to the point of being almost melted

(42 grams)

1

tablespoon

lemon zest

3

large

eggs, bring to room temperature

(135 grams)

½

cup

whole milk Greek yogurt

(120 grams)

¾

teaspoon

vanilla

2

tablespoons

water
Lemon Icing
2

teaspoons

butter

½

cup

powdered sugar

1-2

tablespoons

Fresh lemon juice
Instructions 
Preheat oven to 350°F. Grease and flour an 8 ½ by 4 ½ inch loaf pan.

Mix the cake mix, pudding mix, flour, sugar and baking powder in a large mixing bowl or in the bowl of a stand mixer.

Add the olive oil and the softened butter to the dry ingredients and stir until the dry mixture is partially coated with the fat Add the lemon zest.

In another bowl, whisk together the eggs, yogurt, vanilla and water.

Pour about ⅓ of the egg mixture into the dry mixture and stir well. Gradually add remaining egg mixture until thick and rough textured.

With an electric mixer, beat for 30 seconds to 1 minute on medium speed until well blended and smooth.

Scrape batter into loaf pan and bake for 60 minutes or until a toothpick inserted in center comes out clean. Let the cake cool for about 15 minutes in the pan, then carefully remove and let cool completely.

When completely cool, carefully spoon icing over the top and let it fall down the sides.

Icing: Melt the butter in a 2 cup liquid measure or a bowl. Add the powdered sugar and stir until well mixed. Slowly, about a teaspoon at a time, add lemon juice and stir vigorously until the icing is smooth enough to spoon over the cake.

Spoon over the cake and allow iced cake to sit until icing is firm.