This Lemon Crumb Cake might be the most lemony cake I've ever made. The recipe calls for a tablespoos of lemon zest in both the cake and crumb and has a layer of homemade lemon curd that goes on right before the crumb topping. I have to admit, it turned out better than expected. I never find lemon things to be lemony enough.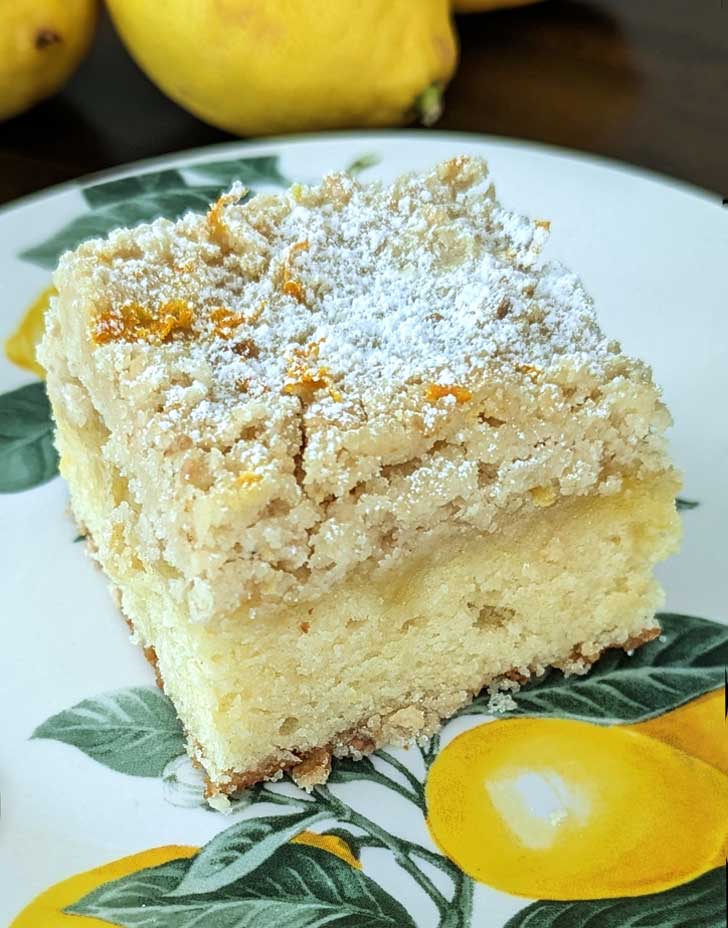 Lemon Crumb Cake Notes
What makes this recipe so lemony is the lemon curd that you swirl through the batter before baking. It settles in under the crumb (you can see it in the photo above) to add more moisture and a ton of lemon flavor. I used this microwave lemon curd recipe, which was an adventure. You can use whatever kind of lemon curd you have or make some especially for this cake. The texture of the cake is soft and kind of dense and moist.
Pan Size
Make sure to use a 9 inch square pan and not an 8 inch square, as this is a pretty thick cake with a high pile of crumbs. The cake rises quite a bit and cracks a little, then settles. It bakes up rather pale (or at least mine did), but a final shower of powdered sugar makes it pretty.
Ingredient Notes
This is a pretty straightforward crumb cake recipe, but there are a few things to note, so here's the ingredient rundown. I'm not covering them all but will add to this if anyone has questions.
Flour -- I used Gold Medal and weighed 200 grams for both the crumb and cake.
Baking Soda -- The recipe has a small amount of soda but no baking powder. I guess it gets plenty of acid from the Greek yogurt and possibly the lemon curd. The beaten egg whites also help lift it a bit.
Salted Butter -- I have been buying and using salted butter lately (it was on sale) and that is why there is not much added salt in the recipe. If you use unsalted, add ¼ teaspoon of salt plus an extra little pinch if you love salt for every half cup of butter.
Separating and Beating Eggs -- This is one of those recipes that has you fold the beaten egg whites in at the end to lighten the texture. The batter will be very thick and the whites will lose volume, but it all works out.
Greek Yogurt -- I try to use full fat when possible. For this cake I used Fage 5%. I think sour cream would be okay too, but haven't tested yet.
Powdered Sugar aka Confectioners' -- The cake doesn't brown much (as mentioned). The powdered sugar will make it look better.
Lemon Crumb Cake Variations
I am so happy with how this cake turned out and can't wait to try it with variations. For instance, using storebought lime curd and cardamom, adding a little nutmeg, making a half version in a loaf pan or maybe even making a mini version by scaling the recipe to ⅓ and using a very small loaf pan or perhaps a 4 inch round cake pan.
Recipe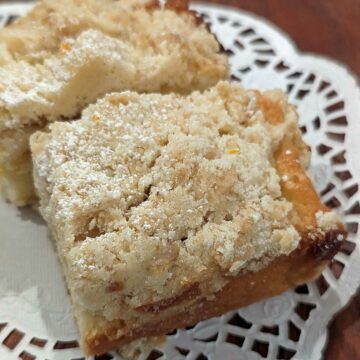 Lemon Crumb Cake
This is a soft textured lemon flavored cake with a swirl of lemon curd. I found the original version in Southern Living and made my own small changes, but this is pretty close to the original. It makes a very thick cake, so I don't recommend using a pan smaller than 9 inches square. You could probably get away with using one slightly larger for a thinner cake. The crumb layer is pretty thick. When you pile it on it might seem like too much, but it's not. If using unsalted butter, be sure to add a little more salt.
Ingredients 
Shortening or butter for greasing pan
Crumb Mixture
1 ½

cups

all-purpose flour

(200 grams)

⅔

cup

sugar

(130 grams)

1

pinch

salt

1

tablespoon

lemon zest and 1 tablespoon orange zest

½

cup

salted butter, cold

(114 grams)
Cake Batter
3

large

eggs, room temperature

1 ½

cups

all-purpose flour

(200 grams)

⅛

teaspoon

baking soda

1

cup

sugar

(200 grams)

½

cup

salted butter, room temperature

1

tablespoon

lemon zest

½

cup

Greek yogurt

(114 grams)

⅔

cup

lemon curd (homemade or store-bought)

confectioners' sugar for dusting
Instructions 
Grease a 9 inch square baking pan. You can line it with parchment if you'd like, but it's not absolutely necessary.

Make the crumb mixture first. Mix together flour, sugar and both zests, then use a grater to grate in the cold butter, tossing occasionally to mix. You can also do this with a pastry cutter, two forks or a food processor, but the easiest way is just to grate it in there. Cover and keep chilled while you make the cake batter.

Mix together the cake flour, baking soda, salt, and lemon zest then set aside.

In a mixing bowl using an electric mixer, beat the ½ cup of softened butter with the 1 ½ cups of sugar, scraping sides of bowl often. Add egg yolks, one at a time, beating for 30 seconds after each egg is added.

Add the flour mixture alternately with the yogurt, stirring by hand or on lowest speed until blended.

Beat the egg whites until soft peaks for, then fold ⅓ at a time into the cake batter. Batter will be thick.

Scrape the thick batter into the pan and spread evenly. Drop dollops of lemon mixture over the top and swirl with a knife. Sprinkle crumb mixture over the top. It will seem like too much, but it's not.

Bake for 45 to 50 minutes at 350 degrees F. Let cool.