Update: This is a really old post about a tofu dish called Pan Fried Glazed Tofu. I think I only made it once, but it was good and I need to make it again. Also, I haven't owned a rice cooker in years thanks to the Instant Pot
Pan Glazed Tofu
I'm waiting for some brownies to cool, so if tofu is not your thing, check in later. Right now I want to pass on a recipe I tried last night. It's a crispy, glazed, pan fried glazed tofu dish which you serve over rice.
Speaking of which, a few weeks ago I made one of my best appliance purchases of the year -- a rice cooker. It's changed my life. For years I considered buying one but shrugged it off thinking I knew how to make rice and didn't need a cooker, but the truth was my rice was not always perfect and I found myself buying a lot of the pre-cooked rice packets. Not that there's anything wrong with letting Uncle Ben do the cooking once in a while, but I wanted to make rice using rice straight out of the bulk bin.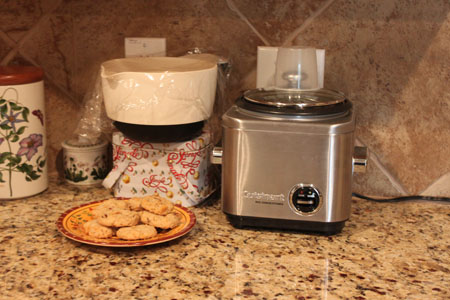 Anyhow, the rice cooker has put the fun back into rice and I love picking new flavors and watching it come out perfect every time. Right now I'm working my way through a bag of popcorn rice, which is not as aromatic as basmati, but very good and rather versatile. Apparently it's a Louisiana thing.
But back to the tofu. The original Crispy Tofu with Sweet & Tangy Glaze is from Recipezaar, but I made a few changes including toasting the sesame seeds and adding a little Mirin. Fuzz, who is really into tofu right now, thought it was pretty good. Todd doesn't like the texture of tofu, but even he thought this was okay because I'd pressed so much water out of it to make it chewy. Apparently another trick you can do to make your tofu chewier is to freeze it and thaw it. I have a block in the freezer right now.
Pan Fried Glazed Tofu
1 (8 ounce) package extra firm tofu (some brands say "hard tofu)
3 tablespoons soy sauce
2 tablespoons ketchup
1 -2 tablespoon brown sugar
½ tablespoon prepared mustard
2 teaspoons white vinegar
1 tablespoon chili sauce (I use Thai sweet chilly sauce)
¼ teaspoon chili powder
2 teaspoons minced garlic
1 tablespoon of Mirin
1 teaspoon sesame seed
2 tablespoons vegetable oil
Drain tofu and slice it about ½ inch thick. Lay slices on paper towels. Put more paper towels on top and weigh down with a couple of heavy books. Drain as much water out of the tofu as you can.
Meanwhile, mix the soy sauce, ketchup, brown sugar, mustard, vinegar, chili sauce, chili powder, garlic and Mirin (if you have it).
Toast the sesame seeds lightly in a dry non-stick skillet. This should only take a minute or two. Set them on a plate.
Add vegetable oil in the non-stick skillet and let it heat for about 30 seconds on medium. Saute the tofu slices for 2-3 minutes on each side until they get golden brown.
Remove tofu from skillet keeping skillet over medium. At this point, I drained a lot of the oil from the skillet and kept just a little in there to coat the pan. Carefully add the soy sauce mixture into the hot skillet and let it bubble and thicken – Mine spattered a lot, so be careful. Return the fried tofu slices back to the skillet and glaze it with the sauce.
Arrange the tofu over rice and sprinkle with the toasted sesame seeds.