I've always preferred cornbread recipes with a little sugar and flour, but this one is growing on me. It's a Lowcountry style no flour, no sugar cornbread recipe similar to the type my dad would eat. And by that I mean the unsweetened kind meant to be doused in sorghum or Steen's cane syrup. My great grandmother also ate this kind, though she'd mash it up in a glass of buttermilk. So it's great with other things, but it's also good as a stand-alone. It's not sweet, it's gluten-free and it's extremely easy.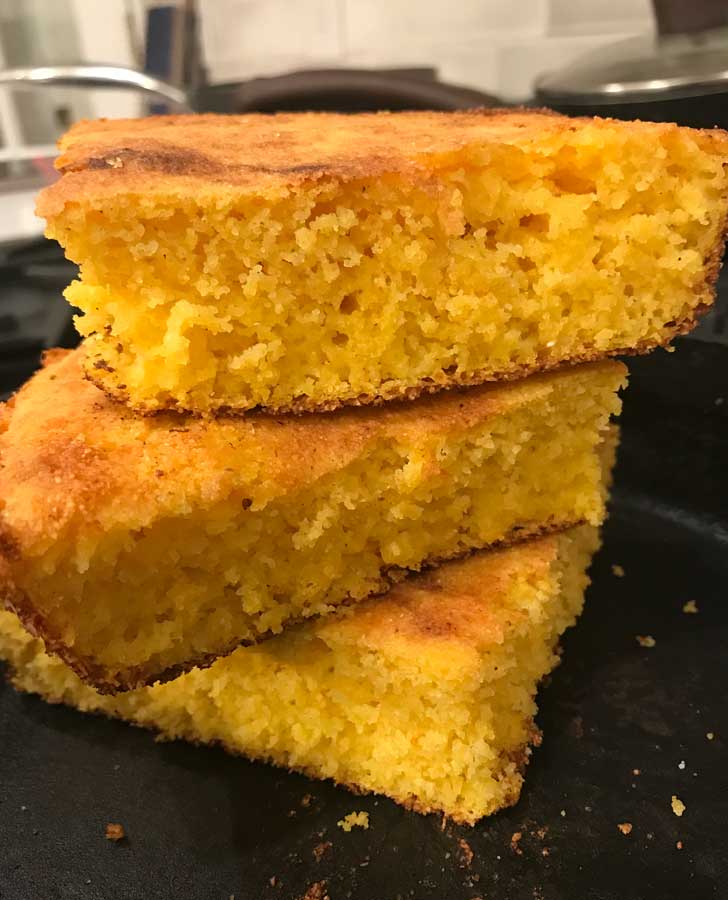 Bacon Fat, Butter or Oil
Along with being gluten-free, the recipe doesn't call for much fat. I've made it successfully with 2 teaspoons of bacon grease or melted butter or sometimes a mix of the two. The key thing is that as with my other cornbread recipe, the skillet and the fat need to be very hot, so when you pour in the batter it starts to sizzle and cook around the edges. For this recipe, I fry up two or 3 slices of bacon (which do not go into the cornbread) while I'm putting together the cornbread batter and use the still-hot skillet along with a little rendered fat.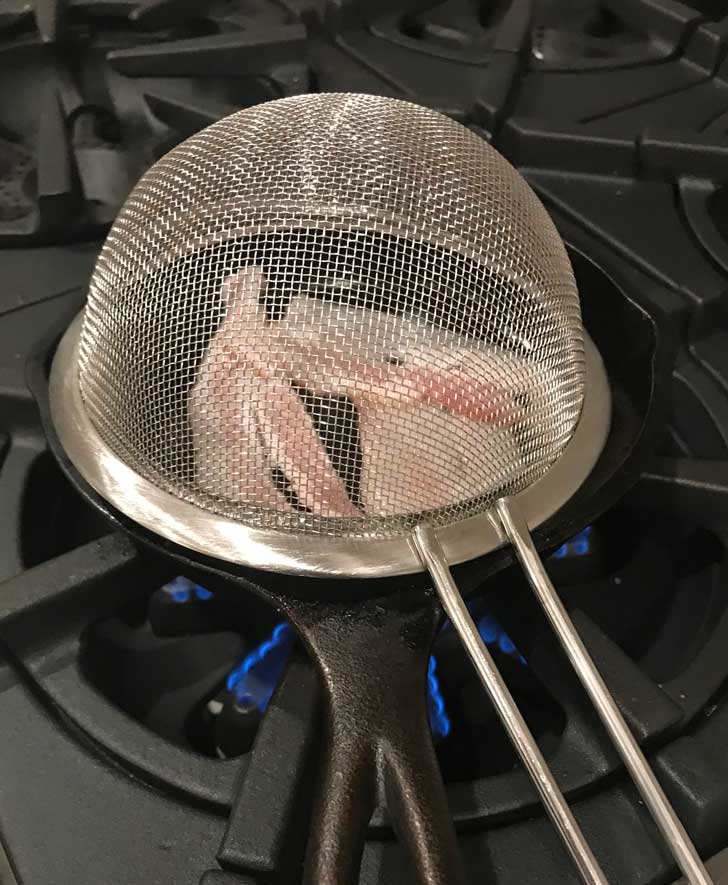 Lowcountry Cornbread Recipe
I'm glad I have this recipe now, though I might not have bothered with it had it not been from a very trusted and reliable source, John Martin Taylor, aka Hoppin' John. If you are interested in Lowcountry Cuisine, here's one of his books. I lucked out and found it at a used bookstore in Charleston, but will be buying some others online. He gives so much history with each recipe, and I've even learned of some breads I'd never heard of before such as Philpy, a rice bread made with cooked rice and rice flour. But back to the cornbread...
Type of Cornmeal and Buttermilk
I've been using regular old Quaker brand and Publix brand fine cornmeal, so nothing out of the ordinary there. For the buttermilk, I've been using cultured full-fat. I haven't had problems finding full fat buttermilk here in North Carolina but in some markets most of the buttermilk is the lower fat kind. I'm not sure why it wouldn't work, but if you can find the full fat cultured, use it.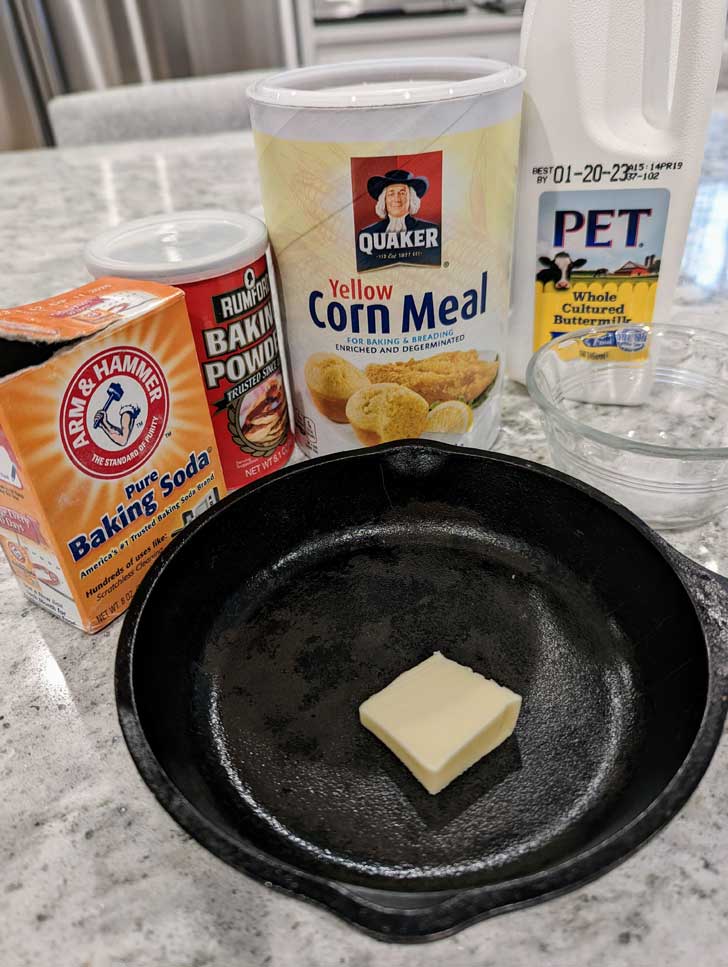 Half Batch No Oil No Flour Cornbread
Don't need a full batch of cornbread? If you have a 6 ½ inch skillet you can make a half batch version of the recipe. Just halve everything (you'll use 2 tablespoons of beaten egg for half an egg) and use the same directions. You will most likely be filling the skillet all the way to the top, so you may not want to use every bit of the batter. If you do decide to just pour it all in, put a rimmed baking sheet under the skillet.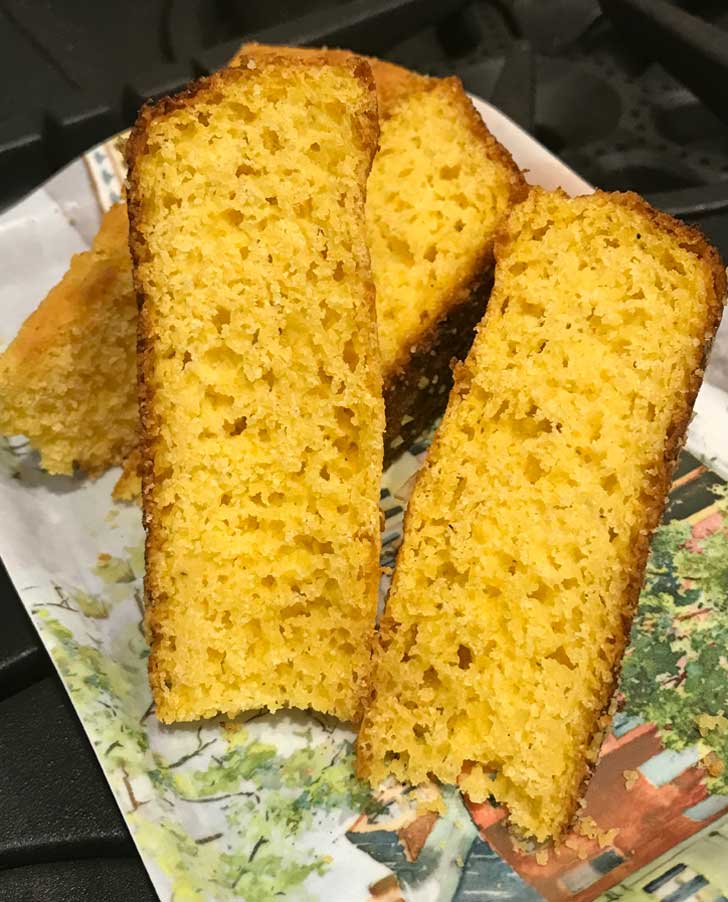 For an even smaller batch, you can quarter the recipe, in which case you'll have a real thin cornbread. That's actually not a bad thing because you get a high crust to crumb ratio. With eggs being so expensive (update: not anymore!), just add 12-15 grams of one and save the rest of the egg for another half batch of something. That being said, this cornbread keeps well so you might as well make a full or half batch (in which case you're still going to have half an egg to use in something else).
Leftover Cornbread
Cornbread is always good served fresh, but this one's been surprisingly good served as leftovers. I've been throwing leftovers in the refrigerator (not even bothering to freeze it) and toasting individual slices. Dare I say the leftover pieces are a little better? Maybe.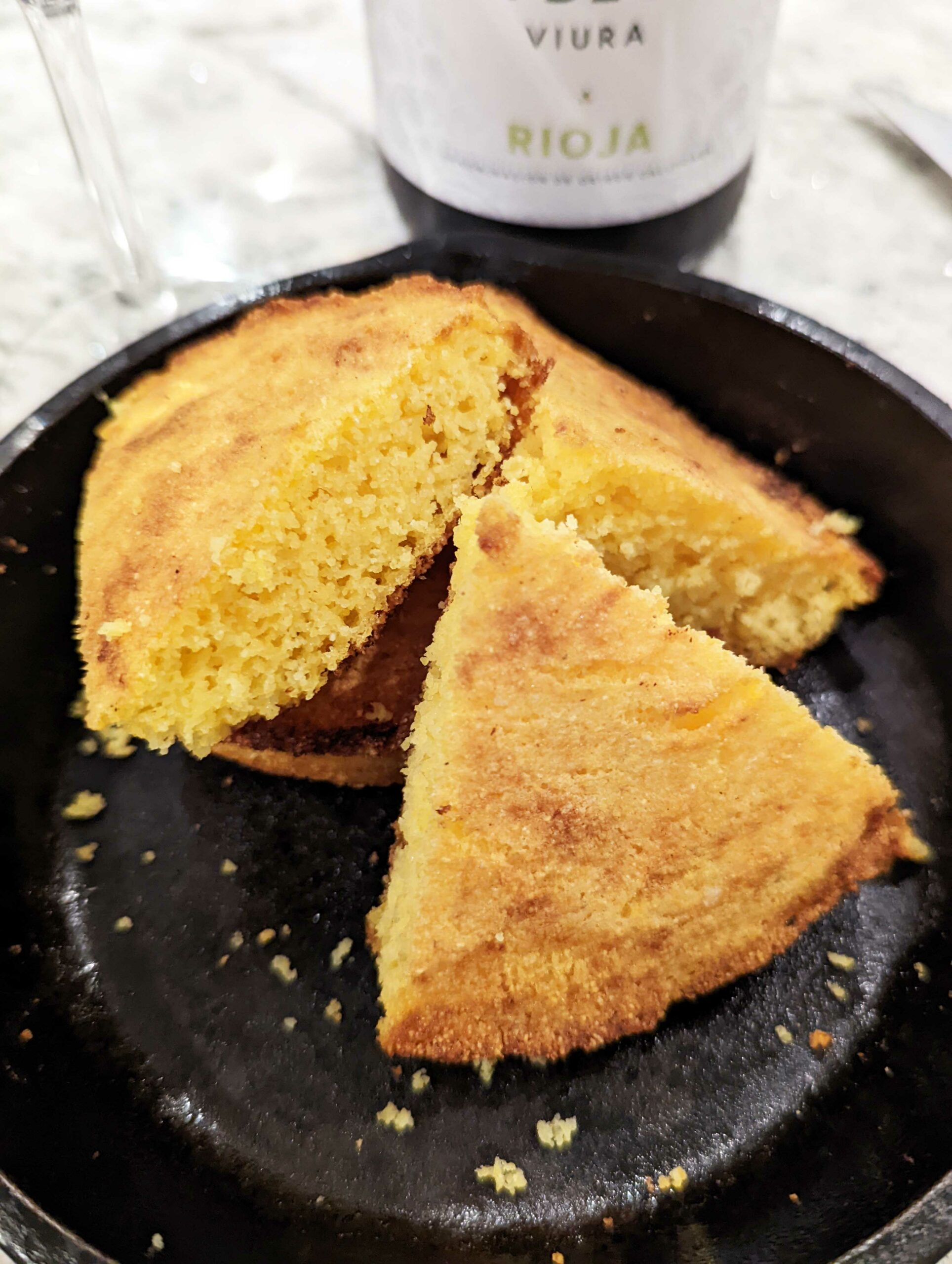 If you're not sold on this recipe and prefer a little flour and sugar in the mix, here's a link to my usual recipe, Small Batch Skillet Cornbread.
Recipe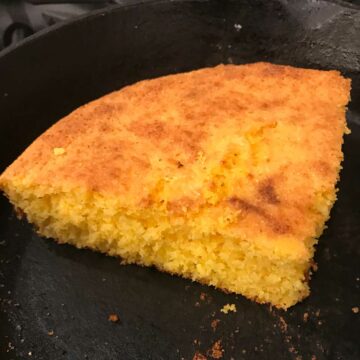 No Flour No Sugar Cornbread
A true Lowcountry style cornbread without flour or sugar.
Ingredients 
2

slices

bacon, just for greasing the skillet or 2 teaspoons butter

1 ¾

cups

cornmeal

1

teaspoon

salt (scant)

2

cups

buttermilk, preferably whole milk cultured

1

large

egg

1

teaspoon

baking powder (scant)

1

teaspoon

baking soda (scant)
Instructions 
Preheat the oven to 450 degrees F.

In a 9 or 10 inch cast iron skillet, fry 2 to 4 slices of bacon. While the bacon is cooking, prepare the cornbread batter. Alternatively, if you don't want to use bacon just melt 2 teaspoons of butter in the skillet.

Also, the bacon itself does not go in the cornbread! Use the cooked bacon in something else or as a topping for salad.

Put the cornmeal and salt in a large mixing bowl. Make a well in the center and add the egg and buttermilk. Whisk the egg and buttermilk together, then whisk everything together. Don't add the baking powder and baking soda yet.

Meanwhile, keep tabs on your bacon and have your baking powder and baking soda ready. You want to finish off the cornbread batter while your skillet is still good and hot.

Carefully remove the bacon from the skillet and then carefully drain the bacon grease into a safe container (coffee can or glass bowl) leaving behind a thin layer of bacon grease. Add back 2 teaspoons. Feel free to eyeball this and just pour out what you think is about 2 teaspoons. It won't hurt if you leave behind 3 or 4.

Whisk the baking powder and baking soda into the cornmeal mixture.

Set the still super hot skillet on a rimmed baking pan and pour in the cornbread batter.

Put the pan with the hot skillet on it in the hot oven and bake for about 20 minutes or until edges are brown. If you are confident your batter won't seep over the top you can skip the rimmed baking sheet. I have made the cornbread so many times that I don't always use it. But if it's your first time or you want to be safe, please put something underneath to catch potential drips.

Let cool slightly, then cut in triangles.

To store leftovers, just put them in a zipper bag in the refrigerator. You can also freeze.
Nutrition