Lime Filled Pastry with Mixed Berries is an old recipe from Eagle Brand condensed milk. It's has a puff pastry crust, a light and sweet lime filling and a topping of fresh berries.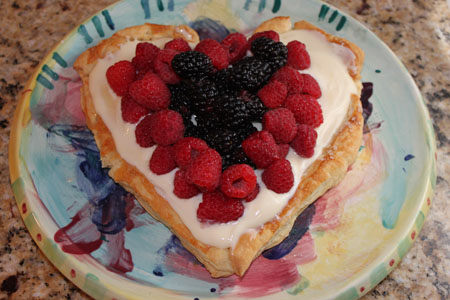 This is a good recipe for beginning bakers because the frozen thawed puff pastry is so easy to work with and bakes up perfectly every time. The filling is also simple -- just condensed milk, sour cream and lime juice. It reminds me of the filling in this egg-free Key Lime Pie.
Lime Filled Pastry with Fresh Berries
1 sheet frozen puff pastry (one-half 17 ¼ oz. pkg.)
1 large egg white, lightly beaten
1 (14 oz.) can Eagle Brand® Sweetened Condensed Milk
⅓ cup lime juice
⅓ cup sour cream
3 cups fresh raspberries, blueberries, blackberries and/or quartered strawberries
Thaw puff pastry at room temperature 20 minutes. If you are halving the recipe, cut the pasty in half and chill the rest.
Preheat oven to 375°F. Unfold pastry onto lightly floured surface; roll out into 15 x 10-inch rectangle. Cut a ¾-inch wide strip from each long side of rectangle; cut a ¾-inch wide strip from each short end of rectangle. Set aside the 4 strips.
Place pastry rectangle on ungreased or parchment lined baking sheet. Brush with egg white. Lay pastry strips on top of pastry rectangle, aligning outer edges of strips to fit. Brush strips with egg white and sprinkle with sugar. Prick bottom of rectangle several times with fork. I cut mine into a heart and used the trimmings to build the sides.
Bake 20 to 25 minutes or until light brown. Cool. (My half batch was brown in 18 minutes).
Combine sweetened condensed milk, lime juice (I used bottled key lime), and sour cream in medium bowl. Spoon into cooled pastry rectangle. Cover and chill up to 4 hours. Top with berries before serving.
For a half version, make the rectangle about 7x10. For the filling, use ⅔ cup of condensed milk, 3 tablespoons of lime juice and 3 tablespoons of sour cream. You'll also need only about 1 ½ cups of berries.