I don't know what it was about this particular Valentine's Day, but I felt more stressed over it than usual and had trouble coming up with a menu.
Everything finally came together and I chose a couple of new recipes including dessert. Thinking we'd go light and fruity rather than chocolaty (we'd been eating red velvet cake and brownies all weekend), I decided to make a fruit tart using puff pastry with a lime filling and topping of fresh berries. This recipe is from Eagle Brand and it could not have been any easier. Plus, it was fun. Puff pastry is such a pleasure to work with that I shaped it into a heart. It's not a perfect heart, but it's something.
This turned out to be a perfect ending to our meat-based meal. It was cool and refreshing and had a lot of different textures – crispy pastry, creamy filling and mixed berries. It worked for Valentine's Day, but it's going to be a definite repeater when berry season rolls around.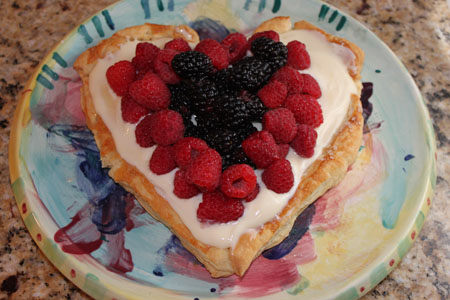 Lime Filled Pastry With Mixed Berries
1 sheet frozen puff pastry (one-half 17 1/4 oz. pkg.)
1 large egg white, lightly beaten
1 (14 oz.) can Eagle Brand® Sweetened Condensed Milk
1/3 cup lime juice
1/3 cup sour cream
3 cups fresh raspberries, blueberries, blackberries and/or quartered strawberries
Thaw puff pastry at room temperature 20 minutes. If you are halving the recipe, cut the pasty in half and chill the rest.
Preheat oven to 375°F. Unfold pastry onto lightly floured surface; roll out into 15 x 10-inch rectangle. Cut a 3/4-inch wide strip from each long side of rectangle; cut a 3/4-inch wide strip from each short end of rectangle. Set aside the 4 strips.
Place pastry rectangle on ungreased or parchment lined baking sheet. Brush with egg white. Lay pastry strips on top of pastry rectangle, aligning outer edges of strips to fit. Brush strips with egg white and sprinkle with sugar. Prick bottom of rectangle several times with fork. I cut mine into a heart and used the trimmings to build the sides.
Bake 20 to 25 minutes or until light brown. Cool. (My half batch was brown in 18 minutes).
Combine sweetened condensed milk, lime juice (I used bottled key lime), and sour cream in medium bowl. Spoon into cooled pastry rectangle. Cover and chill up to 4 hours. Top with berries before serving.
For a half version, make the rectangle about 7×10. For the filling, use 2/3 cup of condensed milk, 3 tablespoons of lime juice and 3 tablespoons of sour cream. You'll also need only about 1 1/2 cups of berries.