Today's recipe is a Key lime pie made without egg yolks.  It also has a gingersnap crust! I can't believe it took me so long to try this egg-free version, but I'm glad I did because it was really good.  It's a basic Key lime pie, but sour cream stands in for the egg yolks making the pie a little more tart and even a bit smoother. I wasn't convinced this pie would be firm enough to cut, but as you can see by the photo, it was.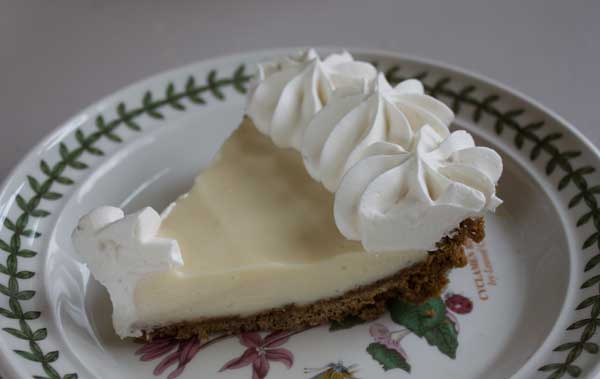 I found the original version of this pie on Allrecipes.com, but had to make (of course) a few changes. For one thing, I needed to use up some gingersnaps so I put the filling in a gingersnap crust. The other change was to halve the recipe and make it in a rather shallow 9 inch pie tin. For a deep dish, you'd probably want to double the recipe. However, if you're baking and taking pies for Thanksgiving and plan on using disposable aluminum pie tins, this would be a perfect pie since the disposables are shallow and usually a little smaller than 9 inches.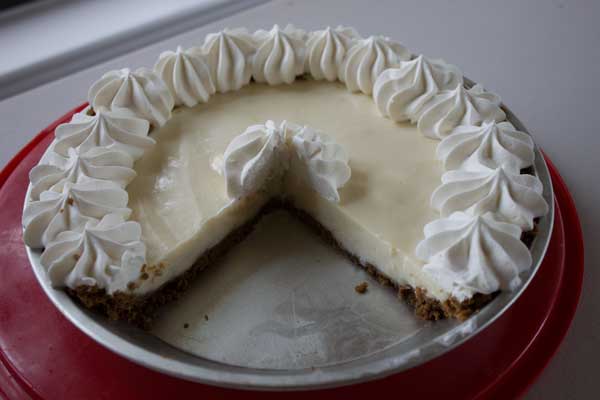 Another thing I recommend is using a good vanilla extract for the whipped cream border. My new favorite right now is the Sonoma Syrups Vanilla Crush, but I like it more in creamy things (like this) than I do in baked goods.
Gingersnap Crust
Gingersnap crust goes really well with Key lime pie and this recipe is my favorite! It's originally from Martha Stewart. I make it whenever I have leftover Gingersnaps. The kind we use are either homemade, Nabisco or Stauffers brand. If using Stauffer's, you'll need about 32 to 35 Gingersnaps to make 1 3/4 c up crumbs. I've put the full recipe below with the pie.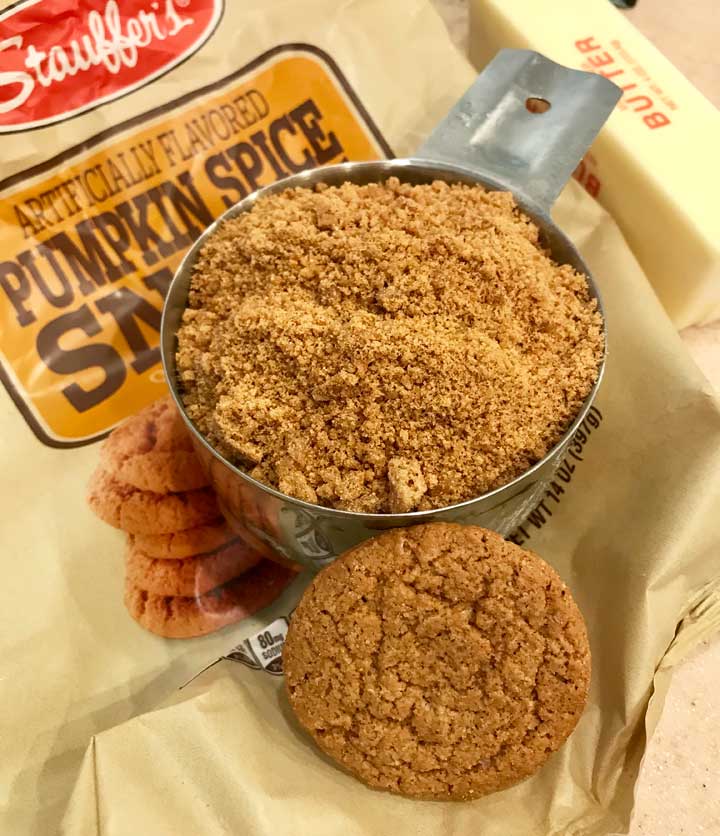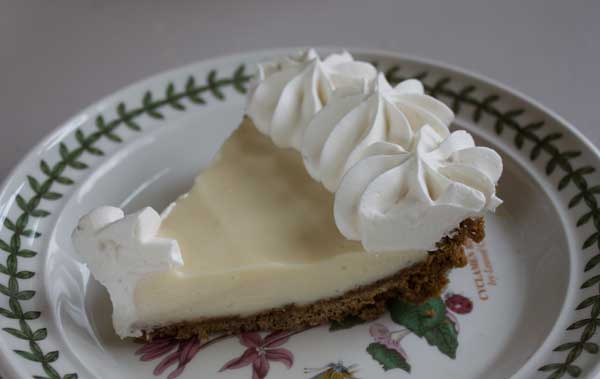 Key Lime Pie
A Key lime pie made without egg yolks
Ingredients 
1 9

inch

pie crust

baked (I like a gingersnap crust below)

1

can

14 oz of sweetened condensed milk

1/4

cup

sour cream

regular (lite might not work well)

6

tablespoons

fresh lime juice or Nellie's Key Lime Juice

1

tablespoon

lime zest, halve it if you like a less tart pie

1

cup

whipping cream

1/4

cup

powdered sugar

1/2

teaspoon

of vanilla extract
Gingersnap Crust
1 3/4

cup

Gingersnap crumbs

1/4

cup

dark brown sugar

1

tablespoon

flour

1/2

teaspoon

kosher salt

4

tablespoons

melted butter
Instructions 
Preheat the oven to 350 degrees F.

Whisk together condensed milk, sour cream, lime juice and lime zest. Pour the mixture into the baked pie crust, then bake for 5 to 8 minutes. The filling should not brown. in fact, it won't look like it did anything!

Remove from oven and let cool for about an hour at room temperature. Chill for at least 4 hours before serving.

At some point during the chill time, prepare the whipped cream. Whip the whipping cream until stiff peaks just start to form, then beat in the sugar and vanilla. Pipe the whipping cream decoratively around the edges.

Gingersnap Crust: Mix together all ingredients. Press into a very well greased pie dish and freeze for 10 minutes. From freezer, bake 10 minute at 350. Let cool before filling and baking again.