Mini Loaf Pan Brownies are my smallest size brownies. And the recipe is super easy because the brownie batter can be made with self-rising flour, mixed in one bowl and baked in a regular or toaster oven. Here's a picture of my latest batch, which I cut into 2 large brownies. I'd say this recipe serves 2 or 3, or if you just like a small bite of chocolate during the day, 8! They're pretty fudgy.
Jump to Recipe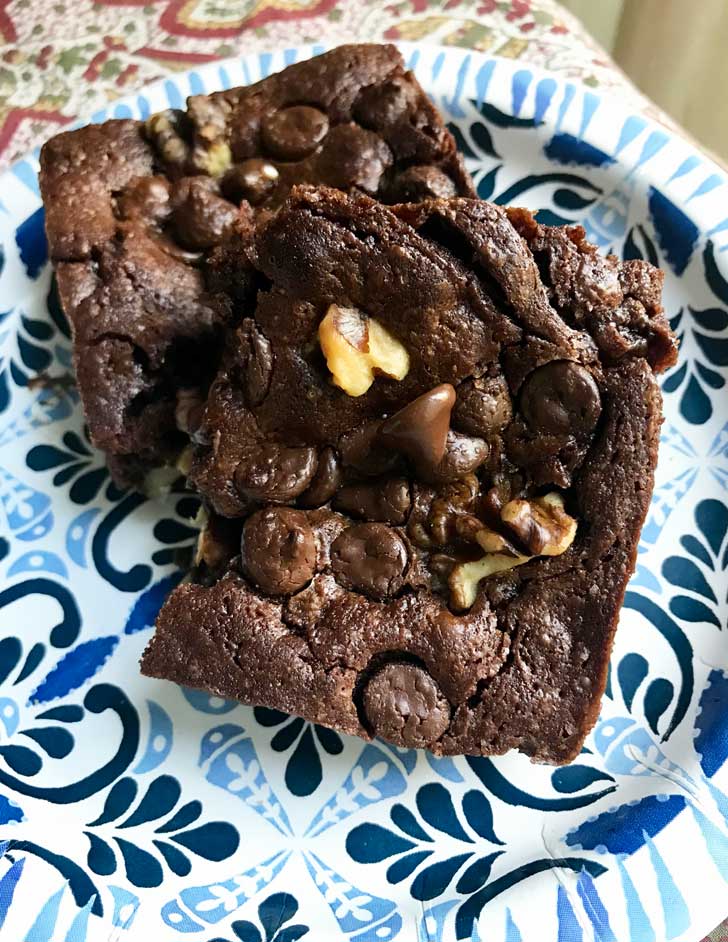 This recipe is better than my old mini loaf pan brownie recipe and less fussy. The self-rising flour really streamlines then process. That being said, I've tested with both self-rising flour and a gluten-free blend with a little baking powder added. The ones in the photo above are self-rising flour brownies.
Self-Rising or Self-Raising Flour
In the UK self-rising flour goes by self-raising flour and contains baking powder, whereas here in the USA it contains both baking powder and salt. All purpose flour is more popular in the states, but some bakers appreciate the convenience and textural attributes of self-rising. For instance, White Lily brand is made with a softer wheat, so biscuits, cakes and quick breads bake up a little softer. When I lived in Texas I had to drive all over town for a bag of White Lily. Here in NC, people love their biscuits and White Lily is at just about every grocery store. Side note: some stores also have a "Gravy" aisle.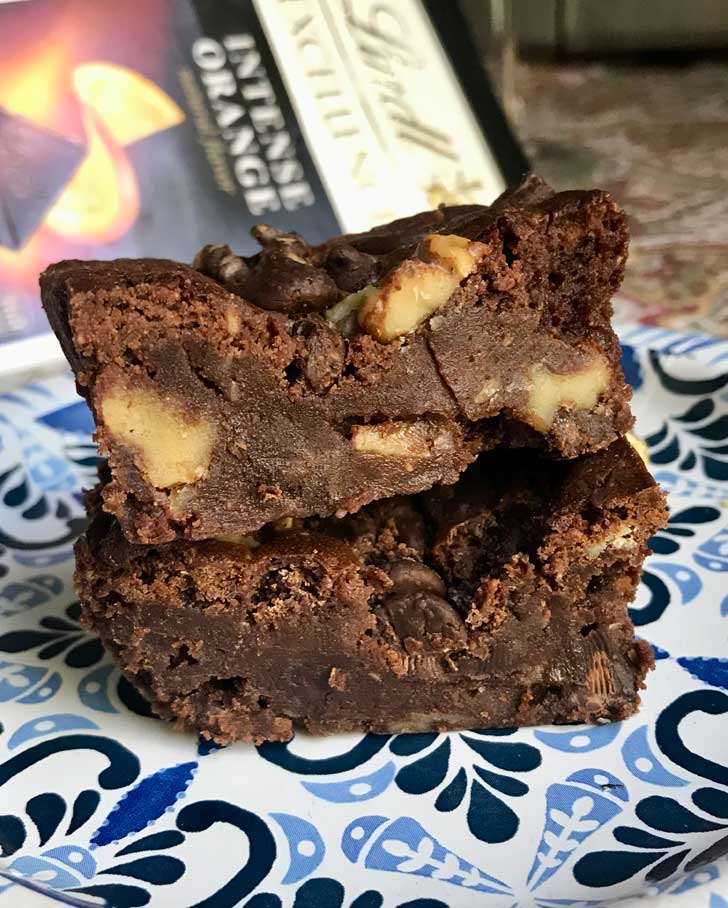 Mini Loaf Pan Brownies Ingredients Notes
Butter -- Salted or unsalted. If you are using self-rising flour, the combination of regular salted butter and the salt in the self-rising flour will give you plenty of saltiness. If you use unsalted butter, you may want to add a tiny pinch more.
Chocolate -- I've tested with Aldi dark chocolate and Intense Orange Dark Chocolate Lindt. If you like orange flavor in your brownies, definitely give the orange flavored Lindt a try. If you don't have a scale, 45 grams of a Lindt bar is 4 ½ squares.
Brown Sugar -- Mini Loaf Pan Brownies are made with 100% brown sugar. If you don't have brown you can use granulated.
Eggs -- Using 2 tablespoons of egg is easy. Just crack an egg into a cup, whisk it and measure out 2 tablespoons of about 25 grams. You'll have 2 tablespoons left, which you can use for another small batch recipe. Alternatively, skip the fresh egg and just use 2 tablespoons of liquid egg substitute (like Egg Beaters).
Flour - So all that talk about flour aside, this recipe only contains about a tablespoon (8 or 9 grams). The tablespoon of self-rising flour gives the brownies just enough fluff. If you use all-purpose or the gluten-free blend, do need to add a pinch of baking powder.
Vanilla
Chocolate Chips -- I used Kirkland brand.
Nuts -- Any nut you like, and they're optional.
Normal Oven or Cuisinart Toaster Oven Air Fryer Baking Time and Temp
We're in the middle of a kitchen remodel and I've been baking the brownies in a Cuisinart Toaster Oven Air Fryer. I like the Cuisinart, but the baking temperature is about 100 degrees off and has been ever since we bought it. I thought maybe it was defective at first, but based on reviews from others, this is a common issue with the Cuisinart Toaster Oven Air Fryer, and I've learned to just lower the temp by about 100 degrees when on the bake setting. So I had to bake mine at 280 degrees F even though a better temperature would be 375 degrees F.
The point is, use an instant read thermometer, You can bake the brownies in anything as long as you take them out when the temperature tops out around 210-212. I pulled my last batch at 212. With so little flour, there is very little chance of overbaking these.
Update! Blondies Version
I had so much fun making these that I tried making Blondies in the mini loaf pan. The recipe is on the Katy's Favorite Blondies page.
Recipe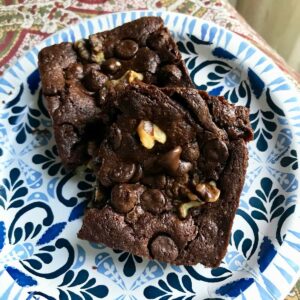 Mini Loaf Pan Brownies
These brownies are soft and fudgy, but have a tiny bit of fluffy cakiness to them. A tiny bit! They are not at all dry.
Ingredients 
2

tablespoons

salted or unsalted butter

(28 grams)

45

grams

dark chocolate or orange flavored dark chocolate

(4 ½ Lindt squares)

2

tablespoons

light brown sugar

(25 grams)

2

tablespoons

lightly beaten egg

(25 grams)

1

tablespoon

self-rising flour or gluten-free blend**

(9 grams)

¼

tsp

vanilla extract

2

tablespoons

chocolate chips

1

tablespoon

chopped pecans or walnuts, optional
Instructions 
Preheat the oven to 375 degrees F (unless you are using a Cuisinart Toaster Oven & Air Fryer, in which case it's 275F). Grease a 2 cup capacity loaf pan and line with parchment paper or foil. If using foil, spray bottom with cooking spray.

Put the butter in a 2 cup microwave safe measuring cup and heat for 30 seconds on high. Add chopped chocolate and stir until chocolate is melted. If chocolate doesn't melt completely, microwave for another 10 seconds.

Add brown sugar to chocolate mixture and stir well, then stir in the 2 tablespoons of egg.

Add the vanilla and stir well, then stir in the flour. Make sure the batter is not warm, then stir in the chocolate chips. If using nuts, add them too.

Scrape mixture into the pan and bake for about 16 to 18 minutes or until the brownies appear set and the internal temperature 210-212 degrees F. This is important. Please measure the temperature with an instant read themometer so you'll know when they are done. They'll probably seem underdone even at 210-212, but they'll become firm as they cool.

Let them cool completely in the loaf pan. then lift and cut into 2 or 3 brownies. You can also chill them if you wish. You'll get neater slices if you chill and then cut.
Notes
You can also use all-purpose flour or a gluten-free blend and add 1 tiny pinch (1 ⅙ of a teaspoon baking powder and 1 pinch of salt.