I didn't get a lot done today, but I did finally try Lucy's Peanut Butter Brownies! Also known as Magnolia Brownies or Joanna Gaines's Brownies, this recipe has been passed down through generations. I'd be curious to know where it originated, as it also appears in the 1992 Southern Living Annual where it's called Frosted Peanut Butter Brownies. Wherever it came from, it's a basic cocoa brownie topped with a layer of peanut butter and a very sweet cocoa based frosting.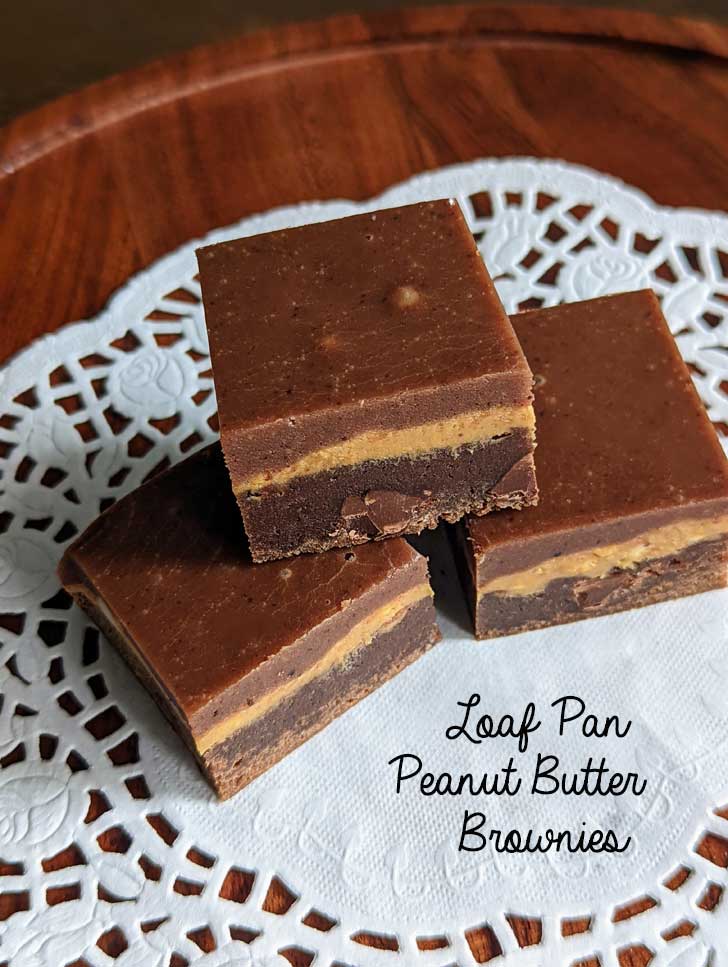 Easy Loaf Pan Version
I would have loved to have just made the original version, but it's designed for a 13x9 inch pan and Todd and I can only eat so many brownies. My version is scaled down to fit a loaf pan and makes 8 brownies. Or maybe 16. These are super rich. But you knew that, right?
Another bonus is that the recipe is very easy and doesn't require a lot of ingredients. Plus there's a lot of passive cooling and chill time, so if you have everything but the marshmallows, you can run to the store for some.
Tips For Loaf Pan Lucy's Brownies
For this post I'm not doing an ingredient rundown. Everything is pretty straightforward, but here are a few tips.
I used an 8 ½ by 4 ½ inch loaf pan. If you use a 9x5 inch pan, the surface area will be wider and the brownies will probably be done sooner. You'll also have a thinner bottom layer. I recommend sticking with the 8 ¼ by 4 ½ inch pan.
Lucy, J. Gaines and Southern Living all make these by beating the sugar and flour together, adding the cocoa/butter mixture that, then adding the eggs last. I tried to keep things simple (and fudgy -- no risk of overbeating) by putting the sugar in with the cocoa/butter mixture then hand beating in the egg and stirring in the salt, vanilla, and flour, which is the usual method for fudgy brownies.
I threw some chocolate chips in and would do that again.
The old Southern Living version calls for 12 oz peanut butter while the Lucy version calls for 16. I made a quarter batch and was somewhere in the middle around 3 ½ oz. The key thing I learned was that more is not always better here, as the peanut butter could easily overpower the other components.
You only need 2 ½ marshmallows, and they do make a difference in the texture. If you have small marshmallows you could use 25.
Watch the bake time closely. Mine were done in exactly 20 minutes at 325, but I have a dying oven so I always take the internal temperature of the brownies, which in this case topped out at 200 degrees F.
Other Peanut Butter Marshmallow Brownie Combos
Recipe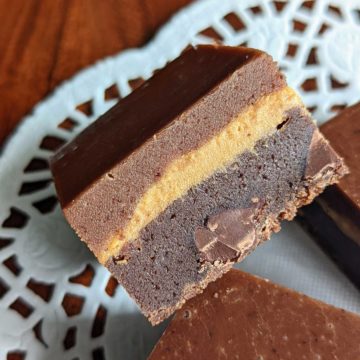 Frosted Peanut Butter Brownies in a Loaf Pan
Basic cocoa brownies baked in a loaf pan and topped with peanut butter and chocolate marshmallow frosting.
Ingredients 
4

tablespoons

unsalted butter (salted probably okay too)**

(56 grams)

1 ½

tablespoons

unsweetened cocoa powder

(about 8 grams)

½

cup

sugar

(100 grams)

1

large

egg

¼

teaspoon

vanilla extract

⅛

teaspoon

salt

6

tablespoons

all-purpose flour (¼ cup plus 2 tablespoons)

(48 grams)

¼

cup

semisweet chocolate chips (optional)
Peanut Butter
½

cup

creamy or crunchy peanut butter
Marshmallow Frosting
2

tablespoons

unsalted or salted butter (I used unsalted)

(28 grams)

1

tablespoon

unsweetened cocoa powder

(5 grams)

1 ½

tablespoons

whole milk

2 ½

large

marshmallows

1

cup

powdered sugar (sifted -- don't skip!)

(120 grams)
Instructions 
Preheat oven to 325 degrees F. Line an 8 ½ by 4 ½ inch loaf pan with a double layer of foil and grease the bottom only.

In a 1 ½ to 2 quart saucepan set over medium low heat, melt the butter, then add the cocoa powder. Stir until smooth. Add the sugar and stir just until it begins to shine. Remove from heat. Let cool slightly and beat in a cold egg. When egg is fully blended, stir in salt and flour. Let cool for about 10 minutes.

Make sure mixture is not so warm it will melt the chips, then stir in the chocolate chips.

Scrape the batter into the prepared pan and spread evenly.

Bake the brownie at 325 degrees F for 18 to 20 minutes or until the brownies' internal temperature tops out at 200 degrees F. For these, it's probably best to underbake than overbake, so be careful not to over-bake.

Remove warm brownies from the oven. Microwave peanut butter for about 30 seconds and spread over the top of the brownies. Let cool for a few minutes at room temperature, then transfer to the refrigerator and chill for another 20 minutes or until peanut butter is somewhat firm.

Prepare topping. Make sure you've already sifted and weighed your powdered sugar because it needs to be ready to go.

Clean out the saucepan you used for the brownie batter. Melt the butter gently. When it's partially melted, add 1 tablespoon cocoa powder, 2 ½ large marshmallows and 1 ½ tablespoons whole milk, Stir until everything is melted and smooth. Remove from heat and gradually add the sifted powdered sugar, stirring with a wooden spoon or a heat proof scraper.

Stir until smooth and shiny, then pour mixture over the set peanut butter brownies. Put in the freezer for about 20 to 30 minutes, then lift from loaf pan. Trim edges and keep them for yourself, then cut the rest into 8 neat squares.
Notes
The version of this recipe in the 1992 Southern Living Annual calls for butter or margarine.  Whenever I see something that says "or margarine" that's a clue that it was developed with salted butter, so if you want to try using salted butter along with the ⅛ teaspoon of salt, it should be fine.