Chocolate Fudge Brownie is one of Ben & Jerry's most popular flavors, which is no surprise. People love the chewy texture of the brownies scattered throughout, and have even requested the recipe. I know this because I went down a rabbit hole reading about the brownies used in Ben & Jerry's ice cream. And then I made these.
Jump to Recipe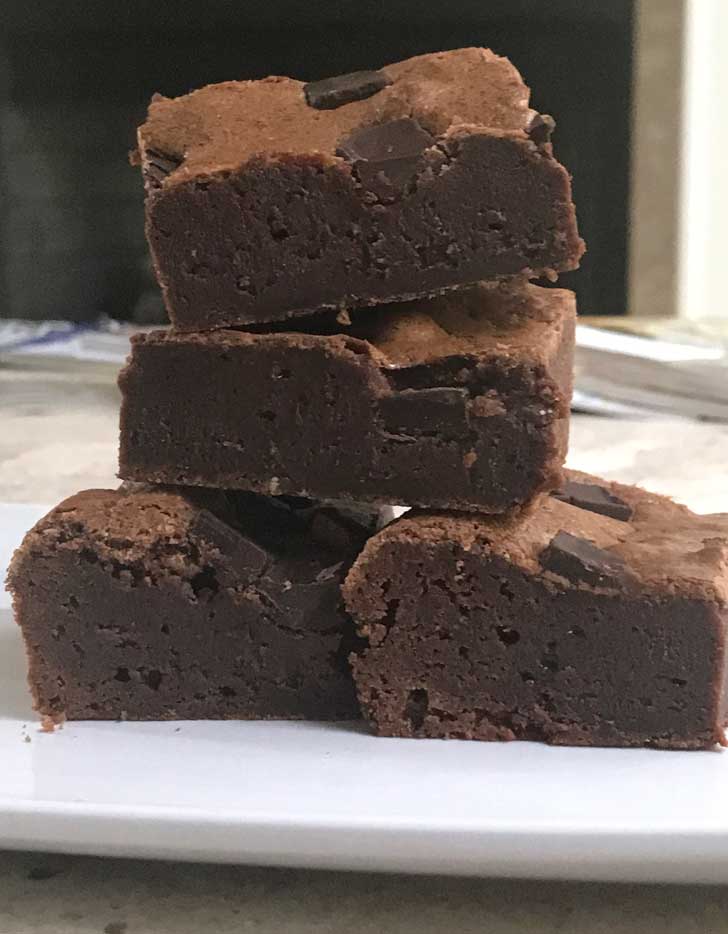 Brownie Inclusions Like Ben & Jerry's
A word I learned down in the rabbit hole was "inclusions". It's a term the commercial bakery that makes Ben & Jerry's Chocolate Fudge Brownies calls the little chunks of things that ice cream makers add to ice cream. The bakery is Greyston Bakery, and they are a B Corporation, which I'm a fan of now that I know what it is. The things you learn down in rabbit holes. Unfortunately, I did not learn nor will ever find their recipe. This one will have to do for now.
Chewy Brownies
This recipe is a spinoff of a Baker's Chocolate recipe, but with brown sugar for extra chewiness. To make the brownies even chewier and for more edge pieces, I divided the batter between two 8 ½ by 4 ½ inch loaf pans. However, you don't have to do that because the recipe is really designed for an 8 inch square pan. Another thing I tried to make the brownies a little chewier was using bread flour. I think it helped! But feel free to use all-purpose. Either way you'll get great brownies. If you want to call them "inclusions" and swirl them through some homemade chocolate fudge ice cream, I recommend this one. Just use chopped brownies as the add-ins.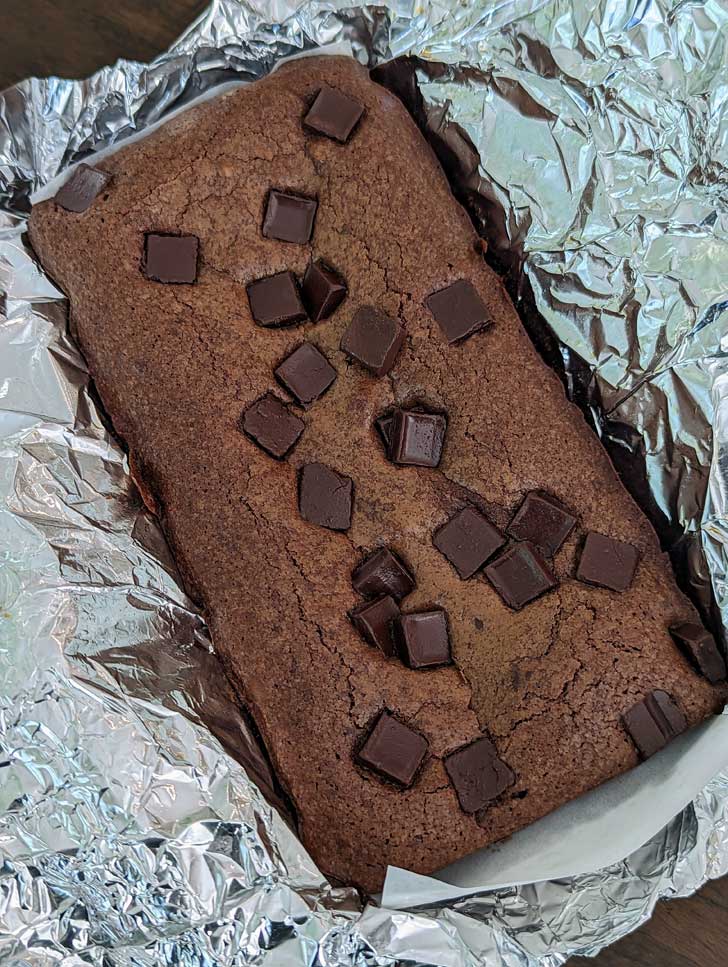 Ben & Jerry's Flavor Graveyard Pictures
By the way, Fuzz sent me pictures from her "last- things-to-do-in-New-England-before-graduating-college-bucket-list". She and her friends toured the Ben & Jerry's Flavor Graveyard (a place you'll never find the Chocolate Fudge Brownie flavor).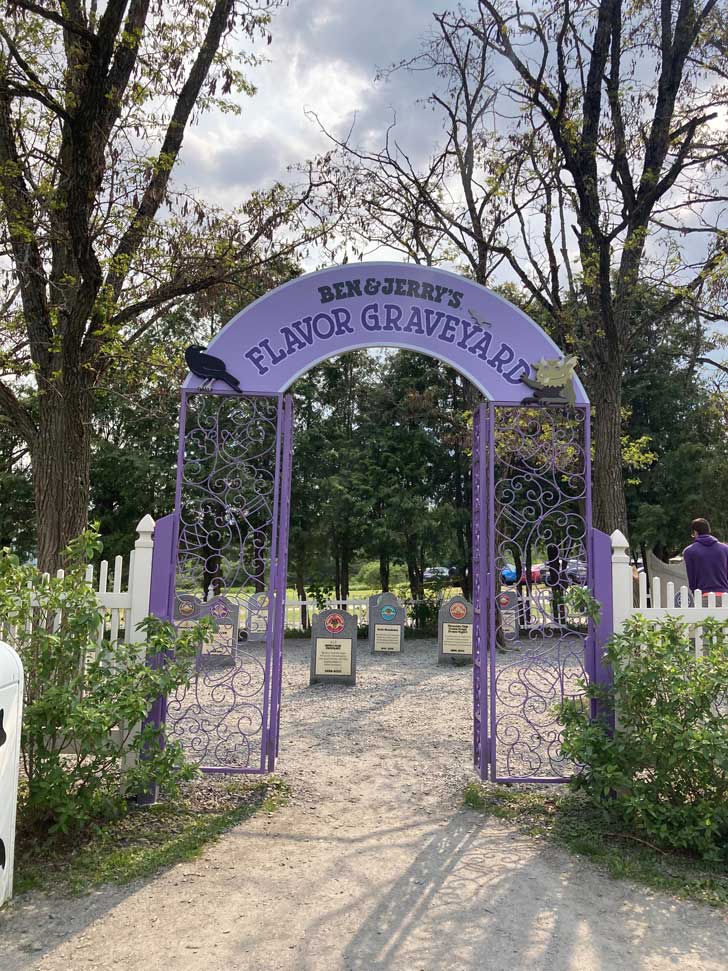 But you will find Neapolitan Dynamite! Anyone remember this?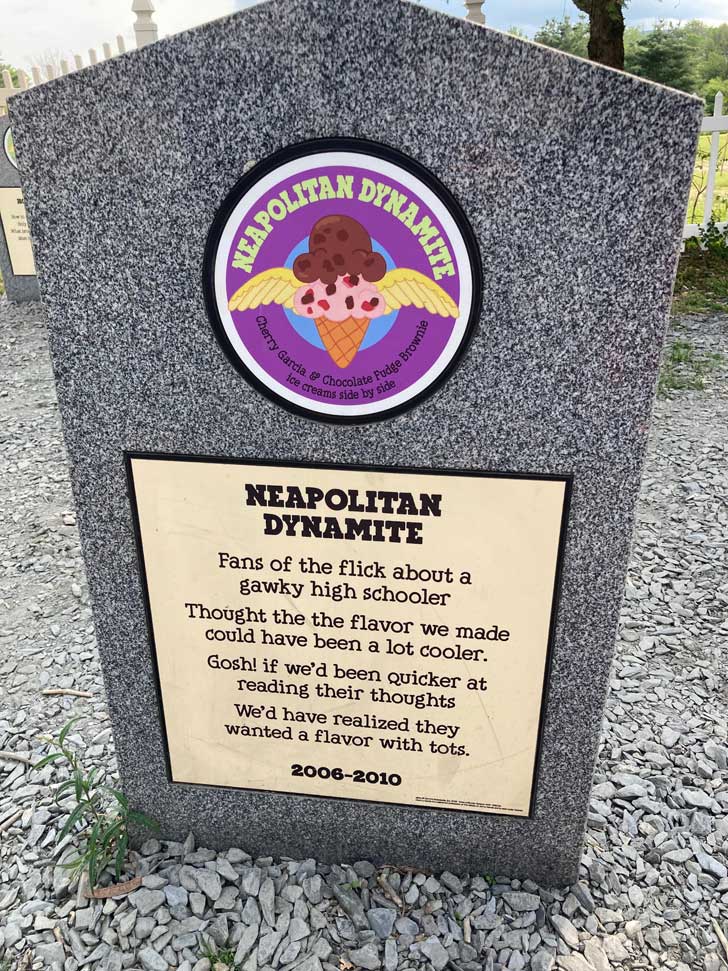 How about the Economic Crunch? I thought this was a joke, but apparently it was a very short-lived flavor during a hard time.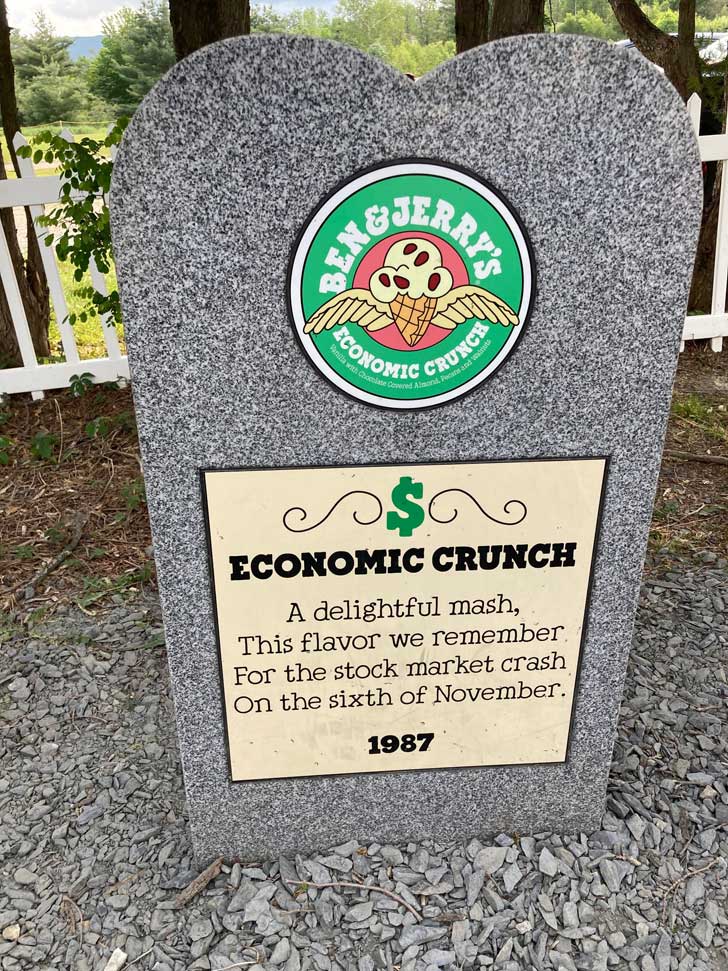 Maybe looking at the graveyard will inspire you to come up with your own ice cream flavors this summer. I'm glad it inspired the batch of brownies, which by the way are great frozen.
Recipe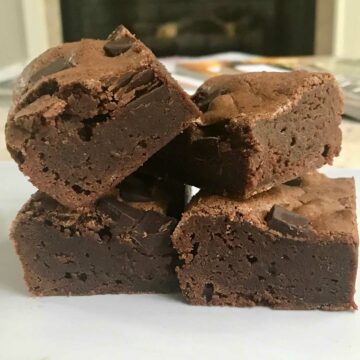 Not Quite Ben & Jerry's Fudge Brownies
Fudgy and chewy like the brownies chunks in ice cream, but better tasting.
Ingredients 
¾

cup

unsalted butter (6 oz)

(170 grams

4

oz

unsweetened chocolate, chopped

(114 grams)

1 ½

cups

granulated white sugar

(290 grams)

½

cup

brown sugar, lightly packed

(100 grams)

3

large

eggs

½

teaspoon

salt

(decrease to ¼ if using salted butter)

1

teaspoon

vanilla

1

cup

all-purpose flour or bread flour

(140 grams)

1

handful

chocolate chunks (optional)
Instructions 
Preheat oven to 350 degrees F. Line an 8 inch pan with foil and grease bottom only. Alternatively, if you love edge pieces you can line two 8 ½ by 4 ½ inch loaf pans with foil and bake two "loaves" of brownies

Put the chocolate and butter in a microwave-safe mixing bowl. Microwave at 50% power for about 2-3 minutes, stopping to stir every minute until melted and smooth. If you prefer to use the stovetop, just do this step in a 3 quart saucepan over very, very low heat.

Whisk in the sugars, then add each egg one at a time, followed by the salt and vanilla. Add the flour and mix well with a heavy duty rubber scraper.

Pour into the pan (or pans) and scatter some chocolate chunks on top.

Bake at 350 degrees F for about 40-45 minutes if using a square pan, or 35 if using a loaf pan. You'll know they're ready when the top appears cracked. Baking thick brownies like these sometimes involves trial and error. My loaf pan versions are always done after 35 minutes, at which point their internal temperature reaches 210 (it tops out there, so it will be 204 or something and climb).

Let cool completely, then remove from the pan and cut into squares.