Chocolate Biscuit Cake is the recipe our girl scout troop used to represent Denmark at World Thinking Day. My favorite Girl Scout event, World Thinking Day is a day when troops get together to discuss different countries and honor the fact that Girl Scouts is a global organization. In late February, each troop is assigned a country which they represent with a presentation and a recipe.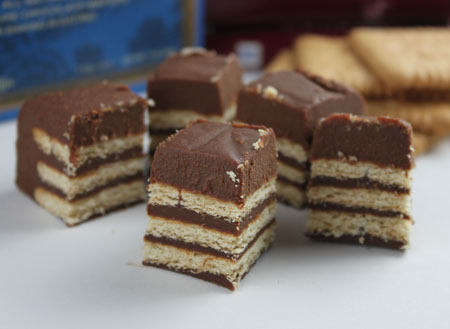 So Denmark.  We were pretty happy to represent Denmark this particular year.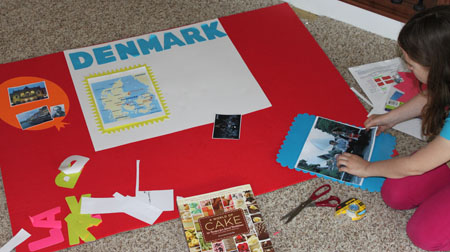 Picking one recipe was tough because there are so many great Danish recipes. At one point our plan was to go with "Aeblekage" a simple dessert made with crumbs and applesauce, but in the end we decided to make something a little easier to divvy up between 200 Dixie cups. We are going to make "Kiksekage" or  "Chocolate Biscuit Cake", a no-bake recipe where you layer squares butter cookies in a matrix of chocolate, butter and (depending on the recipe) eggs and/or cream.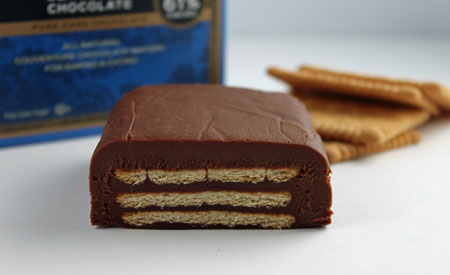 Loaf Pan Chocolate Biscuit Cake
My plan at first was to use the recipe on the Lurpak butter website which calls for pasteurized eggs. Since I couldn't find Danish butter anywhere in Austin, I tested Lurpak's recipe using KerryGold Irish butter. I was ready to introduce that recipe to the girls when last night I stumbled upon an even better one on a blog called My Danish Kitchen. Gitte had adapted the European pan size to the standard American 9x5 loaf and specified the type of butter cookies, which in this case were Leibniz which are pretty easy to find.  Most importantly, she swapped out the raw eggs for cream.  Not that there is anything wrong with pasteurized or "Safe Eggs", but I liked the smooth, silky, texture of the cream based ganache a little better.
Though I've only made a "mini" version using one of my tiny 3x5 inch loaf pans, Gitte's recipe was perfect and I'm looking forward to scaling it up to 200 servings this weekend.  The girls in our troop have stated that they do NOT like dark chocolate, but their Thinking Day dessert might change their little fourth grade minds.
Here's the adapted version of Gitte's from My Danish Kitchen and a Danish web site called madgal.dk.  If you happen to have a 3x5 loaf pan just make ¼ of what's below.
Recipe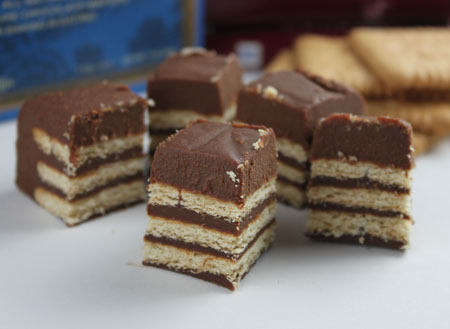 Danish Chocolate Biscuit Cake for Thinking Day
Danish Biscuit Cake is also a German specialty called Kekstorte
Ingredients 
1 ⅓

cup

heavy whipping cream

¾

cup

confectioners' sugar

8

oz.

semisweet chocolate

7

tbsp

butter, room temperature

7

oz

butter biscuits (Leibniz)
Instructions 
Line a 9 x 5 inch loaf pan with non-stick foil (Release).

Place the chocolate in a bowl.

Combine whipping cream and confectioners' sugar in a small saucepan and bring to a simmer over medium heat, stirring occasionally. Slowly pour the hot cream mixture over the chopped chocolate. Stir the mixture until shiny and smooth. Let cool for 5 minutes. Cut butter into small pieces and add to chocolate mix, stir until completely melted. Place mixture in refrigerator for 10 minutes to cool. Cover bottom of loaf pan with chocolate, then place a layer of biscuits, repeat chocolate, biscuit, ending with a layer of chocolate.

Cover the top of chocolate with cling wrap and place in refrigerator overnight. The following day gently and slowly lift the cake out of the form.

Invert cake onto a plate and slowly peel off parchment paper. Decorate top with whipped cream or shaved chocolate (whatever you like). Cut into slices.