I'd been waiting all year to make Ritz Cracker Peanut Butter Pie, but Todd's not really into it and Fuzz was away at school. But yesterday was the day! Fuzz is home on break and a peanut butter loving friend was celebrating a birthday. So this is more of a birthday pie than a Christmas pie, but it could go either way.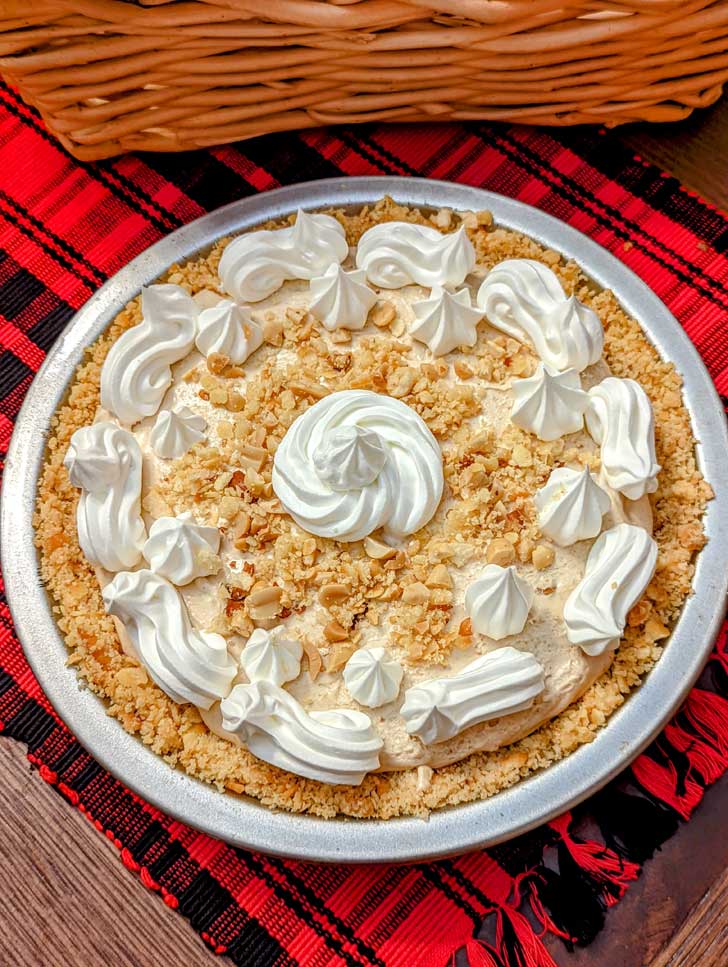 Ritz Cracker Crust
If you've had peanut butter pie before, you'll recognize the filling as the most basic. It's delicious, but the crust is what pulls it all together. It's a Ritz crust, like the one used for Atlantic Beach Pie. Fuzz and I changed things up a bit and made extra so that we'd have crumbs for the buttery topping. And buttery it is. The Ritz crust makes the peanut butter pie taste almost like a Butterfinger Bar. I kept saying I wished we'd incorporated Butterfinger, but Fuzz reminded me our birthday friend didn't like chocolate in his peanut butter and this pie was just fine.
Peanut Butter Pie Texture
So there's no chocolate in the pie. The filling is made with cream cheese , peanut butter, powdered sugar, milk and lots of whipped topping. The flavors are sweet, salty & buttery from the crackers. Even Todd liked it. Here's a texture shot. The crust holds together, but ours is on the crumbly side mainly because Fuzz prefers coarse crumbs rather than fine.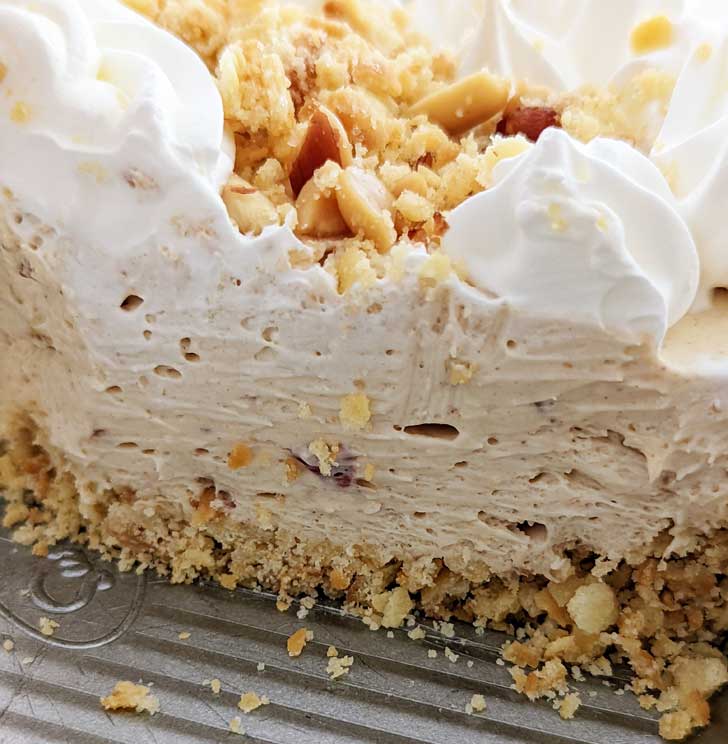 Ingredient Rundown
Ritz Crackers or Aldi Buttery Rounds -- While it's named for Ritz, the Aldi crackers work just as well.
Sugar -- We used 3 tablespoons. Fuzz didn't want to use any, but this is a baked crust and the sugar helps hold everything together.
Butter -- We used unsalted since the crackers were salty.
Cream Cheese -- Couldn't find Philadelphia and used half a block of the store brand.
Peanut Butter -- Jif Crunchy
Powdered Sugar -- Sifted to remove the lumps.
Milk -- Whole milk
Whipped Topping -- Cool Whip in the pie and on top
Garnish -- A few tablespoons of reserved crumb mixture mixed with chopped peanuts.
Recipe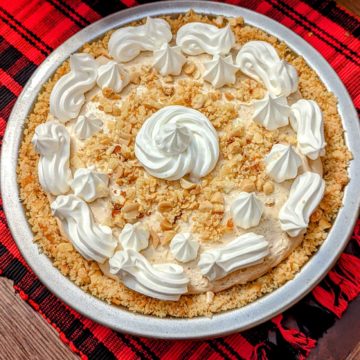 Ritz Cracker Crust Peanut Butter Pie
An easy convenience pie made a peanut butter filling and buttery cracker crust.
Ingredients 
Crust
60

total

Ritz Crackers, 2 sleeves

(200 grams)

3

tablespoons

sugar, scant

(35 grams)

8

tablespoons

butter, unsalted -- melted

(114 grams)
Filling
4

ounces

cream cheese, softened

(114 grams)

1

cup

powdered sugar, sifted

(120 grams)

Heaping

½ cup

extra crunchy peanut butter, heaping

⅓

cup

whole milk

2

tubs

Cool Whip (2 8 oz tubs), so you'll have enough for garnishing
Instructions 
Preheat oven to 350 degrees F. Crush the crackers by hand or with a rolling pin. Mix the crushed crackers, sugar and butter. Reserve about 3 tablespoons for garnish, then press remaining into a lightly greased shallow 9 inch pie dish. Set pie dish on a rimmed pan and bake for 8 to 10 minutes.

Beat together the softened cream cheese and peanut butter, then beat in the powdered sugar alternately with the milk. Fold in 1 tub (about 3 ½ cups or 228 grams) of Cool Whip, then transfer to the pie shell. Cover and chill for about 3 hours or until ready to eat.

Before serving, mix the reserved Ritz crumb mixture with about ⅓ to ½ cup finely chopped salted peanuts. Garnish with peanut mixture and pipe on extra Cool whip. You can use fresh sweetened whipped cream if you'd rather.