I'm posting this recipe for my daughter, who loves anything with hazelnuts. Too bad she's not here to eat these, but maybe she'll make them for her friends at school. They're called Chocolate Hazelnut Rice Krispies Treats, and they are just what they sound like. That is, they are the usual Rice Krispies Treats, but you add chocolate hazelnut spread and a dash of espresso powder.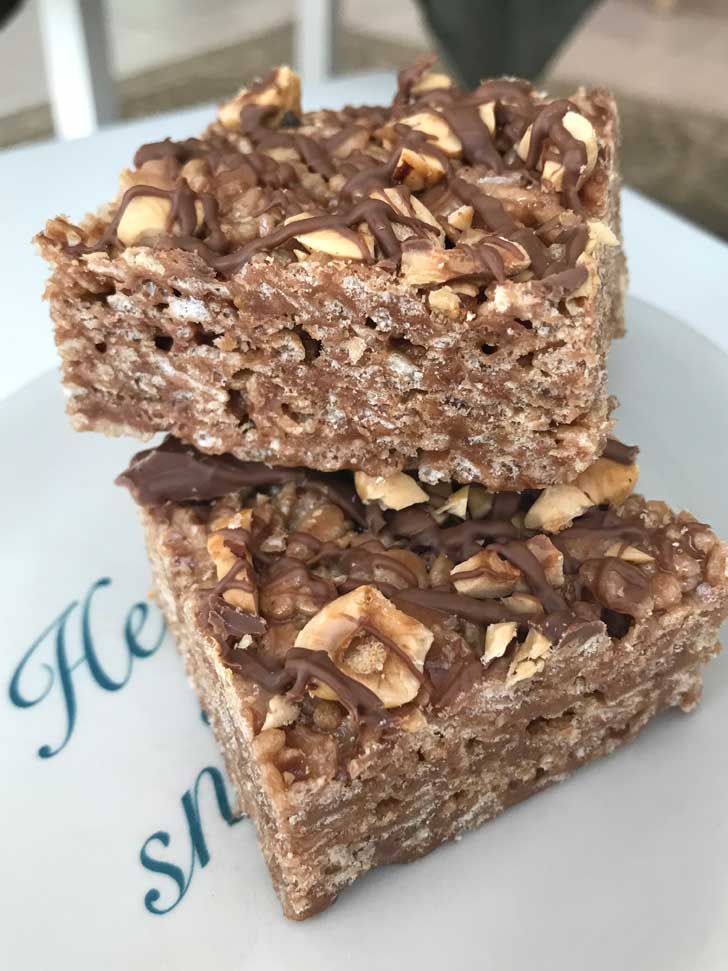 This is an 8 inch pan version of the recipe, which is originally from America's Test Kitchen. Theirs is double this and made in a 13x9 inch pan, so if you need to double it go right ahead. In fact, if you are making these for any group larger than 2 or 3, you probably will want to double.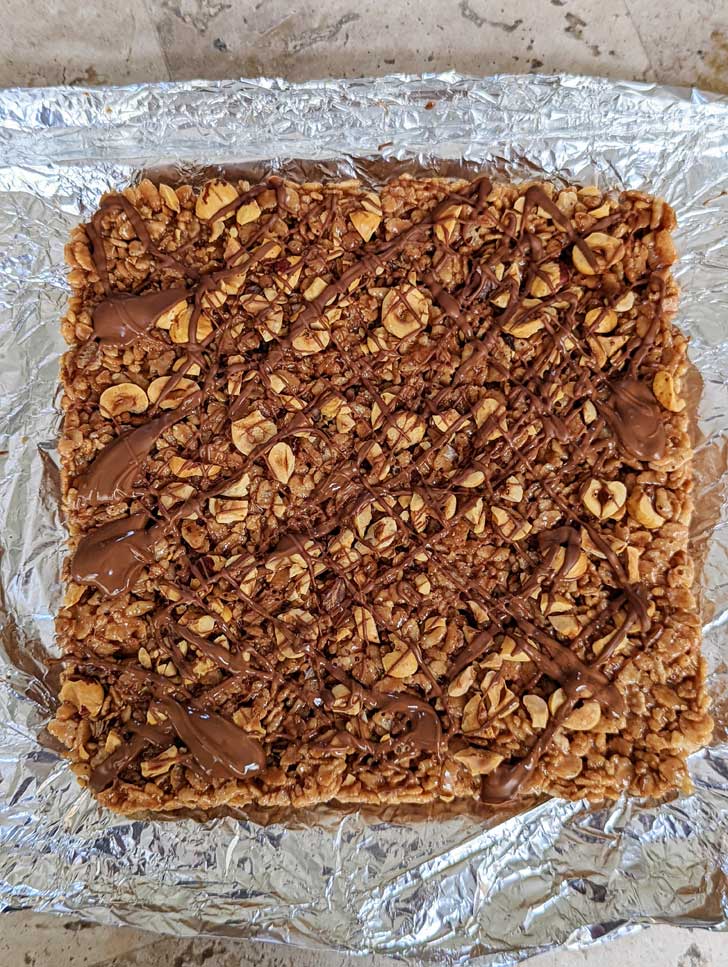 The recipe is pretty straightforward. I think if you wanted to leave out the espresso it would be fine, though it does enhance the other flavors a bit.
2 oz Chocolate -- Optional But Worth It
I just updated the recipe to add the step of melting the 2 oz of chocolate. You can use dark or milk. Just melt the chocolate in the microwave and drizzle over the top. Put the bars in the freezer for about 20 minutes or just until chocolate is set.
Chocolate Hazelnut Rice Krispies Treats Ingredients
Butter -- unsalted or unsalted should be fine. I used unsalted and added salt.
Marshmallows -- Jet puffed or large marshmallows. Just weigh 10 oz. I'm not sure why smaller marshmallows wouldn't work.
Espresso Powder -- Makes the other ingredients pop, but you can leave it out.
Hazelnut Spread -- I used Hazel Nuttin' from Wegmans. Is it just me or does that name make it sound like it doesn't have any hazelnuts in it?
Vanilla -- Any. You could even leave it out.
Cereal -- Rice Krispies
Hazelnuts -- I said hazelnuts or almonds because hazelnuts can be harder to come by depending on where you are. That being said, if you have access to hazelnuts I highly recommend them because that's where the hazelnut flavor comes in. The nuts also offset the sweetness, and these are pretty sweet.
Melted Chocolate -- Milk or dark both work.
Recipe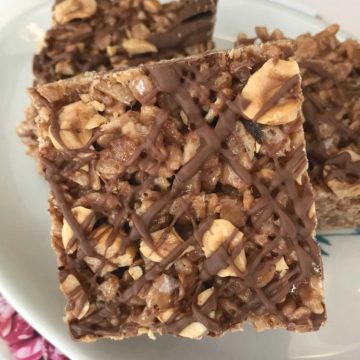 Chocolate Hazelnut Rice Krispies Treats
Rice Krispies Treats made with Nutella or any other brand of chocolate hazelnut spread. I used Wegmans Hazel Nuttin'.
Ingredients 
4

tablespoons

unsalted butter

(54 grams)

⅛

teaspoon

salt

10

ounces

marshmallows (large ones)

(280 grams)

¼

cup

chocolate hazelnut spread

⅛

teaspoon

espresso powder

½

teaspoon

vanilla extract

5

cups

Rice Krispies

(140 grams)

¼

cup

roasted hazelnuts or almonds, chopped

2

oz

milk or dark chocolate (optional)

For melting and drizzling
Instructions 
Line an 8 inch square pan with foil and spray with cooking spray.

In a large saucepan, melt the butter over medium heat. When it's about halfway melted, add the salt and swirl it around. Add espresso powder and stir until dissolved.

Add the marshmallows and stir over medium heat until they're about halfway melted, then reduce heat slightly and continue stirring until they are fully melted. Stir in the Nutella.

Remove from heat and stir in the vanilla extract.

Add the cereal and hazelnuts (or almonds) and stir until fully mixed, then press into the pan and let cool completely.

Optional Step: Melt the chocolate in the microwave using 50% power and stirring every 30-40 seconds. Drizzle over bars. Put in the freezer just until set.

Lift from pan and cut into squares.
Notes
If you use salted butter, omit the salt.
If you like a gooey and less stiff bar, use 5 cups of cereal instead of 6.