Nanaimo Bars are no-bake bar cookies named after Nanaimo, British Columbia. Traditionally, they have a crust made with graham cracker crumbs, cocoa powder, nuts and coconut. The filling is a buttercream with custard powder, and the topping is a mixture of melted chocolate and butter. The bars are sweet and very rich. I'd forgotten just how rich, but my recent dive into Nanaimo bar making was a reminder. The bottom, middle and top layer are all so intense, but I can't say we didn't have fun sampling. And after all of the recipe testing, the one we liked the best was a gluten-free, no-egg Nanaimo bar recipe.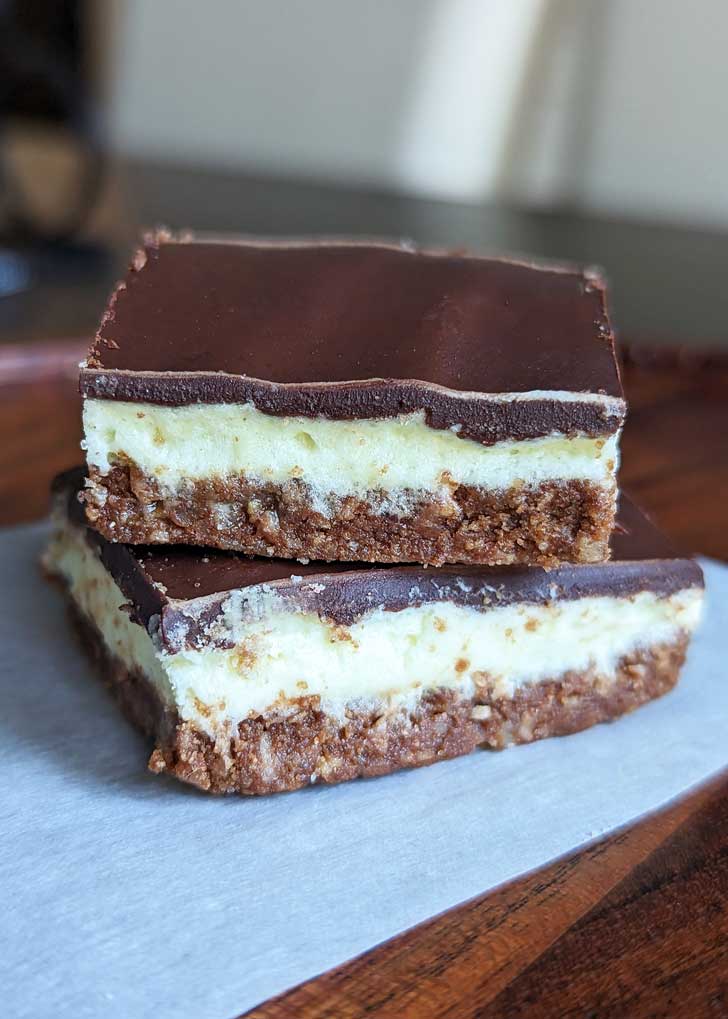 No-Egg Crust
Most Nanaimo Bar recipes call for 1 egg in the crust. This recipe does not have an egg, but the bars hold together well. Also, the crust layer is thinner so you get a higher ratio of filling. This crust is definitely crumblier than some of the more bendy and brownie-like ones, but after trying it over and over against the others, I kept picking it.
The other advantage to leaving out the egg is the bars can be made vegan. Just use vegan butter and a plant milk in place of butter and cream. And use Bird's custard powder rather than Jell-O pudding mix because Bird's is vegan (surprisingly).
Graham Crackers and Gluten-Free Nanaimo Bars
Since the only gluten-containing ingredients in Nanaimo Bars are the graham crackers, it's pretty easy to make them gluten-free. Just use gluten-free graham crackers. You can buy the graham crackers or make homemade graham crackers (which are what I used). My homemade graham crackers have cinnamon, and the cinnamon in the graham crackers added a little more flavor to the crust. I liked it so much that if using store-bought gluten-free graham crackers without cinnamon, I'd add a little in.
Nanaimo Bars Filling
My usual recipe calls for a half cup of butter in the filling. I wanted something a little bit lighter, so I tried some different fillings and landed on one that is supposedly pretty common. It calls for ¼ cup of butter, 3 tablespoons of milk or cream, 2 tablespoons custard powder and 2 cups of confectioners' sugar. I added vanilla. If you'd like a richer but less sweet filling, just double the butter and use a little less milk.
Bird's vs. Jell-O
I tested with Jell-O instant pudding mix and Bird's. In my opinion you should try it with Bird's custard powder if it's available, but don't be afraid to make Nanaimo Bars with instant pudding mix. If you grew up eating Jell-O pudding, you'll love the flavor. Also, do add a little extra vanilla. A lot of Nanaimo Bars don't call for any extra, but they were better with it. I used salted butter, too. There seems to be no firm rule as to whether the butter should be salted or not, but it will make a difference in flavor. I made my final batch with a really great tasting European style butter and the Nanaimo bars were even better. So use butter, especially if you are making the double butter version.
Nanaimo Bars Topping
Melted semisweet chocolate mixed with butter is the usual topping. I don't like diluting the chocolate flavor with butter, but the butter helps keep the topping soft. I tested with different types of chocolate and chose a version with 6 oz of Ghirardelli bittersweet and 1 tablespoon of butter. The topping is good made with melted bittersweet chips or chocolate.
8 Inch Square Pan and Size
Most Nanaimo Bar photos show bars that are somewhere around 1 ½ to 2 inches, but because these are so rich you might want to cut each square into 4 small squares. I'm guessing all the photos we see (including my top one) of Nanaimo Bars are for aesthetics or represent how they are sold at bakeries, but because they are so rich it's better to cut them tiny.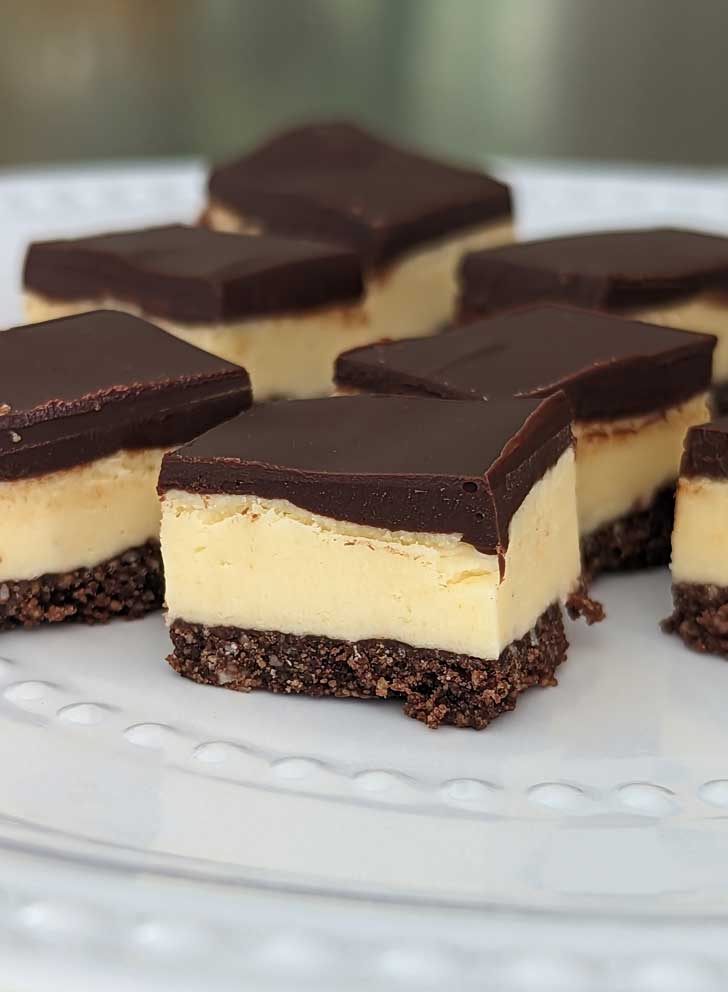 Recipe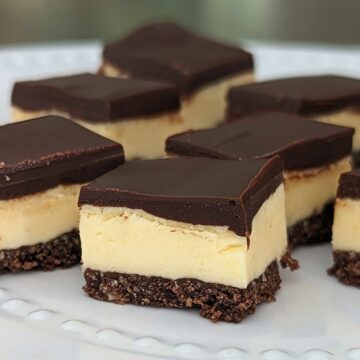 No-Egg Nanaimo Bars
Nanaimo Bars are rich no-bake cookie bars with a chocolate crumb crust, buttercream filling and a melted chocolate topping.
Ingredients 
Base:
5

tablespoons

unsalted or salted butter

(70 grams)

3

tablespoons

sugar

(36 grams)

2 ½

tablespoons

unsweetened cocoa powder

(18 grams)

¾

cup

plus 2 tablespoons gluten-free or regular graham cracker crumbs (From about 8 squares)

(110 grams)

¼

cup

unsweetened shredded coconut

¼

cup

nuts (I use walnuts)

1

pinch

cinnamon (if not in the graham crackers)
Filling:
¼

cup

unsalted or salted butter, softened

(56 grams)

2

cups

powdered sugar, well stirred or sifted

(230 grams)

3

tablespoons

whole milk (or half & half or heavy cream)

(42 grams)

¾

teaspoon

vanilla (can use less if you are using Jell-O pudding)

2

tablespoons

Bird's custard powder or vanilla flavored instant pudding mix
Ganach Glaze Topping:
6

oz

bittersweet chips (1 cup)

(170 grams or 6 oz)

1

tablespoon

unsalted or salted butter

(28 grams)
Instructions 
Grease an 8 inch square pan and line with parchment paper. If you don't have parchment paper you can use foil.

Melt the butter in the microwave or in a saucepan. Add the sugar and cocoa powder to the hot melted butter and stir until smooth.

Combine the graham cracker crumbs, coconut, walnuts and cinnamon and stir until evenly mixed, then add to the melted butter mixture. Stir until blended, then press firmly into the bottom of the pan and chill while you make the filling.
Filling
In a mixing bowl, using a handheld mixer on low speed, beat butter until creamy. Gradually beat in the confectioners' sugar, milk and vanilla, then beat in the custard powder, scraping sides of the bowl often.
Topping
Prepare topping. Melt the chocolate chips and butter together using one of the lower powers on your microwave and stirring every 30 seconds. Alternatively, you can melt in the top of a double boiler over barely simmering water. Spread over cold filling.

Let the chocolate set in the refrigerator. When it is partially set, carefully lift from the pan and cut the bars. If the chocolate is fully set, use a hot, dry knife (run under hot water and dry). Another method for cutting is to just freeze completely and cut with a hot knife. Bring to room temperature before serving.
Notes
Since I have the food processor out for grinding the graham crackers, I like to grind the coconut as well.  If you are making your graham cracker crumbs by crushing them or are using storebought crumbs, you can just use the coconut straight from the bag.