Thinking Day, which we celebrated this Sunday, is my all-time favorite Girl Scout event. It reminds me of  Epcot, but instead of stores and restaurants representing different countries, you have an auditorium full of internationally-themed booths staffed by Girl Scouts who stamp your pretend passport, tell you a about the country their booth represents and give you food samples.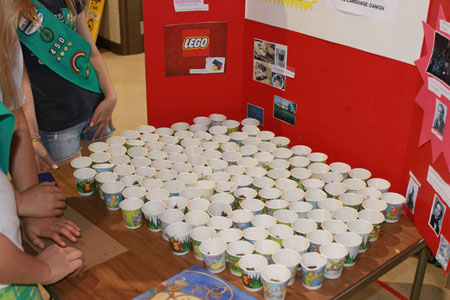 Our country was Denmark, so two girls stayed at the booth and handed out Kiksekage which the girls made  in our kitchen on Saturday.  If you're looking for a no-bake treat that's a little more upscale than peanut butter balls or Rice Krispies treats, Kiksekage (aka Chocolate Biscuit Cake) is a good one.  Plus, it's a lesson in making ganache, which is something I hadn't even heard of until after college (though I did live in the dark ages before celebrity chefs were whipping it up on TV every day).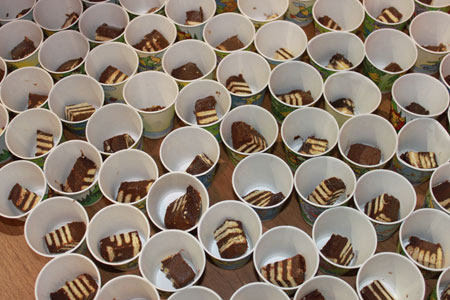 So while a couple of girls passed out samples, the rest of the troop wandered around visiting different "countries", tasting food and trading mementos called "swaps" (ours were Shrink Dink fish on strings). The event lasted two hours, but time went by quickly.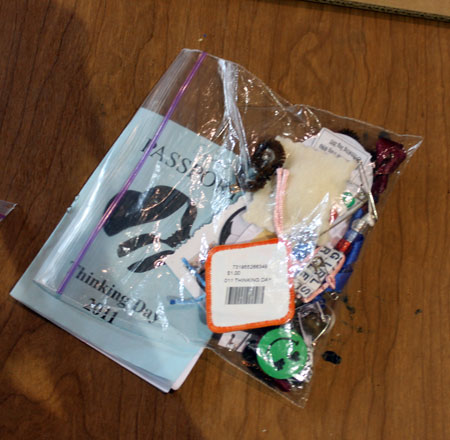 Now I'd like to say our troop had the best booth, but the truth is all the troops put on a great show; especially The UK who brought in a bagpipe player.  Have you ever heard bagpipes played in an elementary school lunch room?  Maybe they should replace lunch monitors with bagpipe players.  It would certainly be efficient, and I suppose more parents would go have lunch with their kids in order to hear the enchanting wails of the pipe.  Or maybe everyone would just get tired of it eventually and tune it out.  At any rate, it was a nice surprise on a Sunday afternoon, so thanks UK troop whoever you are.
I'd  post more pictures if I could, but I don't have permission so I have to stick with ones without  people in them. For instance, this display table full of party stuff. One nice thing the council did was collect birthday party supplies for a local church. Donations included cake mix, frosting, and party supplies.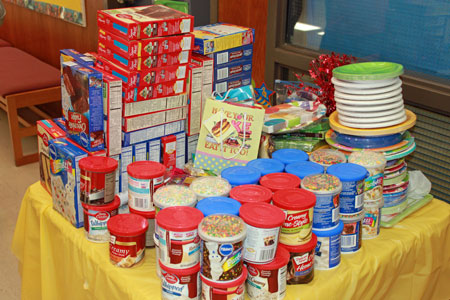 And that's about it. We got home close to 5:00 and some kids from the street came over. Still wound up from Thinking Day, I agreed to let Fuzz and the kids make the sugar cookies from Fine Cooking. I'll post a review on those later.