After years of wishing for one, our new kitchen has a double oven with convection. The problem is I haven't gotten used to it and have to remind myself there is a second oven. And I always forget about the convection setting, though the times I have used it for cookies it worked well. So now I've found another area where convection is really beneficial, and that's granola. Using a convection oven for granola helps it bake quickly and evenly.
Convection Oven Granola is a variation on my old favorite clumpy granola using the convection setting and a few new tricks. Along with adding a little wheat germ and increasing the nuts, I incorporated a trick I learned from Camilla Saulsbury which is to add a little egg white to the mixture to lighten the texture and give it a little extra crunch.
This recipe does have a lot of nuts. Feel free to leave them out or add in different nuts, more oats, etc. You can also use a little coconut, sesame, flaxseed and dried fruit. And finally, this granola is probably good with milk or toppings, but I wouldn't know. I eat it straight, so I like it clumpy with whole nuts.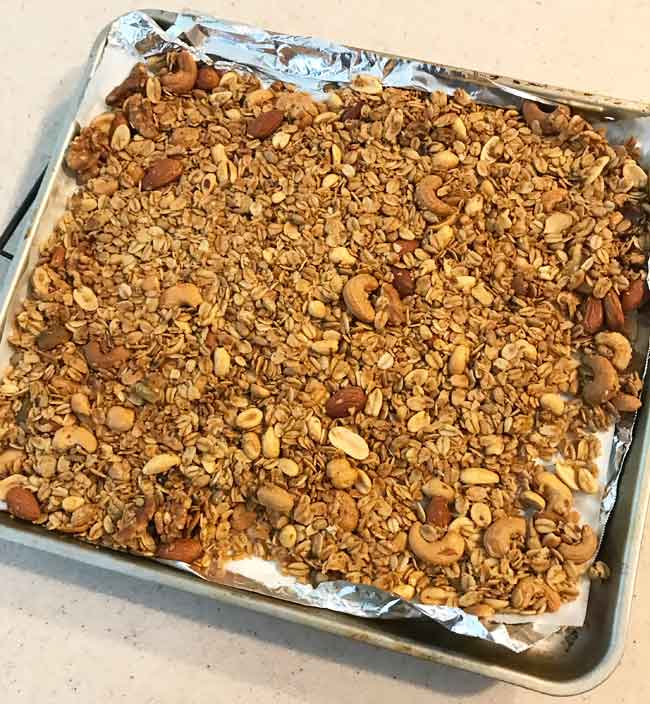 Cuisinart Air Fryer Convection Oven Granola
It's been a while since I posted this recipe and since then I've acquired a Cuisinart Air Fryer Toaster Oven.  It's probably my favorite appliance at the moment because it does so many things.  The manual comes with a granola recipe that is similar to the one below.  The Cuisinart manual granola recipe (called Crunchy Granola) calls for 1 ½ cups oats,  ¾ cup assorted nuts, ½ cup unsweetened coconut,¼ cup sunflower seeds, ¼ cup hulled pumpkin seeds, ½ teaspoon kosher salt (use ¼ teaspoon if using regular not-kosher salt) and a pinch of cinnamon and nutmeg.  For the oil and sweetener, you use ¼ cup coconut oil and ¼ cup maple syrup.  Bake on the lined toaster oven pan at 300F for 20 minutes on rack 2, stirring halfway through.  If omitting the coconut, I recommend adding another ⅓ cup of oats to offset the extra oil.
Granola Bark
I've changed a few things in the recipe. It seems there's really no need to heat the sugar and syrup mixture, so now I just mix it in with the egg white and oil. I also like making this as granola bark. To make it as bark, you just flatten it down on the baking sheet, lay another sheet of parchment over it, then press down with a second baking sheet. Directions are in the notes.
Recipe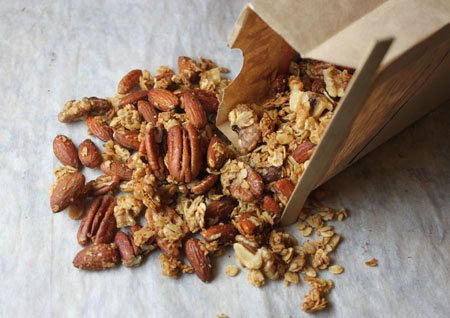 Convection Oven Granola
Convection Oven Granola calls for a little wheat germ and egg white to help it clump.
Ingredients 
1 ½

cups

rolled oats

(120 grams)

½

cup

slivered or sliced almonds

(60 grams)

½

cup

pecans

¼

cup

walnuts or pumpkin seeds

Use any nut or seed you want here

2

teaspoons

of toasted wheat germ or 2 tablespoons ground flax

(I've been using 2 T. flax lately rather than the 2 teaspoons wheat germ).

⅜

teaspoon

salt

1

large

egg white

medium, lightly beaten with a fork

3

tablespoons

brown sugar

(36 grams)

2

tablespoons

maple syrup

(40 grams)

1

tablespoon

honey

(20 grams)

2

tablespoons

oil,walnut oil, coconut oil, any kind you want

(26 grams)

½

teaspoon

vanilla
Instructions 
Preheat the convection oven to 275 degrees F. Line a heavy, large rimmed cookie sheet with parchment paper.

In a large bowl, stir together the rolled oats, almonds, pecans, walnuts and wheat germ. Toss in salt and stir to evenly disperse salt.

In a mixing bowl, whisk the egg white until frothy then stir in brown sugar, maple syrup, honey, oil and vanilla. Mix well and toss with the oat mixture.

Spread oat mixture onto the baking sheet, spreading as evenly as possible and pressing down slightly so that oats are in a thin, closely packed layer.

Bake for 35 to 45 minutes in the convection oven stopping to stir every 15 minutes. The granola should be nicely browned, but still kind of soft when you take it out of the oven. It should crisp up as it cools.

Makes about 2 ½ cups
Notes
Granola Bark Variation: To make bark, use ¼ cup of ground flax in place of the 2 tablespoons.  Also, add 1 tablespoon of water in with the wet ingredients.  Press the granola down flat on the baking sheet, then put a layer of parchment over it.  Set a second baking sheet over the parchment.  Bake at 300 degrees F for 45 minutes with the second baking sheet nestled on top.  Halfway through baking, lift up the second sheet.  If the granola is pretty brown, continue baking covered with the sheet.  If the granola is not brown enough, continue baking without the sheet.  Remove from oven and let cool completely.  Break into large chunks.