After years of wishing for one, our new kitchen has a double oven with convection. The problem is I haven't gotten used to it and have to remind myself there is a second oven. And I always forget about the convection setting, though the times I have used it for cookies it worked well. So now I've found another area where convection is really beneficial, and that's granola. Using a convection oven for granola helps it bake quickly and evenly.
This week I came up with a variation on my old favorite clumpy granola using the convection setting and a few new tricks. Along with adding a little wheat germ and increasing the nuts, I incorporated a trick I learned from Camilla Saulsbury which is to add a little egg white to the mixture to lighten the texture and give it a little extra crunch.
Now this recipe does have a lot of nuts. Feel free to leave them out or add in different nuts, more oats, etc. You can also use a little coconut, sesame, flaxseed and dried fruit. And finally, this granola is probably good with milk or toppings, but I wouldn't know. I eat it straight, so I like it clumpy with whole nuts.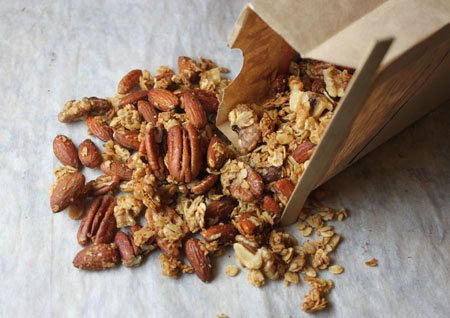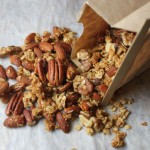 Print Recipe
Convection Oven Granola
Convection Oven Granola calls for a little wheat germ and egg white to help it clump.
Ingredients
1 1/2

cups

rolled oats

1/2

cup

slivered almonds

and whole if you like

1/2

cup

pecans

1/4

cup

walnuts

optional -- just use 1/4 cup extra oats if you don't have walnuts

2

teaspoons

of toasted wheat germ

if you have it

3/8

teaspoon

salt

1

egg white

medium, lightly beaten with a fork

3

scant tablespoons light brown sugar

2

tablespoons

maple syrup

1

tablespoon

honey

2

tablespoons

walnut oil

mild flavor such as Spectrum or coconut oil or whatever oil you like

1/2

teaspoon

vanilla
Instructions
Preheat the convection oven to 275 degrees F. Line a heavy, large rimmed cookie sheet with parchment paper.

In a large bowl, stir together the rolled oats, almonds, pecans, walnuts and wheat germ. Toss in salt and stir to evenly disperse salt.

Pour the egg white over the oat mixture and stir well.

In a microwave-safe measuring cup, stir together the brown sugar, maple syrup, honey and oil. Heat on high for about 1 minute, then stir to dissolve sugar slightly. Stir in vanilla. Pour hot syrup mixture over granola and stir until evenly coated. Dump oat mixture out onto the two cookie sheets, spreading as evenly as possible and pressing down slightly so that oats are in a thin, closely packed layer

Bake for 35 to 45 minutes in the convection oven stopping to stir every 15 minutes. The granola should be nicely browned, but still kind of soft when you take it out of the oven. It should crisp up as it cools.

Makes about 2 1/2 cups