If I had to choose one granola recipe, it might be Olive Oil Granola. It's reliable, interesting and open to variations.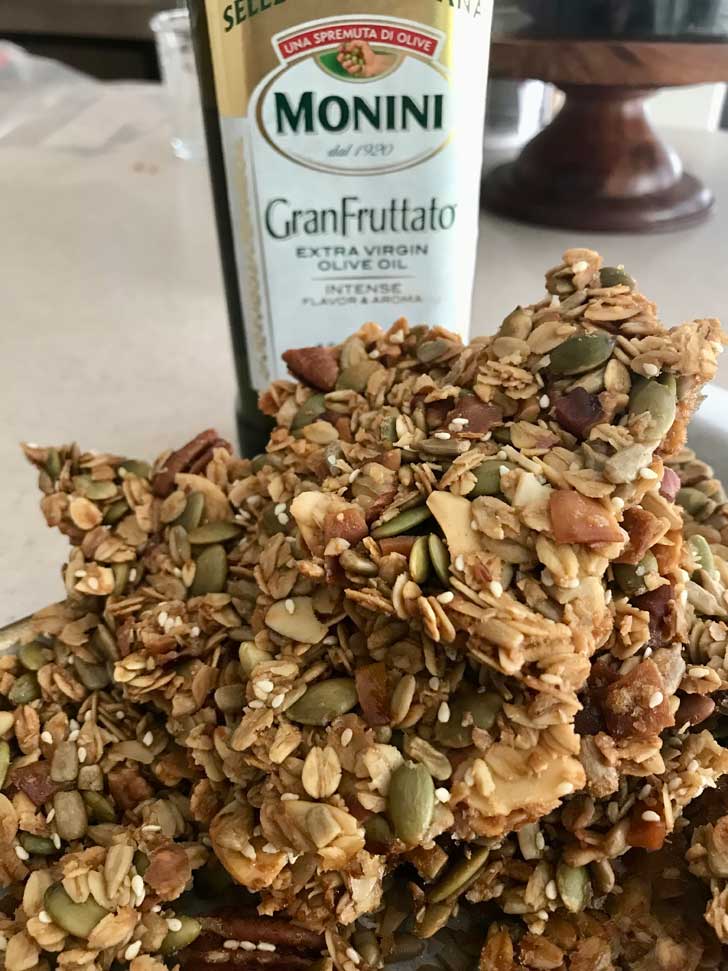 I found the recipe years ago in one of my favorite cookbooks, Genius Recipes where it's credited to Nekishia Davis of Early Bird Foods. As an olive oil aficionado, I'm not sure why it took me so long to try it.
Olive Oil Granola Bark
You can make this as crumbly granola or as granola bark, but I almost always make it as granola bark. In the past I've used egg whites or flax to help bind it, but I found that this recipe doesn't really need either. Just cover the granola with parchment, bake as a big slab without stirring and let cool completely. This should give you bark. I can't promise it will bind if you make substitutions, but it's always worth a try.
Note About Genius Recipes
Genius Recipes has been around for a while, but if you don't own a copy yet it's worth buying. The book has so many different and good recipes that it evolves with my tastes because I'll put it away for a while, then pull it out and discover something new.
Recipe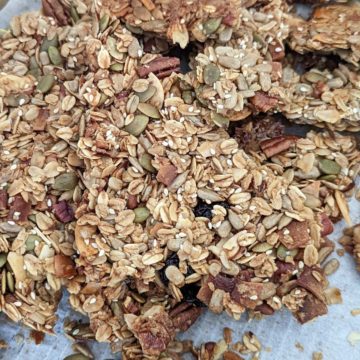 Olive Oil Granola
A simple granola with olive oil.
Ingredients 
1 1/2

cups

oats, old fashioned type

(150 grams)

1/3

cup

pecans (or a mix of nuts)

1/3

cup

almonds

1/3

cup

coconut (sweetened flaked or unsweetened)

optional

1/2

cup

raw pumpkin seeds

1/2

cup

sunflower seeds, can be raw or roasted

2

tablespoons

sesame seeds

1/4

teaspoon

salt plus more for sprinkling

1/4

cup

brown sugar

1/4

cup

extra virgin olive oil

6

tablespoons

maple syrup

1/2

cup

dried fruit of your choice (optional)
Instructions 
Preheat oven to 300 F. Have ready a large inch rimmed baking sheet. Line it with a sheet of parchment paper.

In a large bowl, mix together the oats, pecans, almonds, coconut, pumpkin seeds, sunflower seeds and salt. If you are using sesame seeds, add those too.

Add the brown sugar and stir until blended, then pour in the olive oil and maple syrup. Stir everything together until evenly blended.

Pour mixture onto the baking sheet and press down flat with a second sheet of parchment paper. Keep the parchment paper over the granola and bake in a 300 degree oven for about 45 minutes. Check halfway through for browning. If it's not browning at all you can remove the second piece of parchment. I usually leave it on the whole time.

Remove from oven, season with more salt to taste (maybe some Maldon sea salt if you have it) and let cool completely. Break it into large pieces.
Notes
Coconut chips are so much more interesting than regular coconut.  I've used the caramel flavored coconut chips on occasion and they work well even though they are already sweetened.