If you've found yourself having to learn about FODMAPs and are trying to focus on all the things you can still eat, here's a FODMAP-friendly granola recipe made with just seven ingredients -- olive oil, maple syrup, vanilla, salt, oats, coconut and almonds.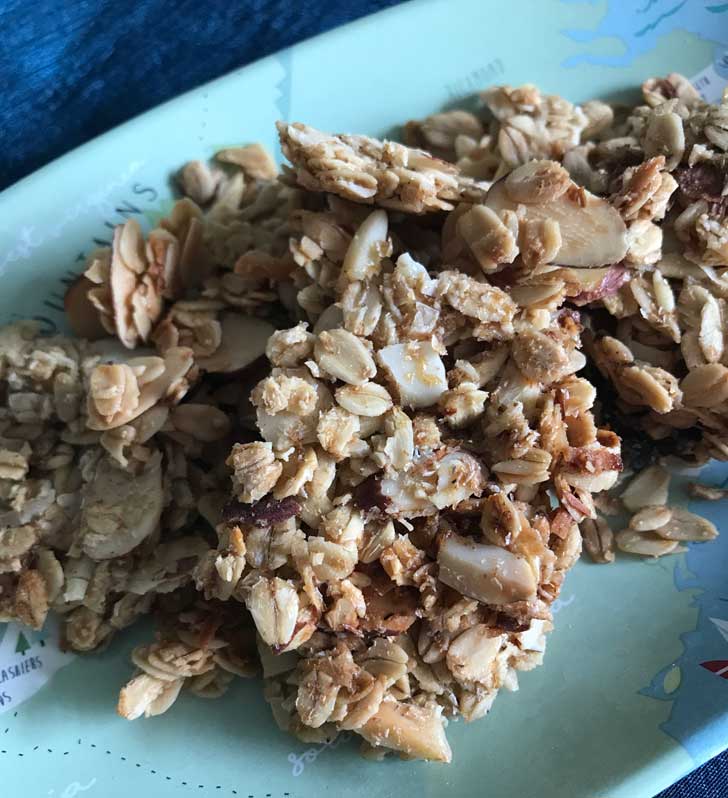 So What Are FODMAPS Anyway?
FODMAPs is an acronym for "fermentable oligosaccharides, disaccharides monosaccharides and polyols". The best place to learn about them is on the Monash University site, but in short they are sugars that cause digestive issues. And unfortunately FODMAPS are in all kinds of healthy foods such as broccoli, cauliflower, Brussels sprouts, garlic, onions, wheat and dairy. To make things more confusing, sugar is low-FODMAP and so is maple syrup, but honey is not. Agave is high too. The good news is not everyone is sensitive to the same FODMAPs so low-FODMAP diets are meant to be short term while you slowly add things back and figure out triggers.
I'm still learning and am by no means and expert on the subject, but one great source of information has been ATK's Cook for Your Gut Health. That is the source of this granola recipe.
Simple Low-FODMAP Granola
The concept of a "simple granola" is sort of new for me. I've spent years complicating granola. I use a variety of sweeteners (sometimes both maple and honey in one recipe) and every nut and seed I can find in the house. I also like experimenting with different binders like egg white and flax, so I rarely make the same granola twice. This recipe is appealing because it calls for pantry basics, has plenty of flavor since three of those basics are olive oil, maple syrup and vanilla, and has the perfect mix of both loose and clumpy texture. You make it as you would bark, which means pressing down tightly and not stirring. But due to its makeup, it will crumble anyway leaving you with crumbly pieces and bark-like chunks.
Oats
One problem with a low-FODMAP diet is it can be challenging to get enough fiber. Oats, which are high in soluble fiber, are a good way to sneak some in. According to most sources, they are low-FODMAP up to ½ cup. So that's something to keep in mind if you are like me and have control issues when you are near granola.
Recipe
Gluten-Free Low-Fodmap Granola
Granola made with olive oil and maple syrup.
Ingredients 
⅓

cup

extra virgin olive oil

⅓

cup

maple syrup

2

teaspoons

vanilla extract

¼

teaspoon

salt

3

cups

old fashioned oats

⅓

cup

flaked coconut

1 ⅓

cups

almonds, whole chopped or sliced (I use sliced)
Instructions 
Preheat oven to 325 degrees F. Spray a large (13x18 inch) or two smaller (15x10 inch) rimmed sheet pans with cooking spray or line with parchment.

In a large bowl, stir together olive oil, maple syrup, vanilla and salt. If you'd rather, you can leave out the salt and sprinkle sea salt or Maldon flakes on top only.

Add the oats, coconut and almonds and stir until evenly coated with maple mixture.

Spread evenly on the baking sheet, patting it down flat with a piece of parchment or a spoon. Pack it as tight as you can so that it will hold together.

Cover loosely with a sheet of foil or parchment and bake at 325 for 30 minutes. After 30 minutes, remove top sheet of foil or parchment and lower heat to 300. Bake for another 10-15 minutes at 300. If you prefer your granola very brown, you can leave off the foil and just keep an eye on it.

Allow the granola to cool completely in the pan, then break it up into chunks. You should have a mixture of loose granola and some bark-like pieces, but it's more on the loose side.