Picking Golden Oreos over regular was an unusual choice, but I was craving vanilla and put a bag in the grocery cart last week. I'd tried them before, but had forgotten just how light-textured and buttery/vanilla tasting they were. Still, I felt a little guilty about choosing packaged cookies over homemade and decided to use them in Golden Oreo Cupcakes.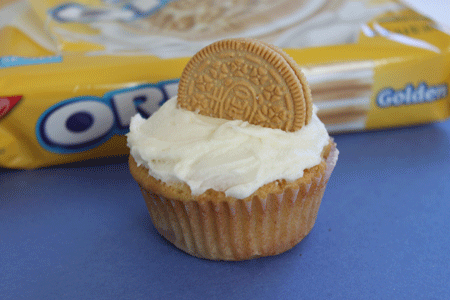 Small Batch
There are a few Golden Oreo Cupcakes recipe out there, but this one is different because it makes a very small batch. If you need a quick cupcake fix and have some Golden Oreos around, maybe this recipe will come in handy. The kids loved them! I'm not sure they even noticed the little chunks of Oreo inside the cake, but they loved the big Golden Oreo sticking out of the middle of the frosting.
Golden Oreo Cupcakes
½ cup all-purpose flour (63 grams)
¼ cup plus 2 tablespoons sugar (75 grams)
⅛ teaspoon baking soda
2 tablespoons regular salted butter (28 grams)
¼ cup milk mixed with a teaspoon of lemon juice or buttermilk (56 grams)
½ teaspoon vanilla
1 large egg yolk (18 grams)
2 Golden Oreos, broken into pieces

Icing:
4 tablespoons butter, softened (56 grams)
1 ½ to 2 cups confectioners' sugar (180 to 240 grams)
2 tablespoons milk or 1 tablespoon milk and 1 tablespoon cream (if you have some)
½ teaspoons vanilla extract
Preheat oven to 350 degrees F. Line 4 muffin cups with paper liners.
Combine the flour, sugar and baking soda in a small mixing bowl. Add the softened butter and mix it around to coat the flour mixture. Mix together the milk, vanilla and egg yolk and add half of the milk mixture to the flour mixture. Using low speed of a hand held mixer, beat just until mixed, then add remaining milk mixture and beat for one minute or just until smooth. Mix in the Oreos.
Divide evenly among 4 muffin tins and bake for 22 minutes or until set. Let cool and frost with vanilla icing.
Icing: Mix butter and confectioners' sugar Add milk and vanilla. Beat until mixed, then increase speed of hand mixer and and beat until smooth and creamy, adjusting with more sugar or more milk as needed.
Makes 4