Berries for dessert? Sure! So long as they're sitting on a piece of cake. I appreciate the fresh berries of the season, but when it comes to dessert I need something a little bit more substantial. Cake is always good, but a Pavlova is even better because it lets the berries think they're getting top billing, when really the best part is the light, flaky, crisp meringue and the freshly whipped cream.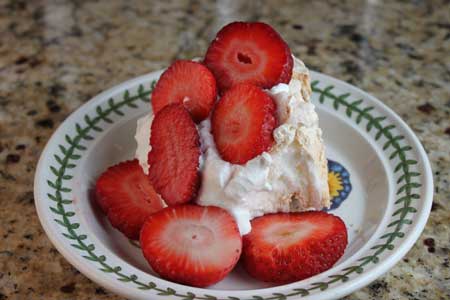 This recipe is from the Junior League of Austin, who modestly called it Meringue Squares with Fruit and Cream. Based on what I know about the famous Australian/New Zealand dessert, this is pretty much the same as a Pavlova, which is a meringue cake so light it was named after a ballerina. Unlike most Pavlova recipes I've seen, this one is baked in a square pan rather than in a free form circle. It rises pretty high up over the edge of the pan as it bakes, and you get a dessert with a crisp exterior, but fairly soft and not-too-dry interior.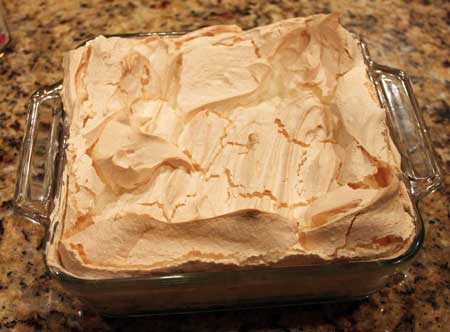 A topping of cream adds just the right amount of richness and texture.  The Junior League left theirs unsweetened, but I added powdered sugar and vanilla.  You can make that call depending on your own personal preference or just how sweet your fruit is.   Here's a candid shot of what it looked like before I cut it into squares and made it look pretty.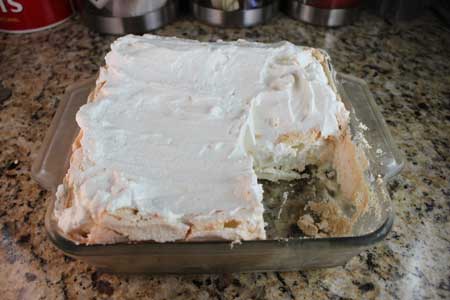 This recipe is adapted from a great little cookbook called Necessities and Temptations
.

Fruit and Cream Meringue Squares
1 ½ cups granulated sugar
½ teaspoon cream of tartar
¼ teaspoon of salt
5 large egg whites, room temperature
1 cup whipping cream (plus an optional 2 T. powdered sugar and ½ teaspoon vanilla)
1 pint fresh strawberries or whatever fruit is in season.
Preheat the oven to 450 degrees Rub an 8 inch square dish (I used Pyrex) with butter.
Mix together the sugar, cream of tartar and salt and set aside.
In bowl of a stand mixer, beat egg whites until stiff. Add sugar mixture a spoonful (I used a heaping tablespoonful) at a time and beat until sugar is dissolved. The original recipe said 15 minutes, but with a stand mixer this took about half that. Spread in the prepared pan.
Place in oven and turn off heat. Leave in closed oven for 6 hours or overnight. 3 hours before serving (I actually did this 1 hour before) whip the cream and spread it over the top. Top with fresh fruit and cut into squares before serving, or cut into squares and top each portion with fruit.
Serves 6