This weekend I'm participating in Austin Bakes for Japan, and still trying to decide what to make. There are so many options, but I have one recipe nailed down – Chocolate Skor Bar Cookies. The base is a chocolate cookie perfect for bake sales because it's firm, dense, not too soft (which can be a problem in the hot Texas sun), and easy to package. I've made this cookie with orange zest, M&Ms, chocolate chunks, and even Mickey Mouse sprinkles.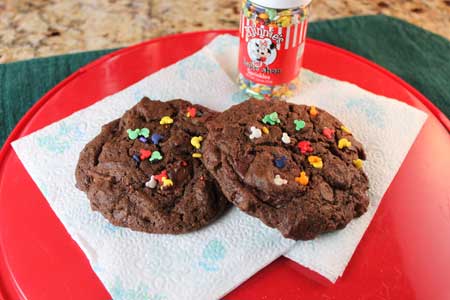 This version uses Skor Bars, which I buy at Walgreen's and keep in the freezer. If you can't find Skor Bars, you can use Heath bars.  Based on my experience, Skor  Bars melt into the cookie more and seem a little softer.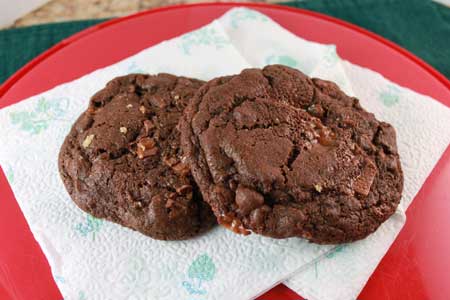 Chocolate Skor Bar Cookies
8 oz unsalted butter, softened
1 scant cup granulated sugar
¾ cup brown sugar
2 large eggs
1 teaspoon vanilla extract
1 teaspoon salt
1 teaspoon baking soda
⅔ cup natural cocoa powder
2 cups all -purpose flour (9 oz)
⅔ cup chocolate chips, dark or semi-sweet
2 Skor Bars
Preheat oven to 325 degrees F. Line two baking sheets with parchment paper.
Cream the butter and both sugars with an electric mixer. Beat in the eggs. Scrape sides of bowl and beat in vanilla, salt, and baking soda. Add cocoa and beat until it's well mixed, then add flour and stir by hand until batter is mixed. Stir in the chocolate chips and the chopped Skor bars.
Scoop dough up by generous quarter cupfuls and place balls of dough about 3 ½ inches apart on the cookie sheets. Bake cookies one sheet at a time on center rack or bake both sheets using center and lower racks. If baking two trays at a time, shuffle the cookies on the middle rack to the bottom and the cookies on the bottom to the middle rack halfway through cooking.
Bake for 22-25 minutes. Allow cookies to rest on cookie sheets for about 5 minutes, then transfer to a baking rack to cool. These cookies taste best after they've cooled down completely.
Makes 14 large cookies