I spent most of yesterday preparing for today's bake sale, and in the process invented a new cookie! These are Cheesecake Ginger Cookies were designed to use up some leftover cream cheese filling from my Ultimate Black Bottom Cupcakes.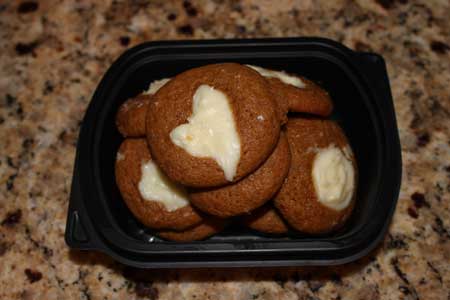 Cheesecake Ginger Cookies are oft, semi-cakey (but dense) ginger cookies with a swirl of cheesecake mixture in the center. The original dough is from an old Betty Crocker recipe, but I used oil in place of shortening and added some ground cloves. As mentioned, I used leftover cream cheese filling, but I've included a recipe below which will make enough filling to fill all of these ginger cookies and then some.
Here's a picture of the dough with bits of cream cheese filling. Since I used oil in place of shortening, the dough needs to be chilled a bit so that it's easier to handle. If you use shortening in place of oil, you can skip the chilling.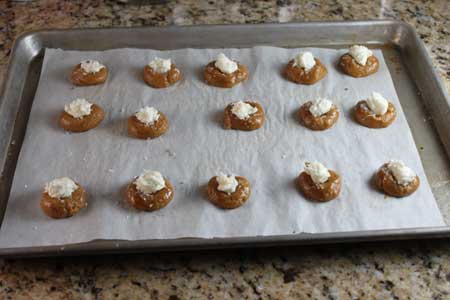 I filled each with about ½ teaspoon cream cheese filling and sprinkled the cookies with sparkly sugar. Because these cookies don't have much sugar in the batter, you can use more sparkly sugar without making the cookies too sweet.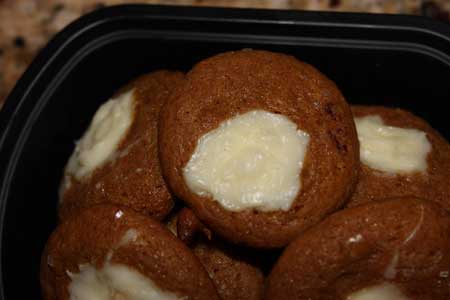 Note: This makes about 50 cookies. If you want to halve it, beat the egg with a fork and use 2 tablespoons of egg.
Cheesecake Ginger Cookies
1 cup sugar (7 oz/196 grams)
1 cup vegetable oil (or shortening)
½ cup molasses
1 large egg
¾ cup sour cream
3 cups all-purpose flour (13.5 oz/380 grams)
2 teaspoons baking soda
1 teaspoon salt
1 teaspoon ground ginger
1 teaspoon ground cinnamon
½ teaspoon ground cloves
Sparkly (coarse) sugar for decorating
Mix the sugar, oil, molasses and egg together in your mixing bowl. Add the sour cream and stir until smooth.
In a separate bowl, thoroughly mix the flour, baking soda, salt, ginger, cinnamon and cloves. Add the flour mixture to the sugar mixture and stir until it's mixed in.
Chill the dough for at least an hour (this makes it easier to work with if you're using oil).
Preheat oven to 350 degrees F.
Line a few cookie sheets with parchment paper. Using a rounded teaspoon measure, scoop up dough and shape into balls. Arrange a few inches apart on cookie sheets. Wet finger with a little bit of water and press an indentation into each dough ball. Scoop about a half teaspoon of cream cheese mixture (recipe below) into center of each indentation. Sprinkle cookies with sparkly sugar.
Bake the cookies for 10 minutes or until cookies appear set. Let cool on cookie sheet for 3 minutes, then transfer to a wire rack to finish cooling. The full recipe should give you close to 50 cookies (maybe more). It also halves well.
Cream Cheese Filling – This will make plenty of cream cheese filling....probably more than you need. If you do want to halve it, just beat the egg white lightly with a fork and use about a tablespoon.
8-oz cream cheese, softened
¼ cup sugar
⅛ tsp salt
1 large egg white, room temperature
1 tbsp sour cream, room temperature
Beat the cream cheese, sugar and salt together with an electric mixer. When smooth, beat in the egg white and sour cream, using a lower speed (the point is to not beat too much air into the mixture).
The Cream Cheese icing is optional, but if you want a small batch recipe the one that goes with the carrot bread is a good choice.