Milk Chocolate Caramel Oat Bars is an old recipe from Kraft, but I updated it by using their new Kraft Caramel Bits instead of the caramel candies that have to be unwrapped.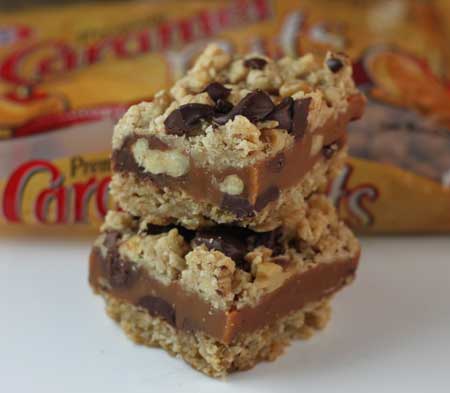 I also added some chocolate chips and chopped up some of a chocolate bunny leftover from Easter.  It melted as I put the hot caramel on, but baked up surprisingly well without compromising the flavor of the caramel much. It might have even enhanced it. Feel free to leave out the chocolate bunny.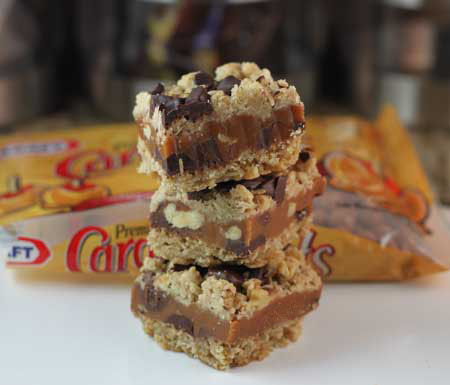 Milk Chocolate Caramel Oat Bars
Oat Base
¾ cup (3.4 oz) all-purpose flour
1 ½ cups quick cooking oats (not instant)**
1 generous pinch salt (omit if using salted butter)
¼ teaspoon baking soda
¾ cup light brown sugar, packed
6 oz (1 ½ sticks) unsalted butter, softened
⅓ cup chopped milk chocolate (like a chocolate bunny) or a handful of chocolate chips (or both)
Filling
2 tablespoons plus 2 teaspoons unsalted butter
1 ⅓ cups Kraft caramel bits or 32 unwrapped caramels
½ cup walnuts, toasted and chopped
Preheat oven to 350 degrees F. Line an 8 inch square metal pan with non-stick foil.
Mix the flour, oats, salt, baking soda and brown sugar together in a mixing bowl. Add butter and stir with a spoon or mix with fingers until mixture is thoroughly mixed – dough should just start to come together.
Reserve a little less than half of the mixture and put it in the refrigerator. Press remaining oat mixture into bottom of pan and bake 10-12 minutes or until set. Let cool for at least 15 minutes.
Note: If you are going to use the milk chocolate, sprinkle it on when the base is fully cool.
Make caramel filling. In a microwave-safe bowl, melt the butter. Add the caramel bits and stir to coat with butter. Microwave on high for 30 seconds. Stir and repeat until caramel is melted. Stir walnuts into caramel. Pour it over the base (this is when some of your chocolate will start to melt).
Sprinkle chilled reserved crumb mixture over top and bake for 10-12 minutes or until top layer is cooked. Remove from oven and immediately sprinkle extra chocolate chips over the top. Let cool completely, then lift from pan and cut with a Chef's knife.
Makes 16 squares